In the last post, I stated without reservation that Skaneateles, New York, for my money, is the best small town in the United States, and even taunted Lititz, Pennsylvania in the process. In fact, I even had to tone down my taunting in the final draft of that post. As for the positive aspects of Skaneateles, one that cannot be ignored is its proximity to the other Finger Lakes. This trip is worth the price of admission by itself. U.S. 20 is the main thoroughfare here, and it was the main artery through the central part of New York prior to the New York Thruway, so there are many relics to be found along it.
Just five miles down the road is the city of Auburn. Like most places in upstate New York, it has undergone its share of hardships and loss of industry, but it does have my favorite overall sign-spotting location, the Hunter Dinerant, which has a ghost sign behind it and the Genesee Beer sign in the close distance. This is my shot from last October: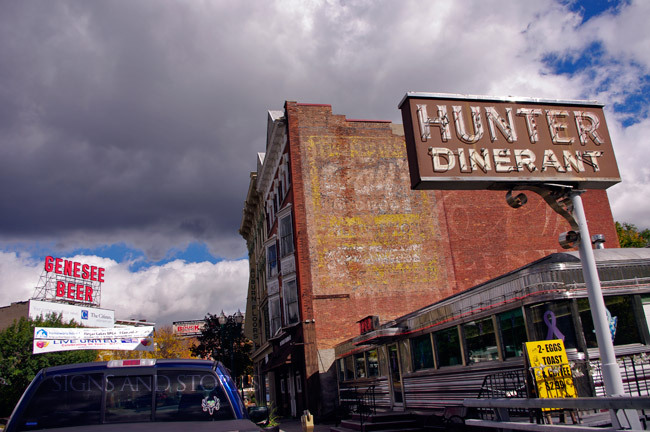 During this shoot, which coincided with an engagement photo shoot I had with my sister-in-law and brother-in-law-to-be, we spotted a sign on the way out of town that I had not seen in any of my research, right on the corner of US 20. Curley's Pizzeria has been on the corner of State Street and NY5/US20 since 1933 (as the painting on the brick side proudly states. We had planned to go to Seneca Lake to get some more pictures of the happy couple, so I took a few distant shots with my phone that were too blown out to post to Instagram, but good enough to be a mental note. I would return.
And so, in April, I did. And got these: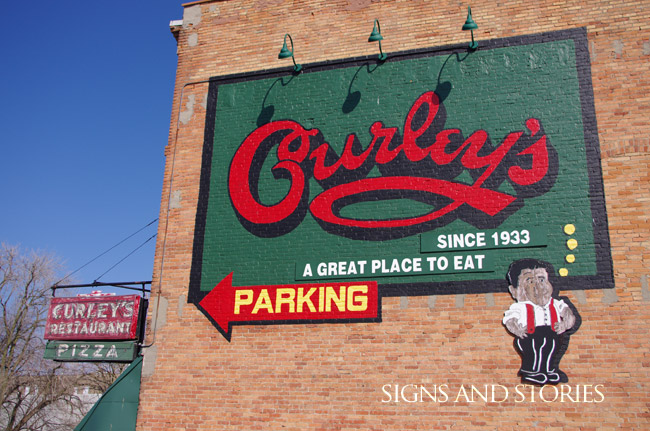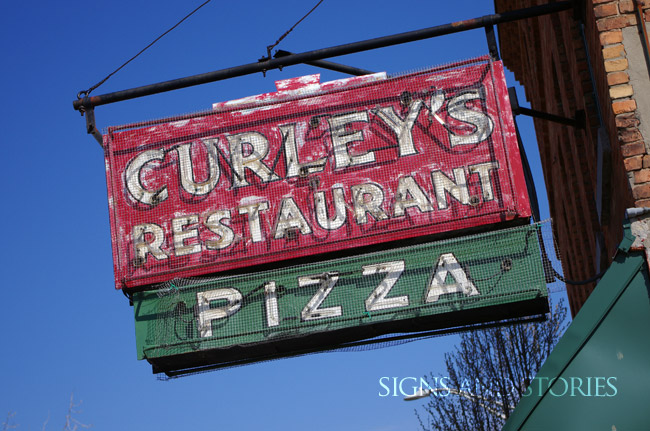 A good start to the day, but hardly the last roadside attraction along US 20. The sections between the lakes are decidedly rural, with extremely gentle hills and farmland, but past Auburn is one my favorite sights along any road: a drive-in movie theater. New York has very few left, but the Fingerlakes Drive-In still stands. It was still closed for the season in April, but they left us something behind to remind us of summer and a bygone era: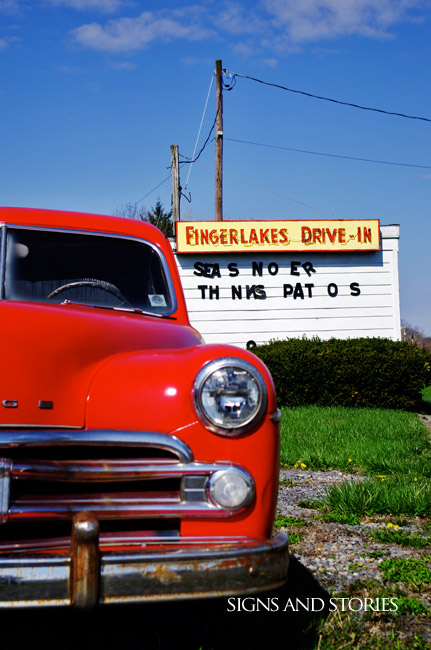 We seem to have good luck finding old Dodges. See my diner page for a good one outside the Red Robin in Johnson City.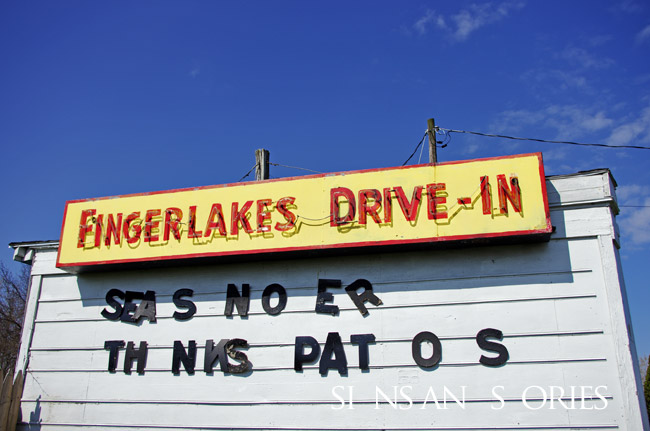 It had been a hard winter…
We kept along US 20, past Seneca Falls and on our way to Geneva, where we'd eventually make the turn down to Penn Yan and Keuka Lake. "There's something else here," I said.
"What is?" Laura asked.
"Don't remember," I replied. "Something we passed in October." I had made a mental note but I had forgotten to pass it to myself after gym class. But I knew there was…something.
And then, there it was. In fact, it was two things. I pulled off the road to the right to make life simpler for the crowd of cars behind me and got out. An old motel, and an old motel sign, barely readable from the wear, ugly/beautiful: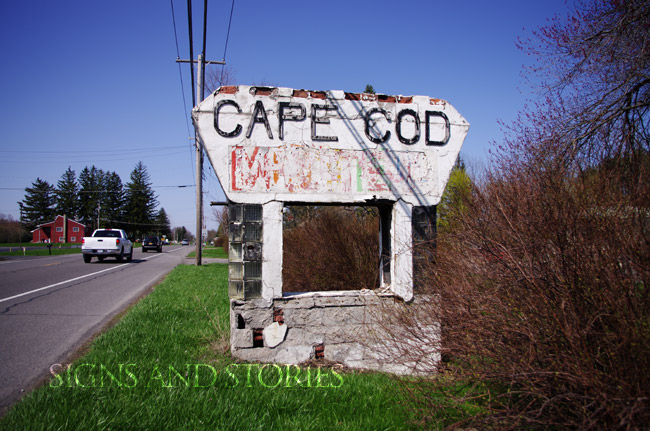 But this wasn't what I had spotted. Across the road was a Drive-In restaurant, with a long, tall sign that I think I had put aside because I knew its dimensions would be difficult to capture: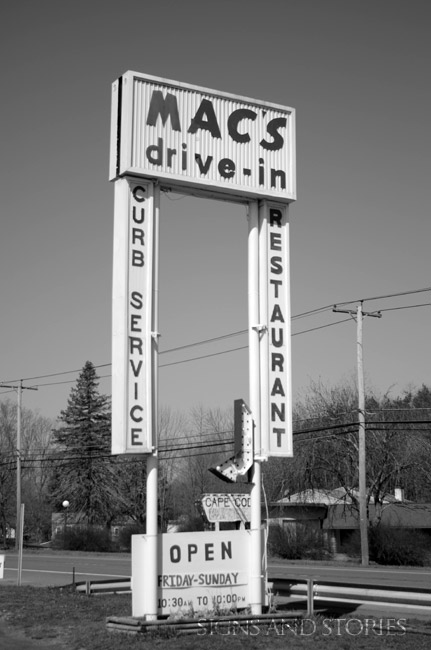 But the prize was the building itself, a living testament to good times before or after a trip to the lake. This is what summer is all about: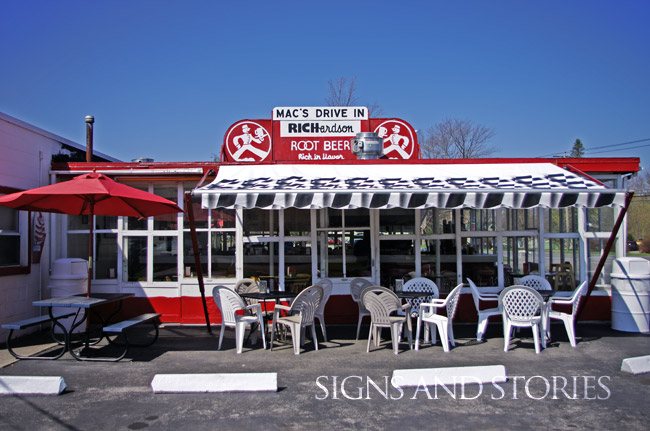 I don't know about you, but I just look at these places and whatever cares and worries I may be pulling along behind me just drop off, and I feel like a kid again.
There was more to come this day: some of the greatest combinations of good and bad I've ever seen. More in the next post!