For a long time, I thought the first picture of a sign I took when I switched to digital was a the fascinatingly rusty News Agency sign in Quakertown (I'll share later), but when I went back and looked at the timeline, my first sign shot was taken in the odd little community of Glendon, Pennsylvania. Glendon is an off-shoot of Easton, and it's entirely possible that you can only find it by accident. It's a small strip of land wedged in between a hill, the river, and the railroad tracks, and in that little area, there is the old Glendon Hotel with its 60s era Sprite sign.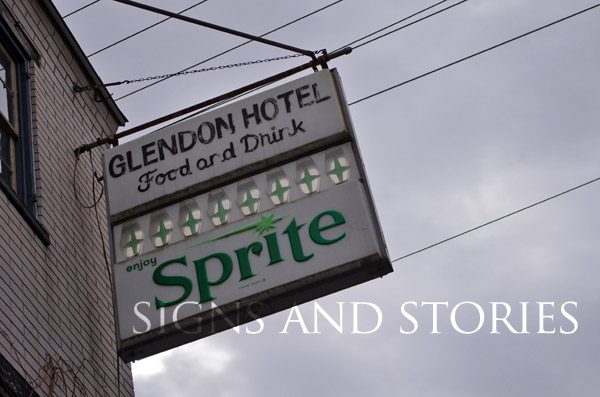 I first got a shot in 2009, a couple days after I received my Pentax k20d. It was a decent shot, but the day was pretty cloudy and gloomy, and I was still getting used to the camera, so the results weren't the greatest. As it so happens, I pass by this location quite a bit these days, and on this day I was armed with my k5. Cloudy and gloomy again, so I wasn't really tempted to stop. That was, until I spotted what was parked out in front of the old hotel: an Olds that looked more at home wandering the streets of Havana than Eastern Pennsylvania. My Hoopdie-sense was on high alert. But I passed without stopping and went on to get some lunch.
I knew I was going to come back through and that little voice went off in my head: "That Olds isn't going to be there forever, you know."
"Might be," I countered. "I somehow doubt it's still mobile."
"You don't know that," said the voice.
And I had to admit, the voice was right, so when I came back through, I got out of the car and snapped away.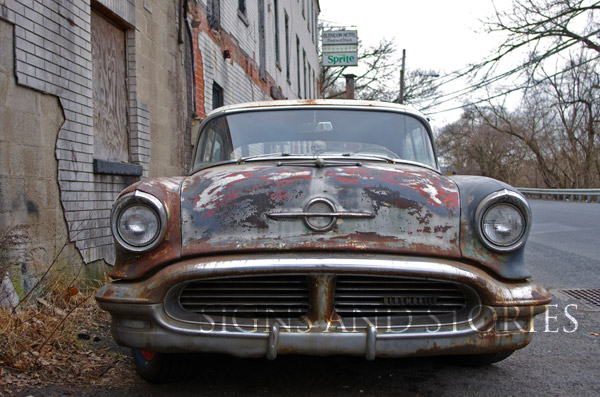 No regrets.
So I risked life and limb and crossed the road to get a couple shots from across the road and got this beauty: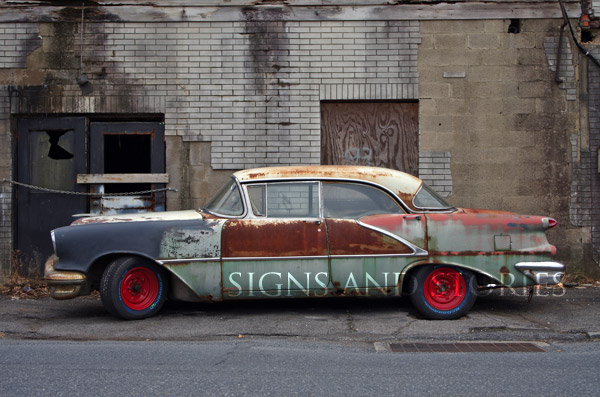 Red wheels. Irresistible.
So when I came back the next week, sure enough, the Olds was gone. I haven't seen it since. The moral of the story: every moment is precious, and nothing lasts forever. Listen to that voice and make sure you never miss an opportunity.