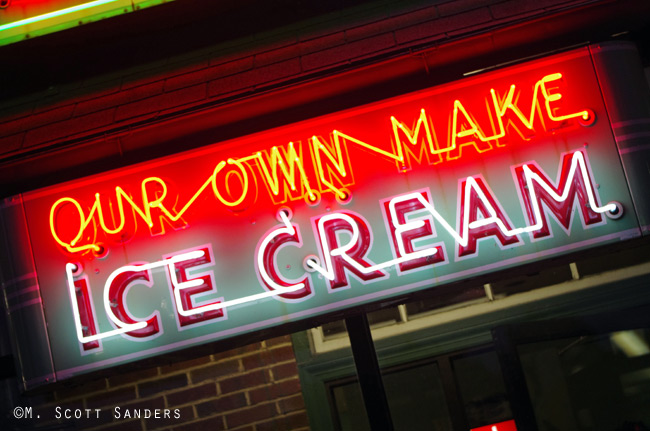 The Ritz Barbecue, Allentown, PA
Lately, I've been reading a book a friend of mine recommended. It's by the author of The Legend of Bagger Vance, Steven Pressfield, entitled The War of Art, and it's been coloring everything I see. The main focus of the book is crashing though the barriers to creative achievement, which he personifies as "Resistance." Far too often we give in to Resistance and don't do the things we need to do start and complete creative projects, whether it be a book, a painting, or a business.
It's Sunday night. Usually, we do nothing on Sunday nights, because I'm going to have to get up in the morning to take the long journey in to work. In case I haven't mentioned it before, this requires a two-hour one-way trip in the car. But a small voice in my head whispered the words "Ice Cream," and it wouldn't stop. The closest place to procure such delicacies is The Ritz Barbecue, just to the side of the Allentown Fairgrounds. And The Ritz has neon signs. And it was getting close to neon magic hour.
Laura was all on board for the ice cream, so we got ready. On the way out the door, she says, "Aren't you going to take the camera?"
Some part of my brain, no doubt the part that doesn't work properly, said that I shouldn't. I'm not sure why. Some weird form of guilt that has no basis in fact or logic. Resistance. I shook it off and scooped up the camera bag.
We pull into the parking lot of the Fairgrounds, and what I saw blew my mind. Unbeknownst to either of us, the Blue Mountain Classics Car Club was having a Cruise Night in the parking lot of the Ritz. There were about thirty or forty classics lined up, shining in the waning sun.
"And this is why I should take the camera," I said.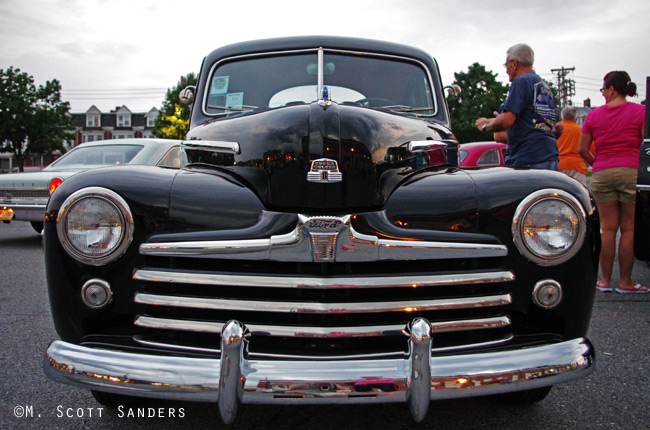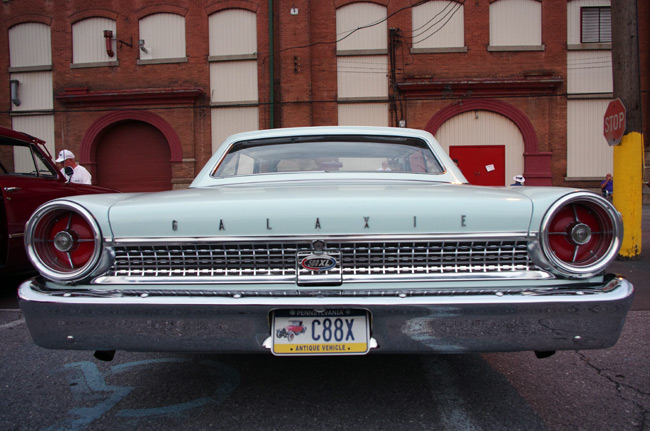 Lesson learned. If I'd stuck to the normal pattern, I would have missed out on this whole thing. If I had listened to my own foolish notions, I would have been flailing around trying to capture this on my iPhone. But I cast all those things aside and got this great shots, got to see some great cars, and oh, by the way, got some Peanut Butter Cookie Dough ice cream.
Which sort of brings me to dreams and aspirations, and how they are available when you make the effort to announce your intentions. We get so beaten down in life that we naturally suspect that we can't get what we want. I think we get upset at those that are successful because they act as if they can get anything that they want and then do just that. Donald Trump, for instance, annoys the crap out of me. But you know, the man has made his money because he believes he can. And secretly, I admire those convictions.
The Apostle Paul says in the book of Romans that God "calls into being things that were not," and honestly I don't mean to sound like I just stepped behind a pulpit, but I believe this. I also believe that we, as mere mortals, can do the same thing, to call into being things that are not.
So I say this, just to release this dream into the air:  I want to drive the length of US 1 from Maine to Key West. Driving in one of these classics. Taking shots of all the great signs I see along the way. In my head, this seems impossible. But once I say it, it not only sounds possible, but likely.
What's your dream?