During one summer day last year, I found myself with a bit of time, a bit of hunger, and proximity to New Jersey. I also had my camera with me, and a sign on my New Jersey to-do list. It all came together in the form of Hot Dog Johnny's in Buttzville, New Jersey, along US 46. It was a gorgeous day, and Hot Dog Johnny's is located in a cool spot along the river. The place was packed, despite the fact that it was mid-afternoon, and I had to wait in line for a couple of dogs.
They cook their hot dogs in the deep-fry style, which seems to be a New Jersey thing, and it is a lovely thing. Rutt's Hut in Clifton was my first introduction to this delicious culinary mutation, so that particular location holds a special place in my heart (and perhaps, my arteries). Overall, my trip to Hot Dog Johnny was terrific. It was only sullied by the fact that I had another place on my list, Hunter's Lodge, a motel also on Route 46, and I didn't have the time to hit both.
A few weeks ago, I had the chance to go again, and this time, I was all about Hunter's Lodge, and it was my hope that the cover of snow that has blanketed the Northeast this winter would add to the photographs, just as the greenery and sun brightened my Hot Dog Johnny shots.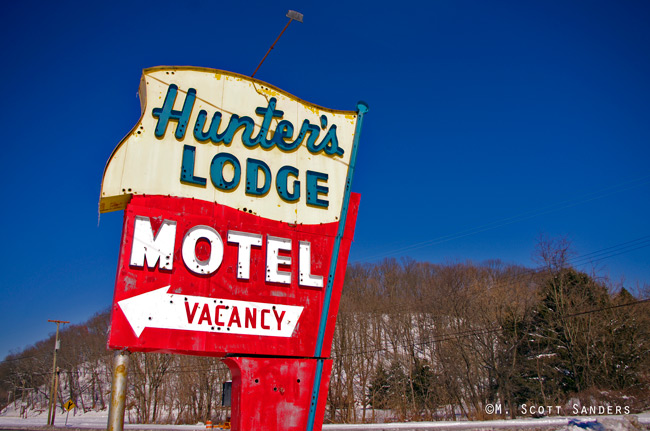 It was a little farther up 46 than I expected, and it was on the other side of the road, but from a distance I could see it was magnificent. I could also see that the driveway was mostly halfway plowed, and that there was nowhere else to stop and get a shot. On top of that, the best shot I could get meant a stroll into a snow-covered field, and, stupid man that I am, I had not brought my boots. But I bit the bullet, crunched through the icy layers, and got the shot above.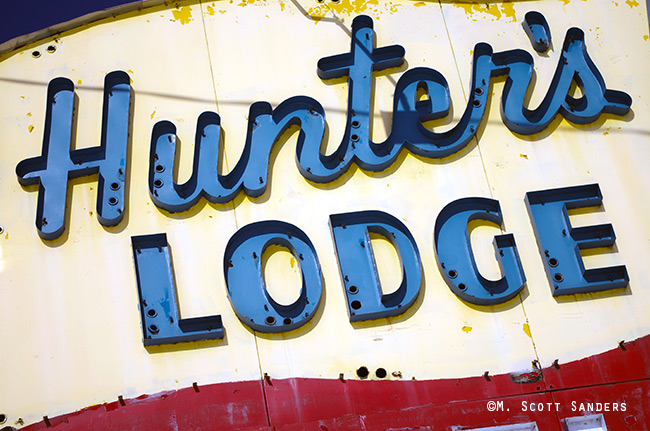 Again, I think I hit this at the right time. The winter sun adds an element to this I really like. Just in case, though, I may stop back when the snow melts…provided that ever happens.