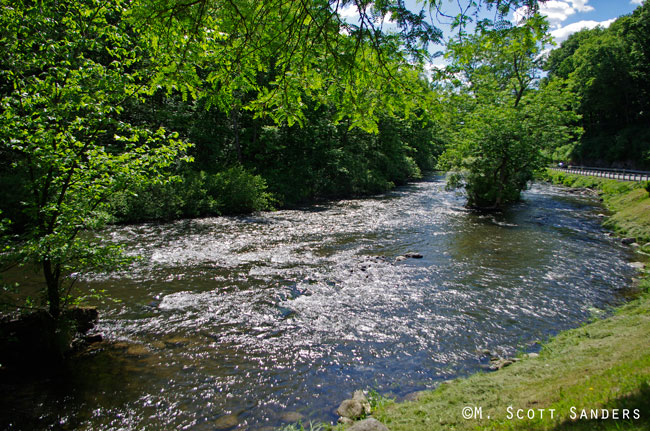 About a month ago, we were watching one of those house hunting shows where a couple is ducking in and out of houses, accompanied by an agent, all the while expressing opinions on this and that. The couple in this particular episode featured a woman who was deep into feng shui. Deep into feng shui. Every room was throwing off negative energy and this wasn't right and that wasn't right and everything is just wrong wrong wrong. This was the constant theme. It got to the point where, as often happens on these type of shows, you begin to wonder how the person's poor spouse doesn't hit them over the head with something heavy on a routine basis. Even the host, whose job it is to stay positive and cordial, was very obviously seconds away from some sort of conniption fit. It struck me as great irony that someone who was such a stickler for negative energy was such a free-flowing source of it.
I'm a believer in creating a positive atmosphere, which is what feng shui should be about. Our house was getting a bit cluttered and as a result, we decided to see if there were any feng shui tips we could discover on the internet. There were, of course, but it can get hairy and confusing very quickly, so we figured it was best to stick to basics.
On Saturday, I made good on a promise I made to Laura a while ago, to take her to Hot Dog Johnny's in Buttzville, New Jersey. I went last summer when I had a bit of extra time over lunch, and it was well worth the drive. It opened up in 1944 as a little stand off US 46 with its back to the Pequest River, and it's continued on ever since. We arrived in the middle of the afternoon, and the parking lot was full, and full of people with license plates of other states. Hot Dog Johnny's is one of those rare places that people are willing to drive miles out of their way to get to. A positive atmosphere.
So what makes a positive atmosphere in this case? The food, certainly. Hot Dog Johnny's follows that fine New Jersey tradition of dipping their hot dogs in oil and frying them up a bit. I insist Rutt's Hut in Clifton is still the best at this method, but in the end who cares? It's all good. As for drink, they serve two unusual offerings: Birch Beer, which you can get in a frosty mug, a drink that you forget how good it is until you taste it again; and (stay with me now) Buttermilk. Yes, that's right. A drink so old-fashioned you can only picture old guys in shorts and black socks with garters drinking it. But let me tell you something: Laura had some and it was good. Better than Buttermilk's reputation good.
What else makes it a positive atmosphere? One of the things that we read about feng shui was that you should "keep your mouth clean." More or less, this means to keep your entrance uncluttered, and as you can see, the round shape of the booth and the many windows assure the lines never get too long.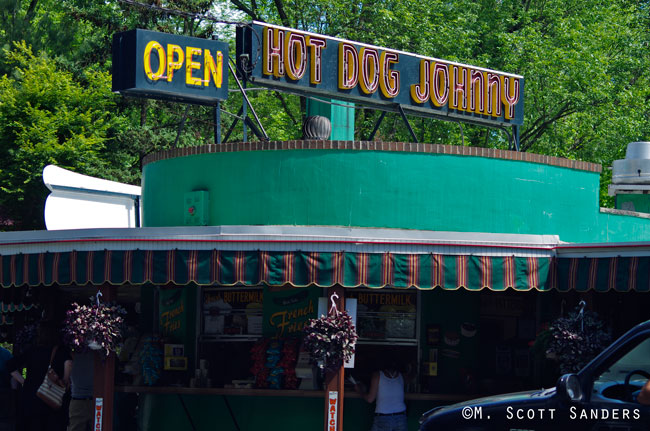 Water features are a big thing with feng shui. So it doesn't hurt to have a river flowing by the place.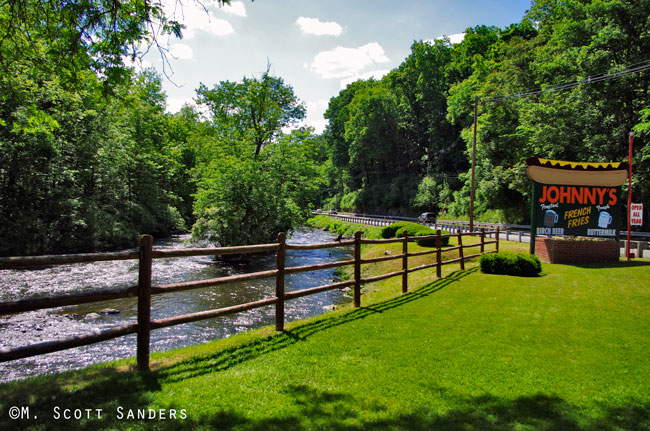 And of course, my favorite, the neon signs? A fire element!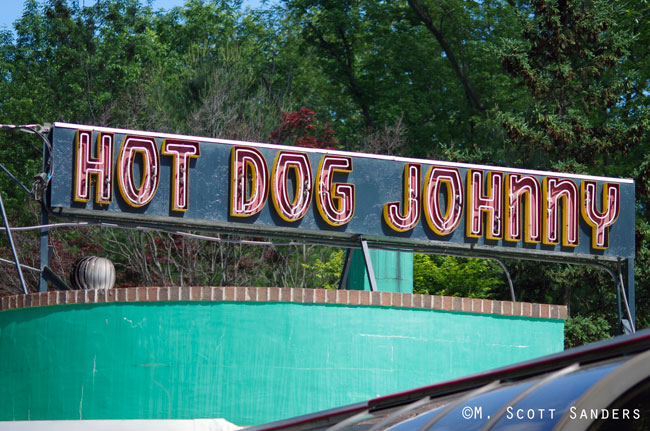 Now, of course, I'm not an expert. Heck, I don't even pretend to have the level of understanding the annoying woman on the TV show had, but it's fairly obvious from the beginning that there is something that draws people to this place besides the eponymous hot dogs. It's a special place. People from all around will continue to come to this spot and feel what I did, that sense of happiness, even peace, and while I was at it, had a fine dog and a birch beer. I'll be back.