My parents didn't live in Georgia for long. In fact, if truth be known, it was the shortest time I've ever lived anywhere in my life. Back in the early 70s, my father got a teaching job in the Brunswick area and we lived in a duplex on Jekyll Island. The job, and the beach home, lasted less than a year, and even though I was younger than three years old, I still remember the day we drove off, leaving the enormous bridge to Brunswick behind.
As an adult, I lived in Georgia for about five years, just across the border from Tennessee. I still have my old Georgia license plate to prove it. Nowadays I only seem to pass through there on my way to Florida.
In 2013, when coming back from Florida, and we made our mad dash to Wright's Dairy-Rite in Virginia, there was a little part of the story I left out. I fully intended to make a stop at the Georgia Girl Drive-In in Woodbine, Georgia, but I realized that time would not allow us to stop at Bar-B-Q King in Charlotte for lunch, and hit Wright's in Staunton in time for neon magic hour. So, with much trepidation I put it off.
Much trepidation because I knew the old place was abandoned, and that any day now someone would get the idea to take the sign down. Or, judging by its age, it might fall down on its own. So I made every intention of hitting this up on our way down to Florida last October.
The sun was out and shining bright. Since the Georgia Girl had long since closed, Google Maps were useless, so I was counting on reports of others as to its actual location. Fortunately the directions were not too hard, and there it was, still standing.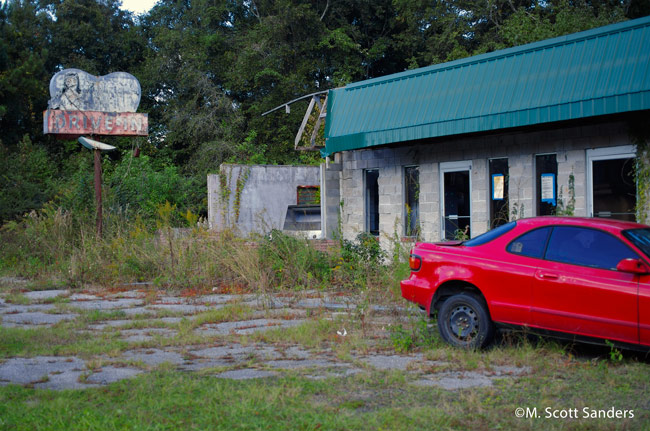 Standing, but just barely. The abandoned car added to the ambience. Fortunately, this was right on US 17, so I wasn't too worried about carrying forth with my photography plans. The difficulty was pretty obvious from the start: the sun had bleached the side of the sign with full sun on it. The other side was vibrant, but I would have to crawl through the weeds to get that shot.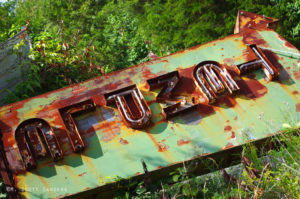 Flashback: the Temple Drive-In in Williamstown, PA. First time I took shots of that, I came down with dozens of chigger bites. Eight-to-five said there were chiggers in them thar hills.
I decided discretion was the better part of valor and stuck to taking shots from the sunny side.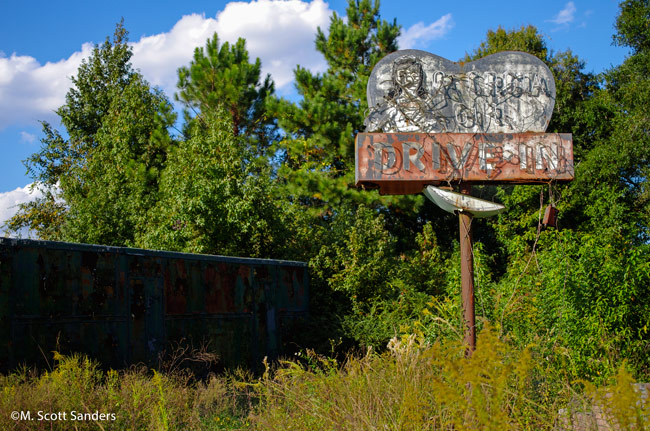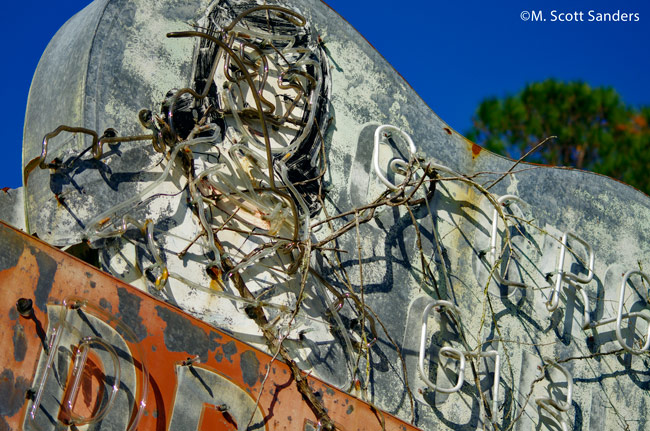 And all of this was good, and showed off the rustiness and dustiness, but I knew what the other side looked like and I knew that was a better shot. I waited for the sun to go away, attached my longest lens, and walked down the sidewalk a bit to see if there was anything I could do. It wasn't the easiest shot, because of green trailer standing in the way. I had to put the K-5 into live mode and held it above my head as high as my arms could reach. Several tries ended in miserable, blurry failure, but in the end…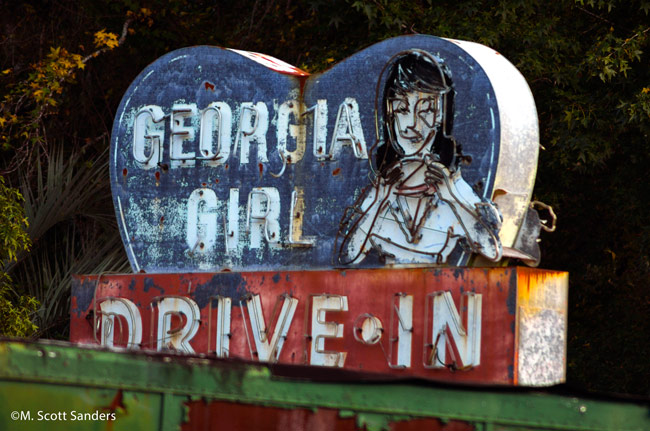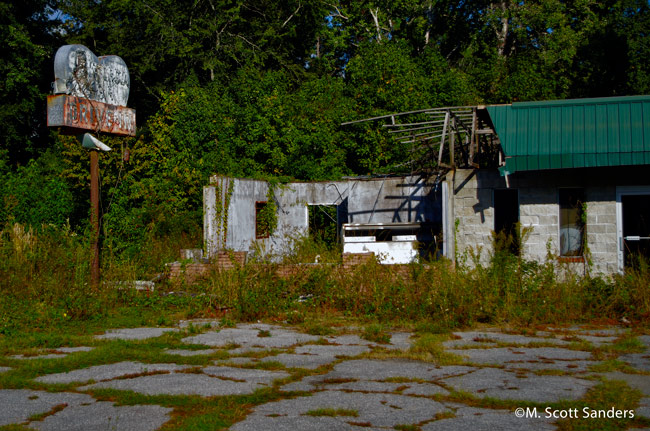 We drove off, having been honked at only once, and made our way for Florida and vacation, but we were so glad we could get this little piece of history.
And here's where it is!