Still in Reading last Sunday. Lynn and Denise had driven us all over the city, and we had come to rest on Penn Street, the main drag of Center City Reading. We rounded a corner and I spotted this one right away: crumbling neon and gray, probably 50s or earlier. Lynn pulls the car over and we get out. It's high up on the building and I half wonder if anyone notices it anymore. Zipf's Candies, it says. The sun is hitting it square from the west at this time of day, so I wander over to the other side.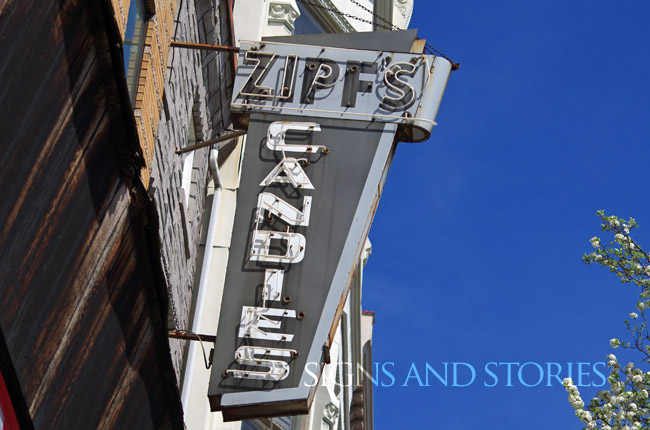 My mouth falls open. From the angle that I'm standing underneath the Zipf's sign, I can see a ghost sign behind it.
Ghost signs, for the un-initiated, are the advertisements that were painted on brick that have (chances are) faded to the point that sometimes you can't read them. They're rare and good finds, but you hardly see them so close to another sign that you can get both in the same shot. So I couldn't hit the shutter button fast enough: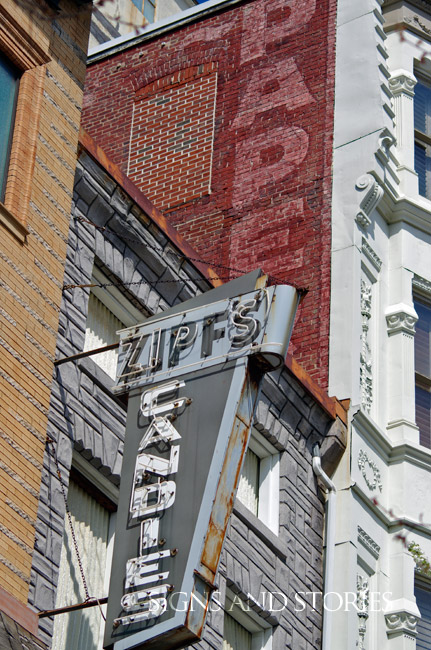 The ghost sign says "Paper" and there's some more of it visible if you step back a few feet.
When we got back to Denise and Lynn's house, we started going through a set of books Lynn has that covers the history of Reading, mostly through old pictures. There are plenty of shots of Penn Street, so surely there would be one of this sign, wouldn't there? We go through book after book. Plenty of shots of Penn Street, great shots of the Loew's Theatre, many signs I wish were still around, but no Zipf's. And here's why: whoever took these shots (I'm guessing) worked in a building on the side of the street Zipf's sits on, because each shot was taken from the same location.
I have no idea how old this sign is. Interestingly enough, some internet research has shown me that there is a Zipf's Candies still operating in Philadelphia. They've been going since 1968, according to their website. No mention of Reading. And this sign looks older than '68 to me. Anybody out there have any information?