Last week, I went back to my home town of Binghamton, New York  in the middle of March to see a community play that my parents were part of. It was a cold day, par for the course in Upstate in March, but not outrageous. A call for snow that night: again, nothing unusual. Just after six, my wife and I get off the highway and on to NY 12.
Now, don't ask me what made me think of it, but as soon as I started up the road, my young man's fancy turned lightly to thoughts of neon. There's only one neon sign along that section, and that was at Jones' Humdinger. Humdinger was the ice cream palace of my youth, the place I went to after Little League games, and it's still going strong since the 50s.
It's Mid-March, I thought. They won't be open.
Then I thought again, don't they open in March?
And then again, Why would you open an outdoor, wait-in-line-for-ice-cream kind of place in Upstate New York in March.
And then I spotted it, from a distance, the neon ice cream cone on top of the building…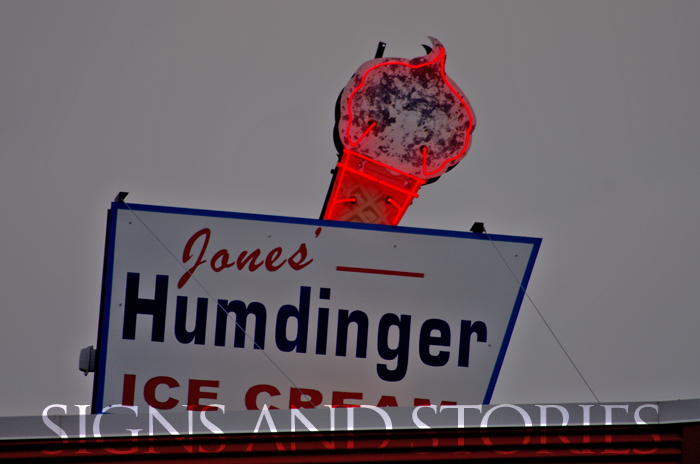 Open, yes, but there was no chance that anybody would be outside, waiting in line for ice cream when it's 32 degrees and a chance for snow…would anyone?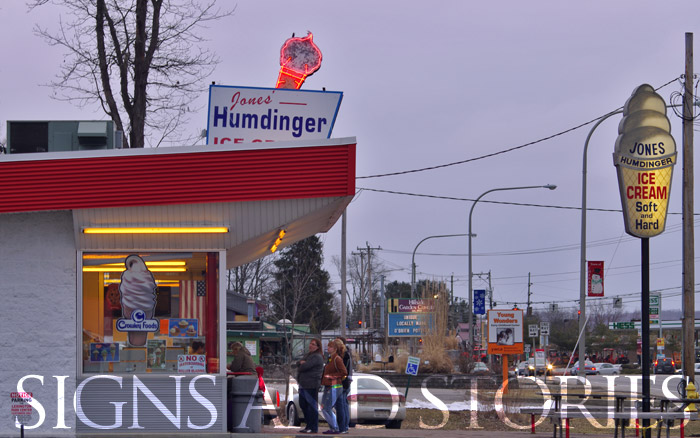 And this is why I love Upstate New York. Ice cream when it's cold? Dadgummit, yes. Just try and stop me. 32 degrees? Only barely freezing…what are you, some kinda wimp?
Enjoy the soft serve, my friends. You are an inspiration.