Autumn arrived, and at the start of it, death visited us on both ends of the spectrum. First it was our 77-year old next-door neighbor, who died suddenly of a heart attack. At the end of the week, my cousin's son, who was just five years old, succumbed to the ravages of Neuroblastoma after a three-year battle. Under the circumstances, it's been very hard to write about my adventures in sign-hunting, because in the grand scheme of things, it is so small in the face of life and death.
It disturbed me to discover that I had no pictures of either my neighbor or my cousin's boy. The latter was more understandable because my cousin lives far away, so I never actually met him, but I saw my neighbor all the time, sitting on the front porch, most often reading the Bible with his gun sitting either on the table next to him or in his shoulder holster. He was built along the lines of a greyhound, and he walked up the street with his long, slender legs. He had a small head and a pointy noise, to boot. He would talk to you in a slow, nasal Philadelphia drawl about pretty much anything and everything, and he was constantly aware of almost all neighborhood activities and passers-by. And I have no pictures of him.
The day after he passed, a neighbor left this on the porch, right in front of his favorite chair.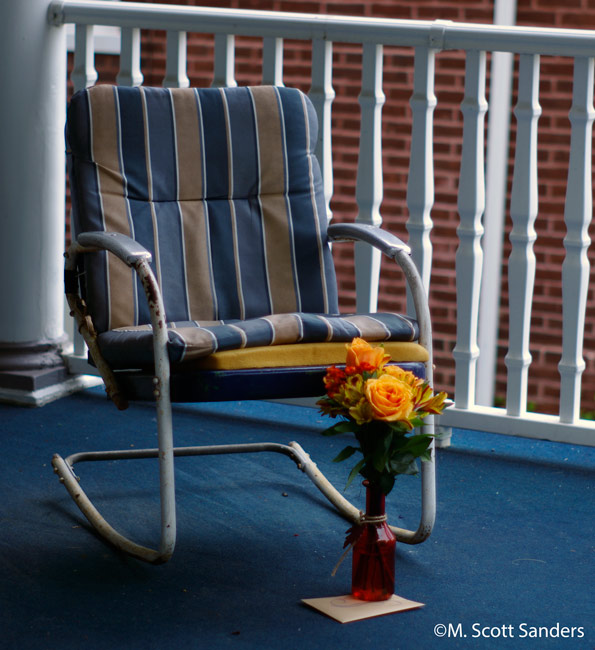 I've spent a lot of times taking pictures of places that one day will be gone, but the past few weeks have reminded me that much more, there are people that will one day be gone.
---
But places are still important to people, and when I was going through New Jersey a few weeks ago I realized that I was in the land where my father-in-law grew up. He has great nostalgia for Watchung, Dunellen, the Plainfields, and he can recall all sorts of stories about old friends and places he's been, so I felt like I needed to stop by.
First, I caught a glimpse of the Western Termite sign of one of those poor businesses you see only in the northeastern United States that are somehow positioned IN BETWEEN the eastbound and westbound lanes of a major thoroughfare. Despite this odd disadvantage, Western Termite continues to thrive.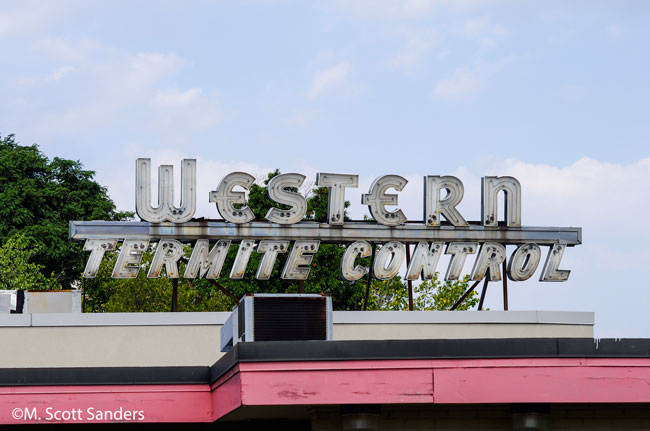 There were a couple of places I've heard my father-in-law mention in stories that I knew were still around. Texas Weiner in Plainfield was the first one to come to mind, and after that, I can't help but think of the Wienie King in The Palm Beach Story, but that's my own problem, I suppose. There are a ton of copycats, and nearly every other place in that particular area boasted some form of Texas Weiner, but as far as anyone knows, this was the first.
The second one is the Dunellen Theater. One night we were talking about old movie houses and he talked about this one in particular, how he had gone to see double features with his cousin Joan there in the 40s, and after he was done talking about it I looked it up on my iPhone and voila! The theater was still there and in operation.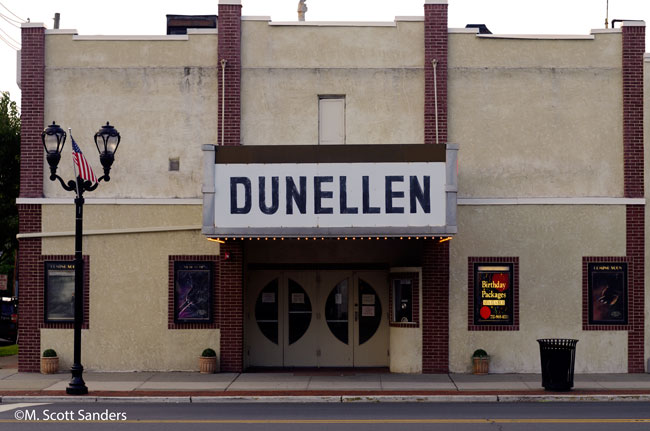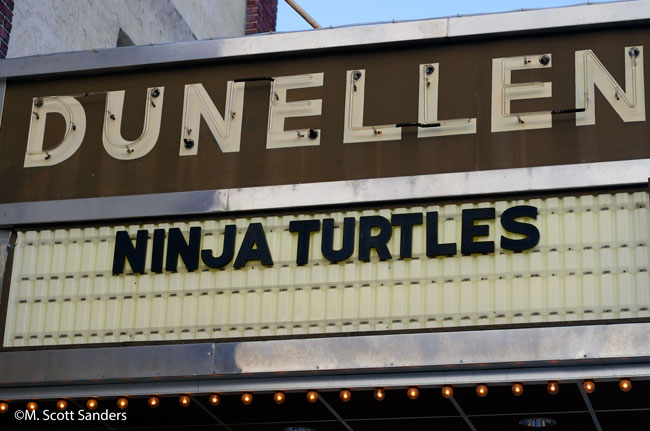 Teenage Dunellen Ninja Turtles?
The Dunellen is one of the oldest in the country, having started showing movies in 1922. Now known as the Dunellen Theater and Cinema Cafe, it was originally Hosford's Theater when it opened, and later the Dunellen Cameo, having already changed to the name "Dunellen Theater" by the time my father-in-law was watching movies there.
It was good that I got a chance to go by, and I hope this will be a nice trip down memory lane for him. I wish I had had the time to stop in for a Texas Weiner (is it different from a regular one? I guess it must be…) or to watch a movie in this hallowed old place, but at the very least I can spark some memories in those that have.
In the meantime, here's a portrait I DO have, of my father-in-law with my sister-in-law Rachel: