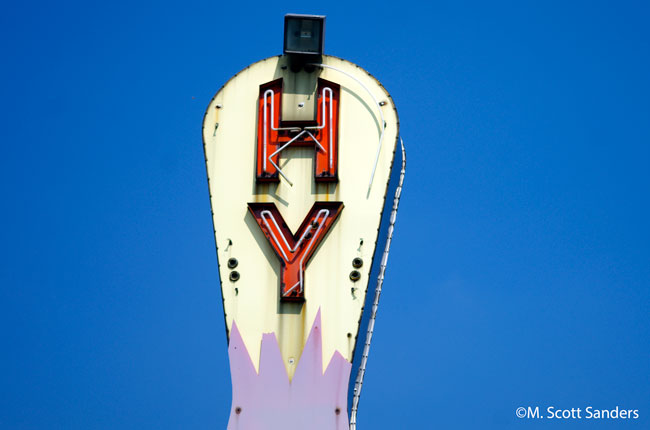 There are plenty of things I forget on a constant basis. Among them:
The Cubs are not going to win the division.
Lid down.
Just because a burger is flame-broiled doesn't necessarily make it a good burger.
Although that Toyota ad with "Jan" started out with a promising concept, it's not going to be in the least bit funny.
New Jersey is within easy driving distance.
This last one, of course, is the one I forget the most often, and it's only when I go to Easton and see a sign that says "New York City, 68 miles" that I realize just how close a lot of the places on my to-do list for New Jersey truly are. On Tuesday of this week, I found myself in Easton with some extra time and I realized I was within striking distance of a couple great signs. Considering the recent lessons of the Port Motel and how there's no time like the present to get these shots, I had no doubt what my course of action should be.
My main target was Hy-Way Bowl in Union, New Jersey. Bowling signs are some of the best, but unfortunately, most of the best ones are somewhere other than eastern Pennsylvania, and as a result, I have precisely zero classic bowling signs in my collection. Secondarily, I wasn't sure if the Hy-Way was still in operation (They have a Facebook page, but the last post on it is from some time last year), so rather than wait to see it disappear to some scrap heap, I was going to go after it. From there, I was just going to drive back on US 22 to see what I could see. The old US routes, as I've often said, are the best, and US 22 is one of the oldest.
I made it to the Hy-Way in under an hour. The parking lot was a disaster and the building looked dilapidated, and a check-cashing place had moved into one part of it. It didn't look like much bowling was going on. But the sign was intact, and just as I had seen it in posts by others: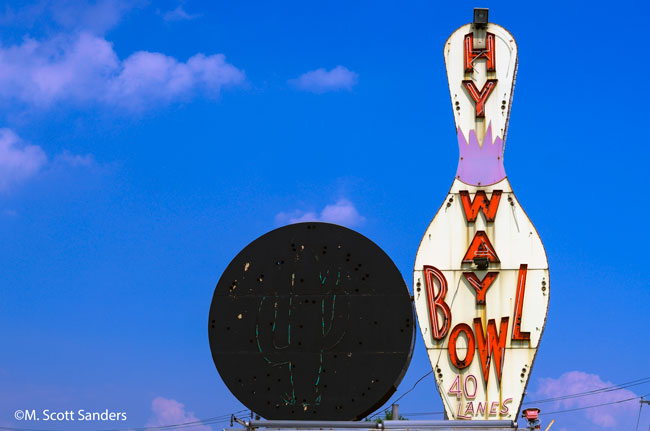 A couple things. Number one, what's with the cactus on the bowling ball? I've seen dozens of pictures of this sign, and yet no one asks this question, so dadgummit I'm asking. Second, that's a whole heaping helping of neon bullet holes in the bowling ball; was there something written on it? What must this have looked like in its day? The internet is frankly stumped, and shows me the pictures I've already seen, from Tony Zarak and others.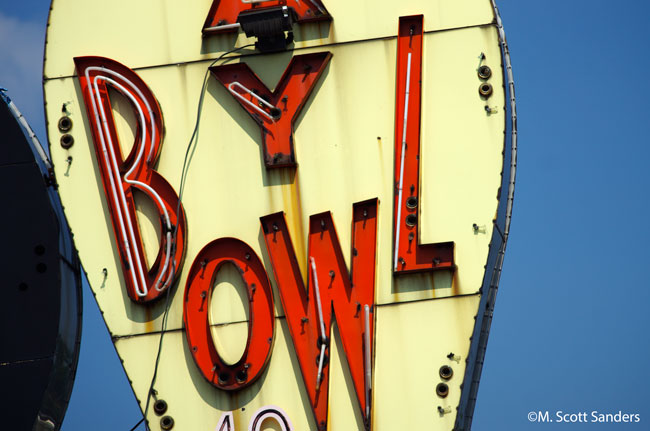 Where do I start with this one? I just love the detail above, with these customized letters that spell out "bowl." They're uneven, the "O" is smaller than the others, but it fits the space so well and it's own type of art. When they say "they don't make 'em like they used to," this is where it begins and ends for me. It's like the uneven shapes of the Wrigley Field or Fenway Park outfield. It's not perfect and gorgeous in its imperfection.
I must have stayed here for a half an hour, watching people struggle in and out of the check cashing place and the traffic roaring down US 22. But I knew I had to move on.
From Debra Jane Seltzer's website I knew about another one in Union, but I wasn't sure if it was still there. It was for the Union Shade & Awning Company, and from all reports it was the original sign from 1940: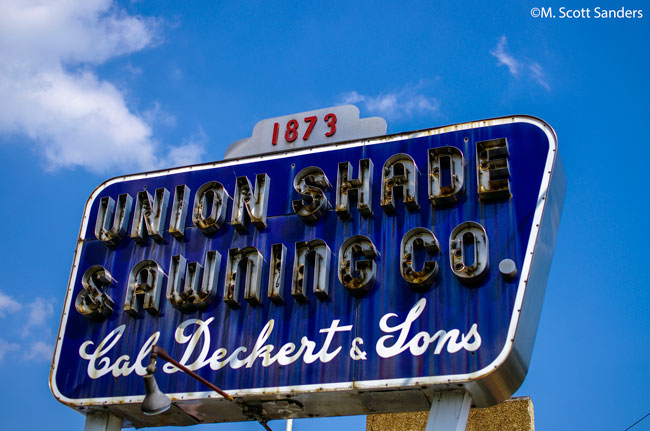 This one was just off US 22, and although I had a good idea where it was, I was surprised to see that it was right there ahead of me once I got off the highway. There was no place to park, so I ended up idling with my four-ways on as I jumped out and took about seven rapid-fire shots. I liked the one above the best.
So I should say another thing I've forgotten:
6. Driving in New Jersey is always a challenge.
In order to get back on US 22, I had to drive back all the way to the Hy-Way Bowl. I'm sure there was an easier way to do so, but being a stranger there myself, and since New Jersey sees fit to hide their directional signs from the eyes of tourists, I ended up about a mile in the opposite direction. Once I was back on US 22 west, life continued as normal.
There was a Jimmy John's on the left side. I couldn't get in that lane because of traffic, so I thought if I turned right and went around the block, I'd end up in the right spot.
7. Never ever under any circumstances get off of US 22 if you don't have to. Ever.
Fifteen minutes later and the allure of Jimmy John's seemed not entirely worth it. I struggled back to US 22 with my tail between my legs, having seen the inside and out of an industrial park and 415 dead-end side roads. The sun, which had been burning bright during my first two shots, went away, so when I reached the next port of call, The World of Tile in Springfield, conditions were not at their best. But I can't complain much: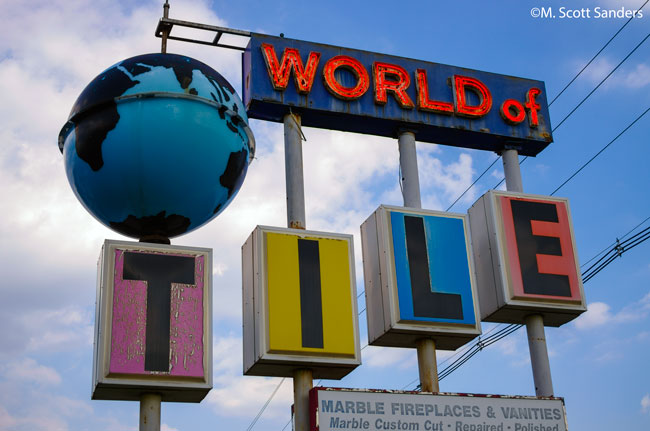 World of Tile opened in 1957 and it is every inch 1957 from its globe to the TILE individual blocks to its space-age building, preserved for all these years.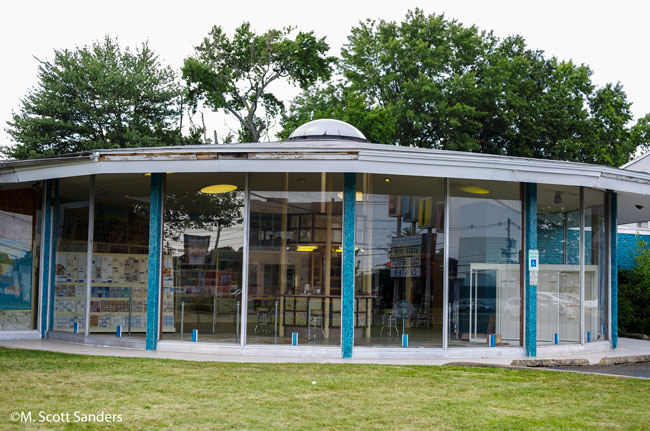 More to come later. New Jersey is a wild, wonderful place with much to explore!