I started out as a Red Sox fan. More or less, I was born into it, since half my family is in the Boston area, and at the time when the baseball section of my American brain began to fire on all synapses, the Red Sox were in the World Series. It was the era of Yaz and Jim Rice and the oft-forgotten Fred Lynn, and Red Sox Nation (before Red Sox Nation was Red Sox Nation) was abuzz. They didn't win the World Series that year, or make it to the playoffs the following year, or the next, and then there was Bucky Dent and Mike Torrez, and that was that.
I was too young to understand such anguish. Next year could truly be the "next year" we all waited for, and I could say it without the world-weary skepticism that permeates that phrase.
Around this time, my cousin Doc, who came from the Chicago area, came to live next door to us. He had been weaned on the Cubs, and was nourished by a steady diet of broadcasts on WGN and Jack Brickhouse. Nobody believes me to this day, but Doc once fell off his Big Wheel and scraped his knee, and blood the color of Rick Reuschel's #48 came leaking out of the wound. True story.
He believed that I should be a Cubs fan, and since I was younger and had no older brothers or sisters to give me such guidance for the first five years of my life, I agreed.
The first few years of my life as a Cub fan were pretty uneventful. Since the Cubs were mediocre at best, they were not often televised, and since this was the day before cable was so prevalent, they were even less televised.
My parents took me to Myrtle Beach for Spring Break one year and the hotel had cable, and more importantly, WGN. I found out that the opening game of the 1982 season was going to be on, so instead of playing on the beach, I was holed up in the hotel room, watching the Cubs at the end of the bed. Doc had often talked about Jack Brickhouse, how he was this legend of epic proportions, so I was looking forward to actually hearing the voice that had called so many games. It turned out that the legend had retired, and some new guy had come in. I was disappointed. Who was this Harry Caray guy, anyway?
My Dad came in and wanted to know what I was doing moping around in front of a television when the beach awaited. The beach could wait. The Cubs had a new second baseman, Bump Wills, and I had to see how he would do. Dad sighed and shook his head, or at least, I imagine he probably did, because my eyes were glued to the screen.
And here I was, on Saturday, in a hotel room, eyes glued to the set as the Cubs made it to the World Series for the first time in my lifetime.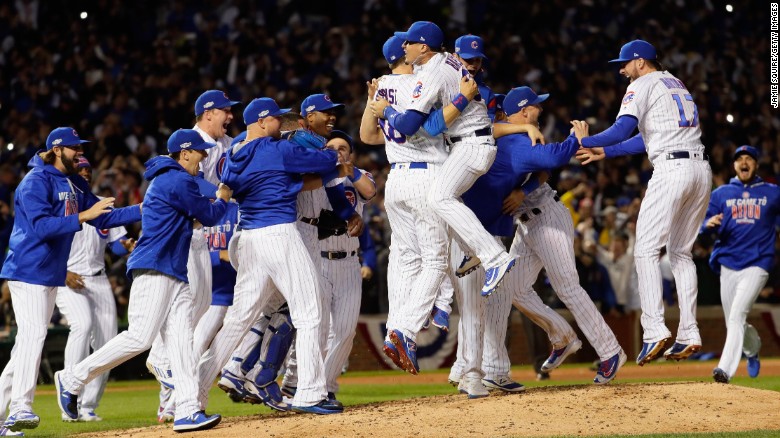 In between these two experiences, there were a few close calls, brushes with fate that ended poorly. 1984: the Cubs went out to a marvelous two-game lead in their series against the Padres, having destroyed them in game 1 at Wrigley. The Padres roared back in the next three games (it was only a 5-game series then, curse it), culminating in a moment where first baseman Leon Durham had a ball skirt through his legs in game 5, eerily prefacing Bill Buckner's similar play two years later.
1989, they won the division, but in the playoffs, the Giants' Will Clark essentially got a hit every time he came to the plate in the now-7-game series.
And of course 2003. I was at a wedding in Chattanooga that fateful day. They had the game playing on a bar TV where the rehearsal dinner was held, and at the time I was watching, no one had ever heard or ever dreamed of a Steve Bartman. I left that night, little knowing of the horrors to come. It would not be until the next morning that I heard all the gruesome details, that by one man's sin, we would have to wait 13 more years for a measure of redemption.
Sidebar: those of the ESPN variety recently called on Cubs fans to exonerate said Mr. Bartman. Further, that other fans were also reaching for the ball that was untimely ripped from the womb of Moises Alou's glove. Unfortunately for the radio personality who made such claims, there is photographic proof.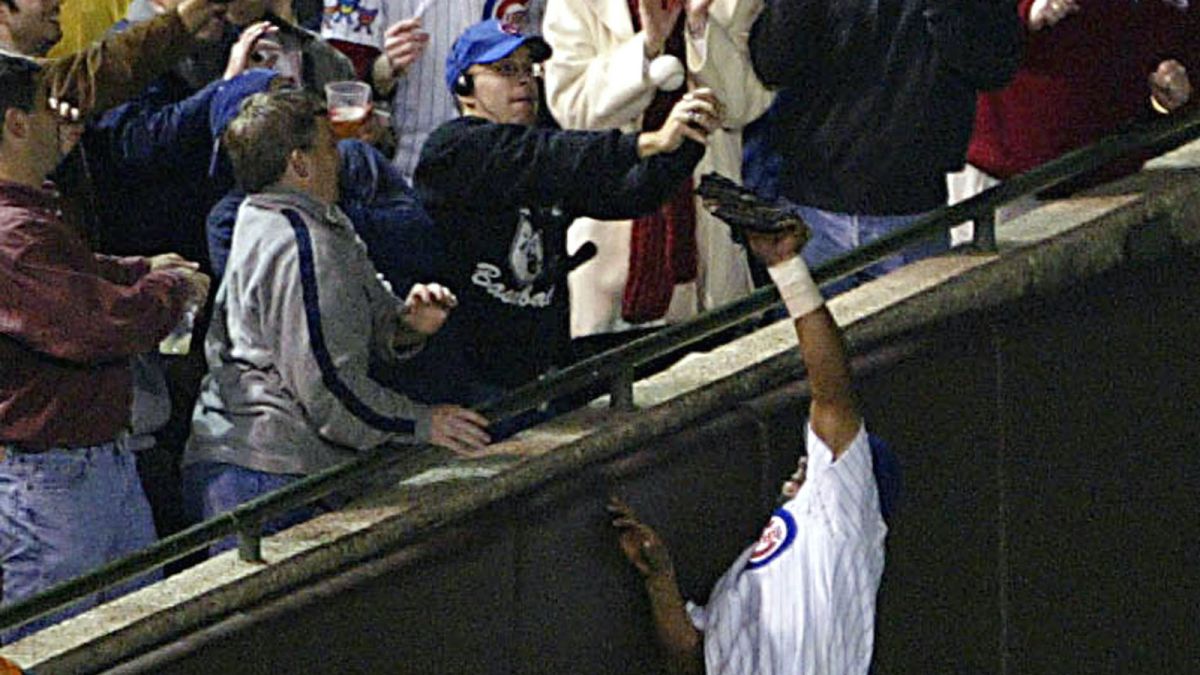 No good way to defend that, still to this day. Despite that, I wish Mr. Bartman health, long life. Thirteen years is a long time to live with such a weight. I even wish him to one day, return to the ballpark that has defined him. But probably after victory is complete. In a game that matters little. And that he is seated far, far away from the action.
Anyway, now is not the time to remember the past. Good luck to my ancient heroes as they maneuver their way through uncharted waters. Next year appears to be this year.
And my cousin Doc? He's still baseball mad and bleeds Cubbie Blue. Check out his venture, Ballparks of America.