I continued down Broad Street in the hopes of finding two more landmarks from my to-do list. For some reason, I thought both of them were in North Broad Street, but as I pulled up the information in Google Maps, I discovered that they were both on South Broad Street. The first, the Boot and Saddle Bar, was easier to find, since it is still in existence; the second, Philip's Restaurant, closed a while ago. Little did I know, these two were less than a block away from each other!
Parking was a challenge, considering the nearby bus station and a few diners nearby. I went around and around blocks and got to know some of the peculiar inner workings of Philadelphia's one-way streets a little more than I would have preferred. Eventually I came upon a spot on the block where Philip's was. This spot was no bigger than my fist, but I somehow managed to jam my Elantra into it. IN so doing, I tapped the van behind me, and when I got out of the car, the driver yelled out the window at me, "Whiplash! Whiplash!" As soon as I looked at him and wide grin on his face, I knew he was just yanking my chain. He laughed and I laughed and I went to the task at hand.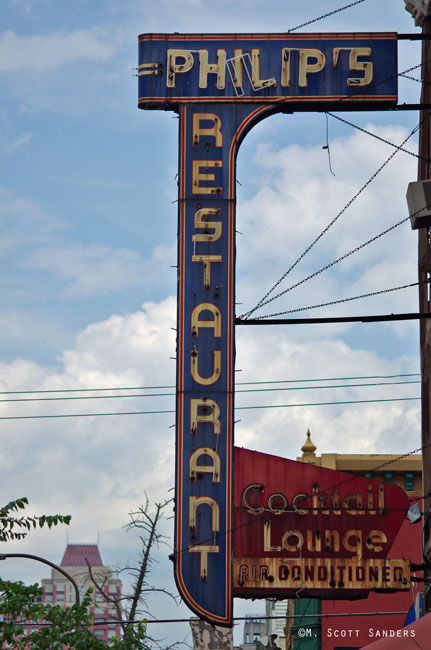 Philip's was one of the first places in the city to get air conditioning, thus its placement on the sign. This thing is massive, probably ten to twelve feet tall, which really must have gotten people's attention back in the day. Notice just below the T in Restaurant? That's the top of the Boot and Saddle sign!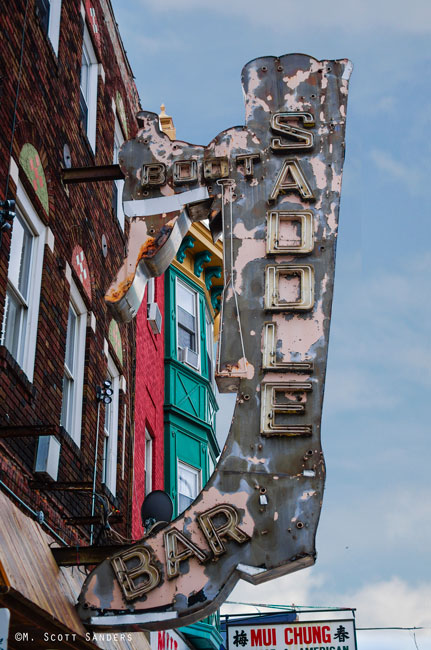 And here's that sign! This is semi-restored, and as I understand it, actually lights up again. The rest of it could probably use some painting, or not; the bare metal is a bit charming in its own way. So an interesting thing about this sign is that it says "saddle" vertically and "Boot" horizontally, whereas on the other side: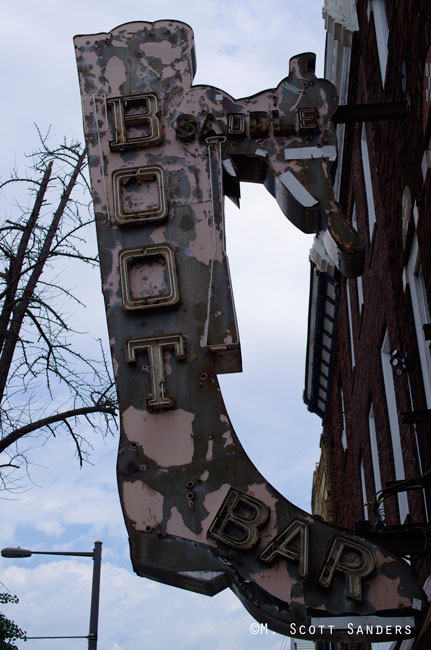 the opposite is true!
So, what you won't see in this post is another Philadelphia landmark that is on South Broad Street, the Dolphin Tavern. The reason for this is simple: I didn't realize it was there until after I got home. But, as these things usually go, it gives me another opportunity to go back!
When I returned to the car, the man in the van was still in the driver's seat, reclined and dozing. I did my best to extricate my car without disturbing him and moved on to my next sign…
---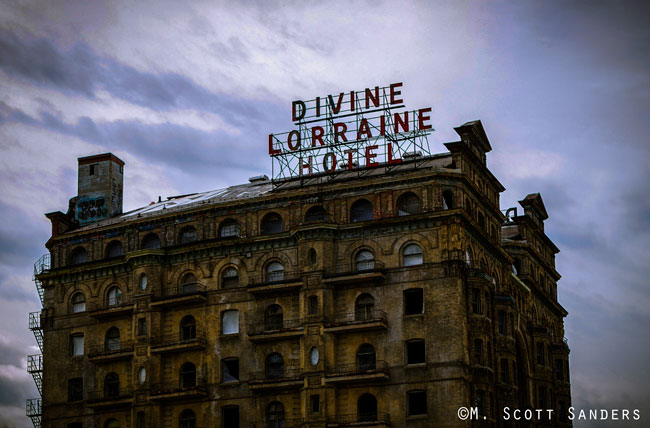 To finish off a bit of history from the last post, the Divine Lorraine has been vacant for more than a decade. It was originally the Lorraine Apartments when it first opened its doors in 1894, the design of renowned architect Willis G. Hale. In 1900, it was made into a hotel and almost a half-century later, it was purchased by Father Divine, head of the Universal Peace Mission Movement, who renamed it the Divine Lorraine. Bear in mind that Father Divine, although a maverick in the field of racial integration, also claimed to be himself God. This latter seems to have been disproven by his death in 1965.