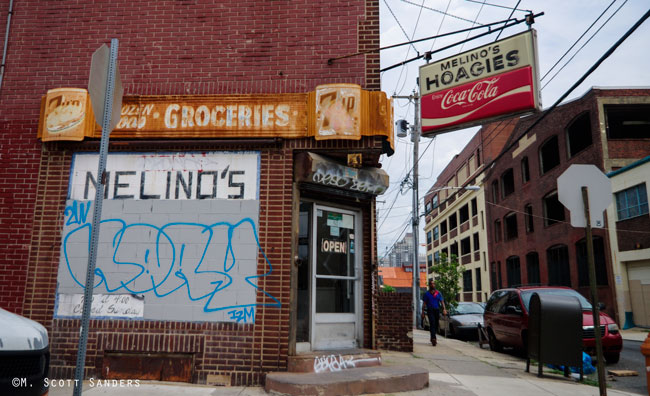 Melino's Hoagies, Philadelphia, PA
A co-worker of mine, who grew up in Chattanooga, used to speak of an alternate childhood life he had lived. During periods of time, he would stay with his aunt, who lived in Philadelphia, and he told me many stories of how he was made fun of because of his accent, and how if he went down the wrong street (as he did occasionally) people would attempt to recruit him into a gang, and a host of other stories like that. Invariably, whatever Philadelphia story he told would end with him saying, with a huge grin and without a trace of irony, "I love Philly."
And he truly did. Somehow, even though he really hadn't said anything particularly positive about it, he loved Philly.
Tap most anyone who lives in Pennsylvania who has not lived in Philadelphia and environs, and the very mention of the city's name elicits an overwhelmingly negative response. Part of this I can relate to, since I grew up in New York but not New York City, so whenever I told someone I was from New York, people made assumptions. For this completely unfair reason I came to dislike New York City, and only age and experience have reversed this attitude.
Be that as it may, my attitude toward Philadelphia was not right. I knew there were several Philadelphia signs on my to do list, and despite the fact that it's relatively easy access for me to cross them off my list, I still wasn't doing it. A couple weeks back, I had a free day and I made it up to myself to remedy this situation, so I hopped in the car bright and early and headed south.
I decided to avoid the Schuylkill Expressway, since it blocks up at all hours of the day and night, and headed in from PA 309, hoping to hook up with Broad Street on the north end. There was construction, so I ended whirling through back streets until I reached Broad at the Olney Street Bus Station, where approximately half a million people were waiting for the bus. I turned south on Broad, ready to scoop up some of the treasures. Almost immediately, I came upon my first. And second.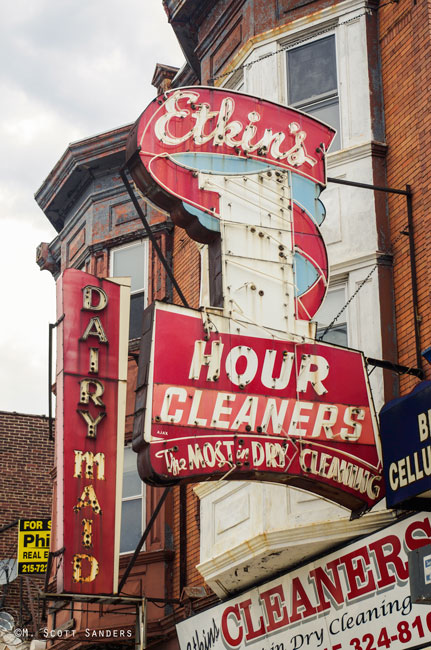 One of the more interesting aspects of these kind of shoots is that on occasion you run into one or two that you had no idea existed. I was after the Boot and Saddle and others I had researched and I had no idea Etkin's Dairy Maid existed, much less back-to-back like this. I had to maneuver through the one-way side streets before I could turn around and get these, but once I got into position, I got parked and fired away.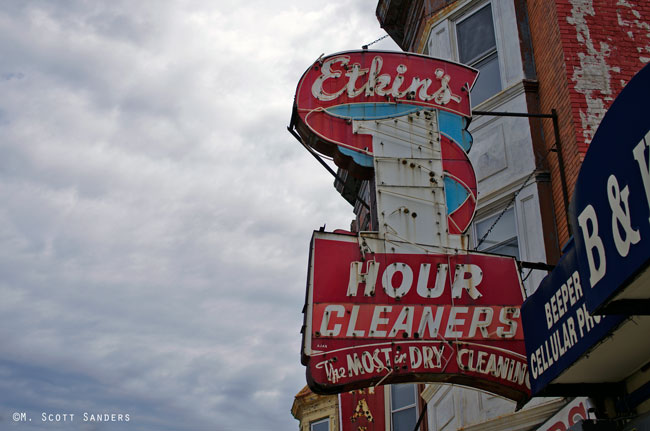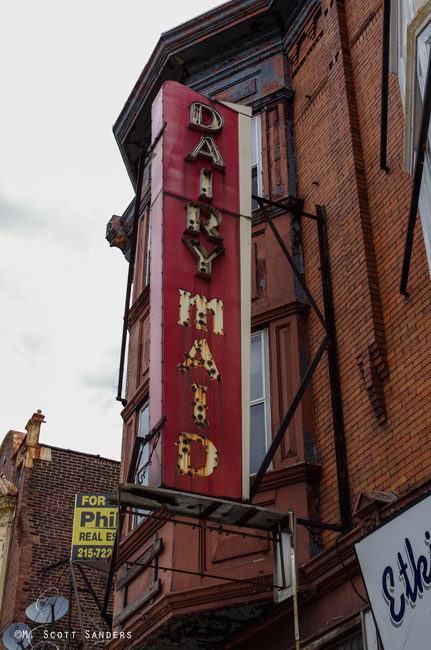 Some research on Dairy Maid: they were a Confectionary company owned by a family named Glaser. They bought a number of different companies, including many that sell salt-water taffy. The company still exists, but operates out of Gladwyne, PA. Etkin's appears to still be open.
Still buzzing from the discovery, I headed on down Broad Street to my main quarry: the Divine Lorraine Hotel. Now a graffiti magnet, the Divine Lorraine was truly a high-class place in its day.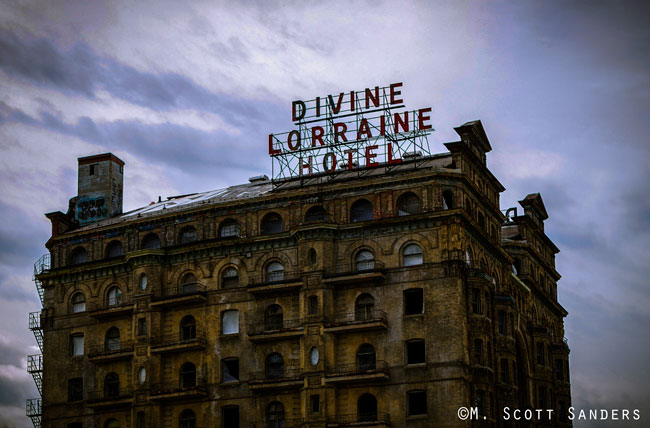 I went a little nuts with the Photoshop…
This was a considerably more difficult shot. I had to park across the street and tried to hit it up with my long zoom lens. But, and testament to my new friend the 35mm 2.8 Pentax Limited, I still managed to get the above shot (this is cropped, of course). Still, the 75-300 zoom came in handy when it came to getting just the sign.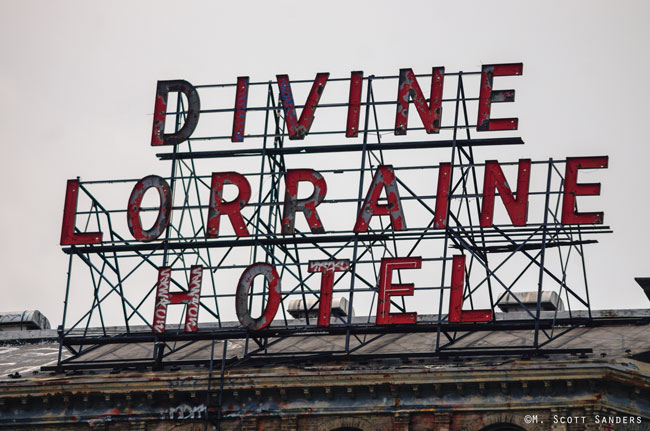 And I hadn't even gotten to City Hall!
So, back to the idea that I started with: the Divine Lorraine, due to it being very, very closed, does not appear on Google Maps, Mapquest, etc. If you type it into your GPS, you will not find it. Granted, it's on North Broad Street, and you literally can't miss it, but this is a special case. There are plenty of others out there that you can't find unless you have a map, and since it has been removed from the map, there's no way to find it. So, to help out my fellow sign geeks, in cases like this, I'll try to include a map of it's exact position.
Update: The Divine Lorraine recently got a facelift and a new lease on life, and apartments are (or were) available there. Details are here.