News Agency, Quakertown, PA 2009
In 2009, I had just started my journey. After years of film, I had moved on to digital, which provided me (at least in my own mind)  brand new opportunity to take pictures of any and all things that existed. I've said before that the above picture was the first I ever took of an old sign. I didn't even get out of the car. I was coming back from the Quakertown Farmers' Market when I saw this, pondered its significance and its age, and most importantly, the chances that it would still be standing in the future. I pulled over. This was the only picture I took that day. Despite the fact that I was pretty sure this sign would be gone in a few months, here it is five years later and it's still there.
Stop me if you've heard this one, too: this sign is on the back side of PA 313 and doesn't often get direct sunlight, so as a result, even though I love this original shot, I have been trying in vain to get another shot of this with better lighting conditions. Last week, the late afternoon sun was shining, I was within striking distance of Quakertown, and I had some time to kill, so I figured, why not?
To get to the News Agency, you have to pass the building and hook around it in one of those lovely maneuvers that you only have to do in the Northeastern United States (see: New Jersey, turning right to make a left). As I made the u-turn I could see that my trip was not in vain; at last, the sun was shining bright on the side of the sign that faces northwest. I parked in the same spot I had parked in five years ago, fixed my new lens to the K-5, and stepped out.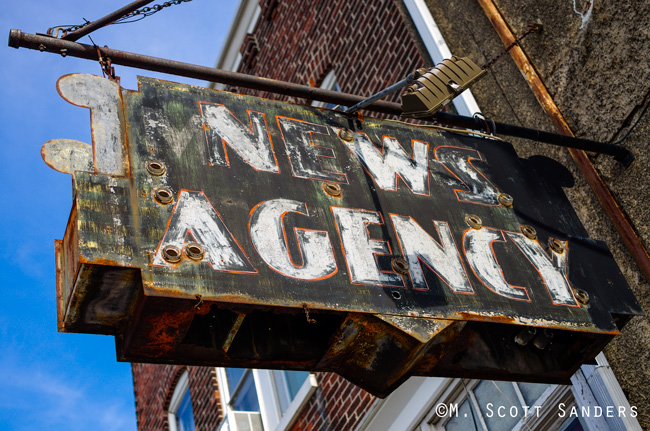 While I'm happily taking some new shots, I can see a face in the window of the actual News Agency. Now, bear in mind, I was not especially sure that it was still open after all these years, but it was. A man walked out, and he was one of those sorts of people that you instantly know that you're going to like. He knew what I was taking pictures of and immediately introduced himself. His name is Phil, he has an impressive mustache, and from what I could gather, is constantly smiling. Much more, as we started talking about this sign, he told me that he was going to be restoring this very sign!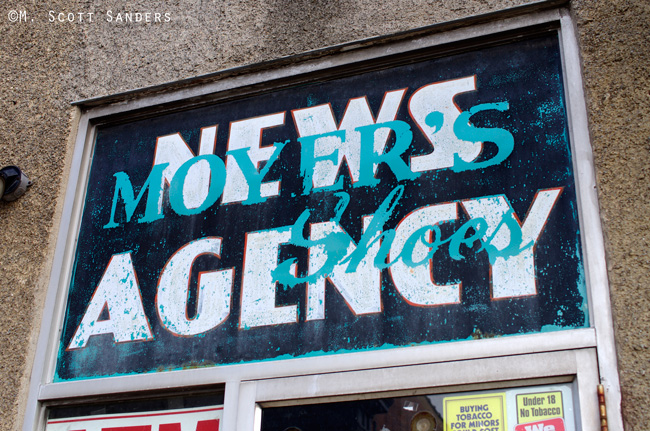 Above the door to the News Agency is a rapidly-reappearing clue to the building's past. This was a shoe store in a previous life, and not only that, but Phil tells me that the business is still owned by a family named Moyer. This, of course, is no surprise, because every third person in this part of Pennsylvania seems to have the last name Moyer. (And yes, in case you were wondering, former major league pitcher Jamie Moyer is from nearby Souderton.)
Phil also tells me that the former Dimmig Electric across the street is slated to become a bakery. There were plans for a Brew Pub to move in to the building, but this fell through. The Dimmig Building used to be the Palace Theater, he tells me, and even though I had been by several times, I hadn't noticed the entryway, which really pointed it to being an old theater. Another thing strikes me: at the word "Dimmig," it occurs to me that I had spotted another sign here months ago, at the back of the building. I hadn't taken a picture of it because the sun was against me (once again), so as I left I figured it was a good idea to see if it was still there.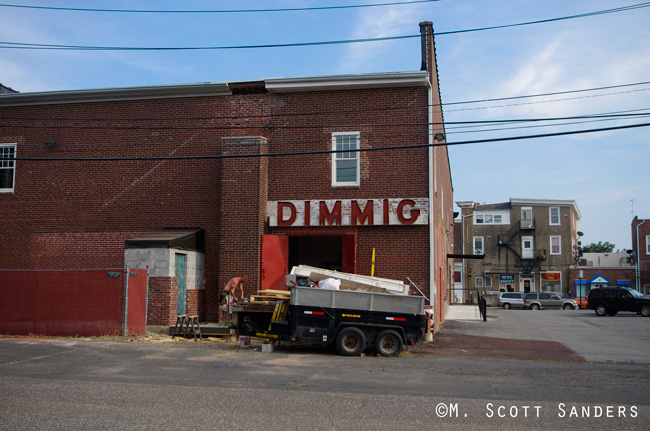 Dimmig Electric, with the News Agency visible to the side, 2014
The back door was open and there was a guy working on the reconstruction. The sign was, as you can see, still in place. I asked him if he didn't mind me getting a few shots and he basically told me to get them while I could, because chances were these letters would come down soon.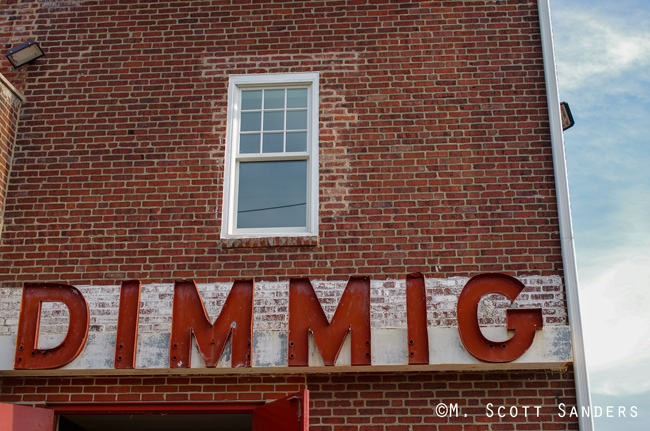 I drove back home feeling good. It's not often that you get to document a small piece of history, or have a good conversation out on the street. And now, I'll have to go back to see how the News Agency sign looks when it's finished!
---
On my way back, I had to stop in at The Inside Scoop, which is a few miles north of Quakertown on PA 309 in the town of Coopersburg. Although not an old sign, it has pretty much everything one could hope for in a new sign. Since I've been revisiting old favorites with my new lens, I figured I would squeeze off a few shots!