Signhunting is not an exact science. Don't get me wrong, there's a lot of resources out there for discovering where the good ones are, but at the same time, not everything has been photographed, and Google is only as good as your keywords when you're looking around on the internet. I like to use "neon sign"  along with the city or town that I'm researching, but invariably I come up with a Bud Light sign or the ever-popular "Bimbo en Repose" for you art and mud flap aficionados. So, every once in a while I kick it in American Pickers mode and just hit a road I've never hit before.
Returning from the Llanerch a few Saturdays ago, we headed up route 1, hoping to find something more. However, that area, as interesting as it is, contains no neon or anything old and interesting. Somewhat disappointed, we decided to head back via the Schuylkill Expressway.
"It's all right," I said. "It's Saturday," I said. "How bad can it be?" I said.
(Philadelphia natives who are reading this: I hope you were not injured when you hit the floor laughing)
After spending three lifetimes to drive the space of two miles, we were allowed to go free. And being somewhat frustrated and being the proponent of the road less traveled as I am, I followed my nose. My nose told me to go up 422, because I had some unfinished business in the town of Royersford.
We had been through a few months before, looking for a neon relic that's attached to Lebow Furniture. I had to give it a miss due to time constraints, but now I was ready to roll. I wasn't sure exactly where it was, so I followed my nose down Main Street. Before we got there, we saw a colorful old one in front of Plotts' Oil. We stuck a pin in that one, because I was after Lebow.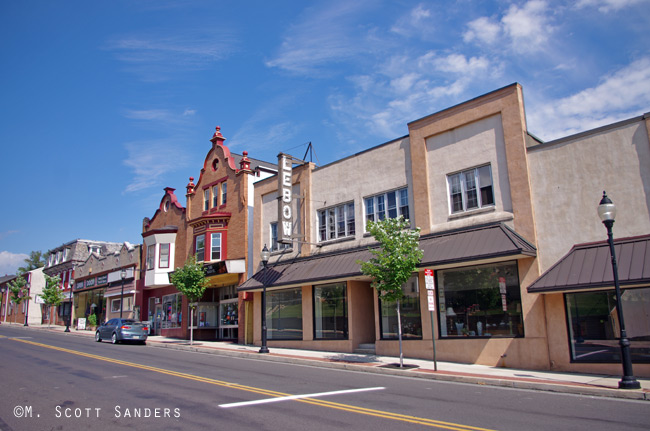 Lebow Furniture is still in operation. Anytime you see a local furniture place still operating these days, it's pretty encouraging. Especially in a grand old Main Street like this.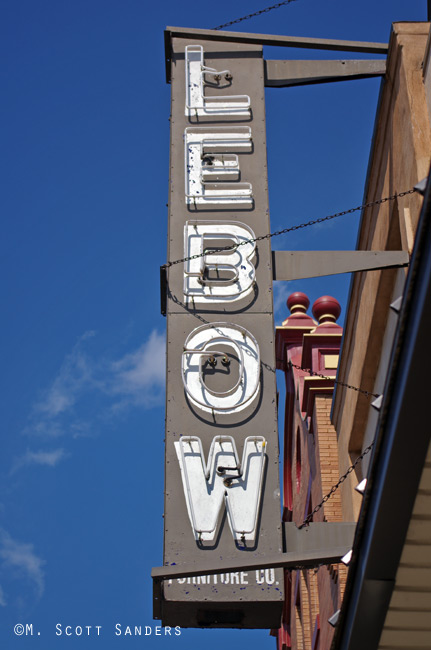 Not as encouraging was the appliance store just down the street. The sign for McKissic and Sons is still clinging to the side of the old building, but there's no other hint that there's been anything there for years. I dig the arrow shape: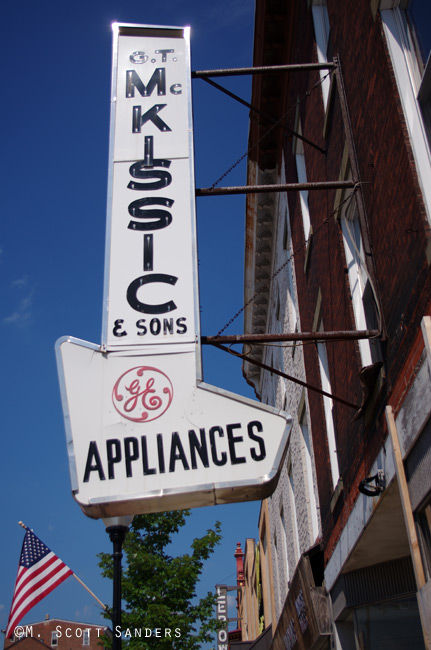 All that remained was to reverse course and get the Plotts' Oil sign: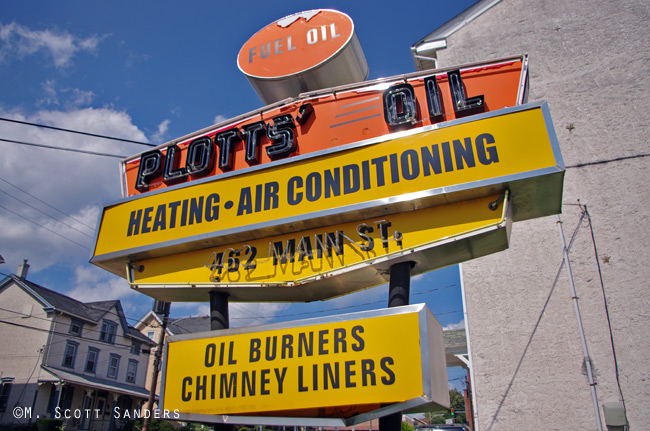 Orange and yellow? Two words: Yum yum.
It occurred to me when I got back that I had found only two signs rolling around Philadelphia and environs and I found three gems on Main Street in Royersford. Which just goes to show you that you don't always find what your looking for in the most obvious places.