First off, welcome.
Second, if you're here, you either know me personally or have seen my sign obsession spilled out for all to see on Instagram. By now you probably know that I'm on a mission to capture signs that may or may not be here a year, a month, or even a week from now.
Third, I love neon and I love the movies. Which means, when in Eastern Pennsylvania, visit the Roxy in Northampton.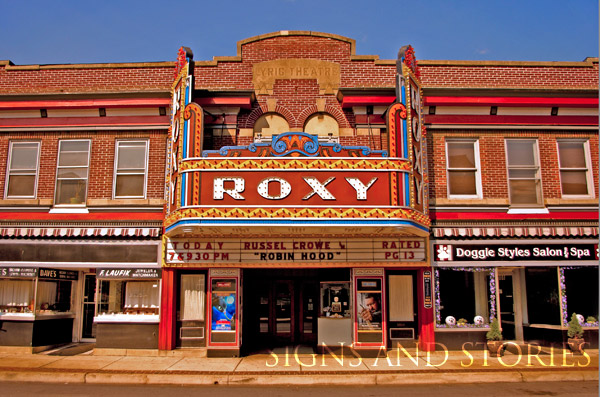 The Roxy is one of those classic one-screens, originally titled The Lyric Theater when it was built in 1921, it was Art Deco-ed to the hilt in 1933. I hit this one up when I first started taking sign pictures in 2010, and got some great shots during the day. Not only that, but I got a couple of bonus shots: notice to the left of the theater some grand 50's-60's lettering on Dave's Vacuum Cleaners and Laufik's Jewelers. I got a few shots of these as well.
One slight regret: I've never gotten a good shot of the Roxy at night. In 2011, I made a trip out there specifically to get a shot of it at "neon magic hour," right at sundown when the signs are first lit, but when I got there, it wasn't open. So this one has become one of my white whales.
A few weeks ago, my wife and I found ourselves out in the area again. The sun was going down, I was driving down PA 145 in Walnutport, when suddenly, Mr. Hyde came alive in the back of my head and yelled at me to pull off the main road and head for Northampton. Fortunately, my wife is used to these sudden compulsions, and after promises of flowers and back rubs allowed me to continue my quest.
We pulled up in front of a coffee shop two doors down from the Roxy. The sign wasn't lit yet, but it was still a little early. I got out of the car and snapped off a couple shots to feel productive, but I was a little disappointed already: Dave's and Laufik's had gone by the wayside, replaced by a none-too-pretty sign.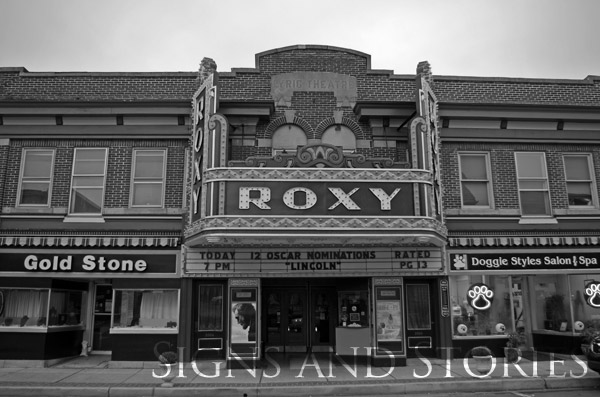 But fortune favors the foolish: as I waited, I noticed a Ford Fairlane parked in front of us.I love old cars almost as much as old signs, so I couldn't let this one pass. I snapped off a couple with my phone and with my K-5, and heard the door to the coffee shop open. The kid who owned it stepped out. He was glad to see someone appreciate it and let me see inside; it's all original paint, extremely well-kept. The kid bought it a few months ago and had grand plans for it.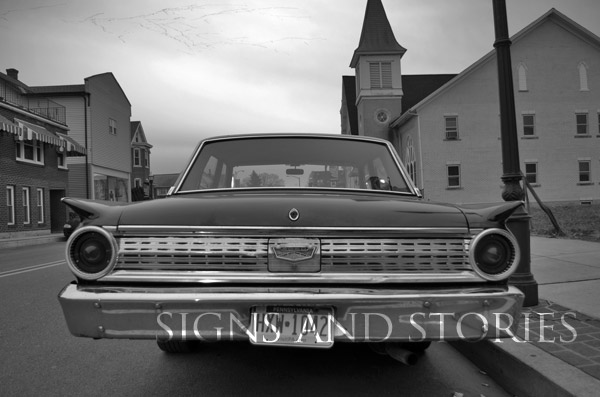 One of my favorite things is finding something in a shot I didn't see when I took it, and this one provided a great moment. When I processed this in Photoshop, the flock of geese flying over the town came into focus, adding just that much more to the shot. I love it.
But the White Whale is still out there. The Roxy's sign didn't light up after the sun went down and I didn't have time to wait, so the quest will continue…