My wife grew up on a farm in Central Pennsylvania, but before her family moved there, they lived in the Catskill region of New York. She was born in a hospital in Monticello, and for the first two years of her life she lived in an old house that sat along the banks of the Neversink River. She had never been back since the day they moved, and she only knew her first house from a set of yellowing photographs that her father kept.
"We're so close," she said one day. "We really should go. On the way up to your parents. It's not that far out of the way, is it?"
No, it wasn't. Only a half-hour or so. Her old house was only 80 miles from where I was born. Funny that we had to meet in Chattanooga, 900 miles away. "Fourth of July," I said. "We'll have a little more time."
There's no real direct route to the Catskills from Allentown. Just a bunch of back roads, which suited me just fine. I did some research and came up with a few signs in nearby Liberty, New York that looked interesting. We'd have to travel up US 209, and although I knew most of the way from Stroudsburg to Milford was mostly parkland, I knew good things awaited in Milford.
It was the morning of July 4th and it was getting hot. Brutally hot. Insanely brutally hot. We got to Milford with the air conditioner going full blast at 9am. We made a wrong turn, righted ourselves and continued along US 6 and 209. Laura spots something: "Did you see that?"
I hadn't. It was nice and picturesque, but not quite what I was looking for. She insists that she saw something and it would be foolish of me to argue. I trip down a side street, around a corner, and then I see:
The Milford Theatre lay dormant for a number of years until a casting director who was originally from the area came in and restored it. Literally, there was no way we would have seen it had we not gone around through the back roads. It's now home to the Black Bear Film Festival and hosts theatre productions and the occasional stand-up act. The original structure was put up in 1911! The fact that such a place could exist down a back street in a historic little town like Milford makes me smile.
The funny thing is, the Milford Theatre was not what she saw that made me turn off the main road. What she saw was the Tom Quick Inn, one of those grand places that's been around since north of whatever (1880's, actually). The sun's against me, but I make a game attempt at that one too:

There was only one that I remembered for certain, the Village Diner. I had seen it from I-84 many moons ago and knew I had to swing by there eventually. As the old US routes came parallel with the slightly newer interstate, I knew it was coming up soon. I had never seen a really good shot of it, but as I pulled off and snapped off a few, I had to wonder why: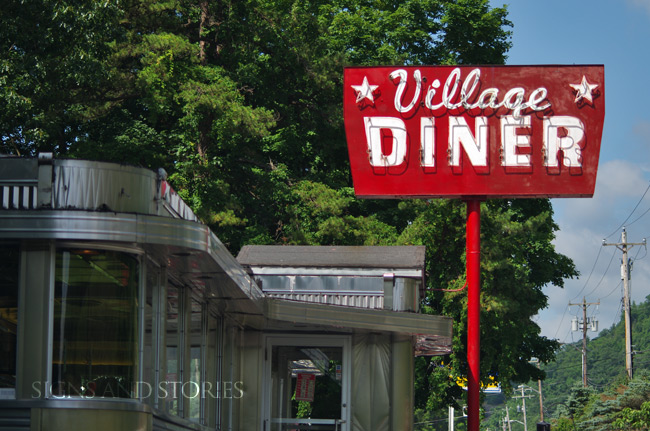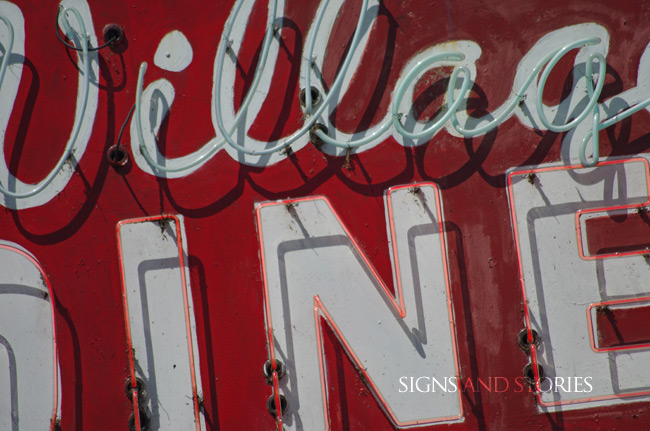 The Village Diner has been standing since 1956, and judging by the considerable traffic at 10am on July 4th, it's still going strong. Unfortunately, we already had breakfast, but I filled up on pictures.
Around the corner, we hit some old motels, one right across from the other. I pulled off next to a garden center and wandered over to the one on our side of the road. The garden center was adorned with the name Myer, and so was was the motel.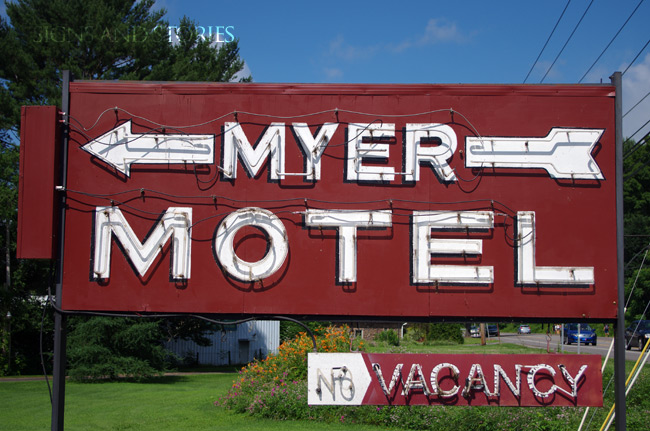 A man was out front spraying down some plants with a hose. He saw my hasty parking job and smiled a bit, then watched as I crossed the road to get the Milford Motel: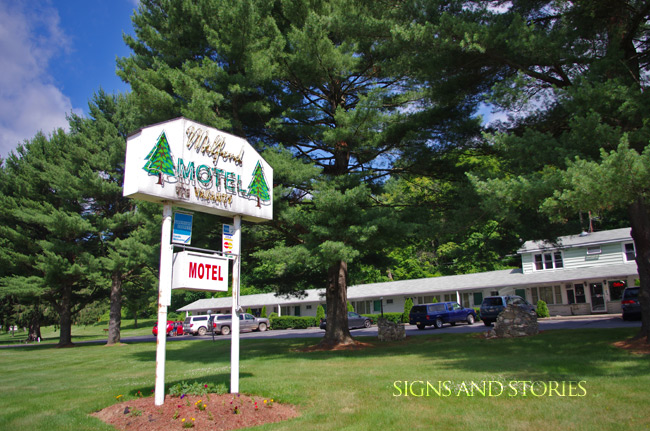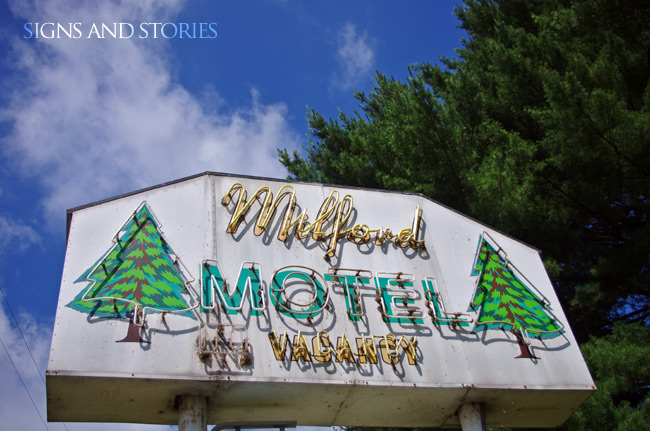 In the immortal words of Bob Ross: Happy trees, happy trees.
As I crossed back over to get back in the car. The smiling man at the garden center caught my eye. "Do you like motels or neon?" he asked.
"Both," I replied.
But it made me feel good. There's nothing worse than when someone gives you that what-the-heck-do-you-think-you're-doing look. The people who understand immediately are few and far between. And even though I'm sure this spot has been photographed many many many times due to the presence of a) motels and b) neon motel signs, it felt good that someone appreciated what I was doing. Thank you, sir.
But there was more to come and probably too much to put into one blog post. More later!