Allow me to get technical for a moment.
It's been an odd year for us this year. It started out with two months worth of interviews for a job that would have uprooted us to live in frozen climes, only to see it end ingloriously with a job offer that fell below the radar, followed by a trip to San Antonio, followed by taking turns with the flu. In the midst of all this, I finally decided it was high time to upgrade my lens from a kit and a few old manual primes to something better.
Mine is a Pentax K5, which has been a treat. The Pentax "limited" lens group is well recognized for its build quality and sharpness, but unfortunately, funds are just as limited and I can only afford to get one at a time. Which brings up the messy business of figuring out which lens, in fact, works best for my purposes. In that spirit, I decided to go out to some of my favorite local spots to see what focal lengths I normally use.
My first thought was that I would need something more like a portrait lens, perhaps the 70mm from Pentax, or if I felt like laying down some good money, the 77mm that everyone raves about. I came to a different conclusion on my first stop, The Movies in Hellertown. I put my 70-300 zoom on the K5 and stood across the road, knowing the results of the shots I've taken before. Only problem is, I couldn't get much of anything in shot, so I went back to the kit and shot this one at a focal length of 24mm.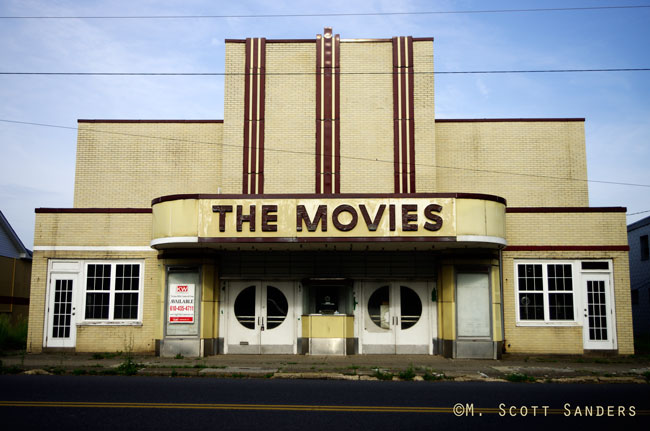 My 50mm prime was just as inadequate from this distance with this shot, so I pulled out my old 28mm and got this. Bear in mind I don't have any room behind me to stand any further back, unless I wanted to be bold and walk up on someone's front porch: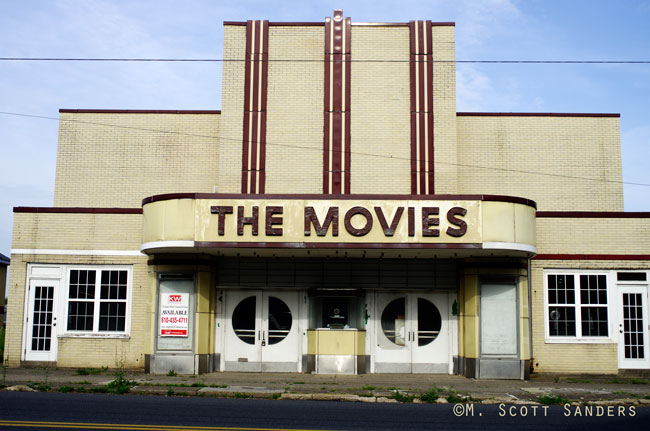 Strike one for anything above 24mm, but then again, compared to most of my sign pictures, this is an unusually large structure ( I also remind myself that Pentax makes a 21mm pancake lens, which would be ideal for this shot). A bit disappointed, I moved on to something smaller, but also one with challenges. I scooted across the border into Phillipsburg, NJ to Eddie's Drive-In. This old ice cream stand has closed and sits in the parking lot of The Sand Bar, right near the Free Bridge across the Delaware. I put the kit lens on to start, and this time, I used a focal length of 31mm: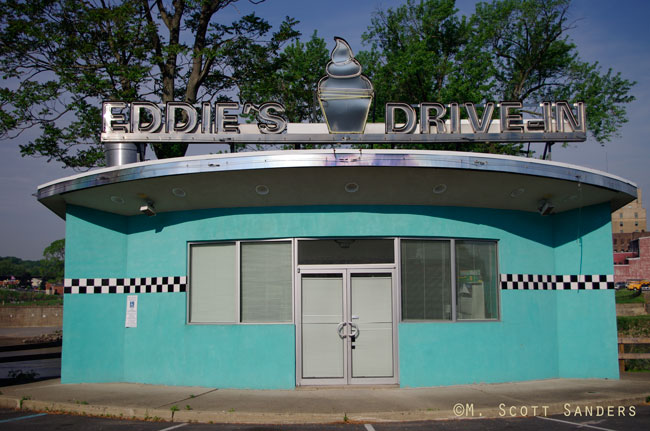 Exactly what I wanted, and as it happens, the jewel in Pentax's crown as far as lenses is concerned, is their 31mm lens. However, if you take a gander at the price tag for this jewel, you'll understand that this causes another dilemma. I went back to the car and put the 75-300 back on. Not enough room for me to get this even from the porch of The Sand Bar at 75, so I stood at an angle and got this shot: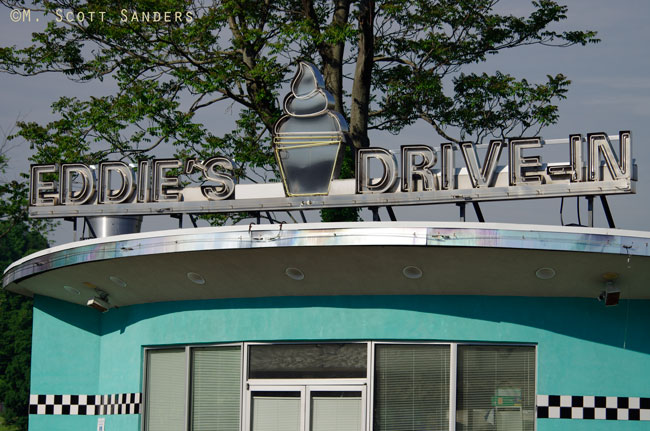 Decent, but not exactly what I was looking for (but, by the way, Laura liked this shot better that the other). Strike two, as far as I was concerned. Anything above 40mm would not be able to get the straight-on shot I was looking for. But again, this sign is a tough one, and you really need to get the full building in shot to get the best out of it.
Then I went to Shankweiler's Drive-In in Orefield, PA. This is a smaller sign, free-standing, and has a lot of room to stand back. In this case, the 75mm worked very well: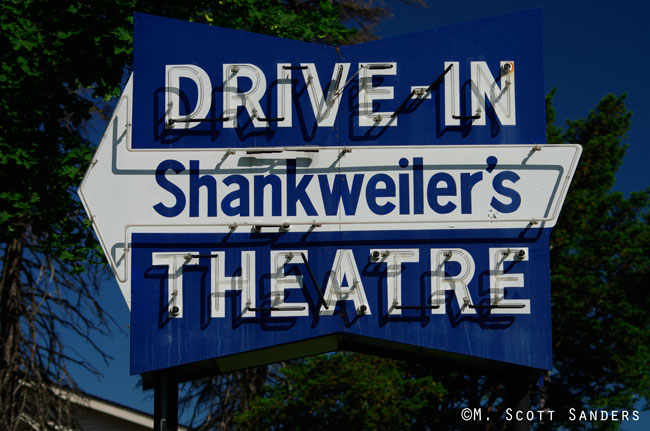 But which ones of these was the rarity? The large object with very little room to stand back, or the smaller neon sign with lots of room for me to roam? I kind of knew the answer to this, but when I went back home, I figured I'd go back and look at all the shots I'd already taken, and see what focal lengths I use the most often.
What I found was that I very infrequently shoot at the wide end of my capabilities, which is 18mm. This shot from Olga's last fall was one of few that I shot at that range.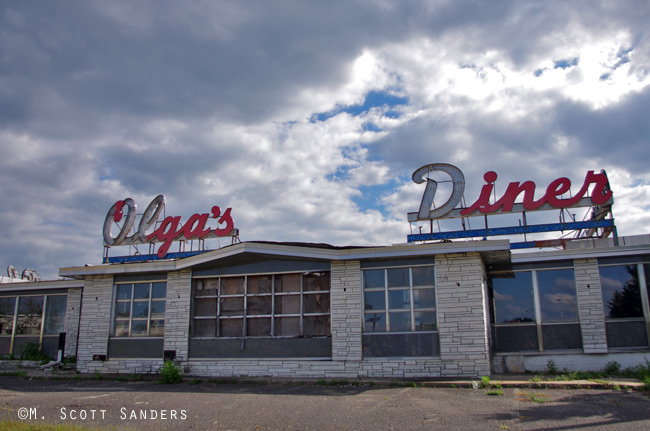 Occasionally, the best shot I took was from 75mm with my long zoom lens, but almost always I used anything higher than that to shoot details of the sign. This was one of the few I took at above 75, from Harrington Music in Cortland, NY this past spring. This one was a rarity because I rarely get a clear shot from that distance: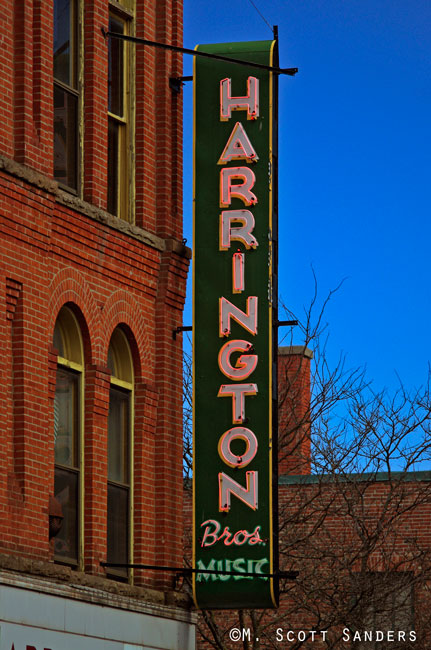 Overall, I shot mostly in the 28mm-40mm range, and fortunately, there are many good choices in the Pentax limited line that fit the bill. Of course, if anyone has a spare 77mm 1.8 on their hands they can let me borrow, I certainly won't turn it down. Wish me luck!