For four years I lived on Lookout Mountain, just south of Chattanooga. All throughout the South, there are (or used to be) signs and barns and birdhouses with "See Rock City" painted on it, and I lived within easy walking distance of that fine tourist attraction. Despite that fact, I never visited it. Not once. I walked over to it one afternoon when I was fighting boredom, but it occurred to me that I would be paying some exorbitant fee for a view that I pretty much saw every day.
I have no pictures of that spot.
And why? Because I felt like I didn't have to. The view was always there.
Fast forward to a couple of weeks ago, when we were tooling around Reading with our friends Denise and Lynn: we're on our way to the Pagoda, driving along old 422 up to Mount Penn, when off to the side of the road, I spot Effie's Charcoal Chef, an old beaut of a place that's been around since 1952. I kindly ask Lynn to pull off before my heart bursts out of my chest.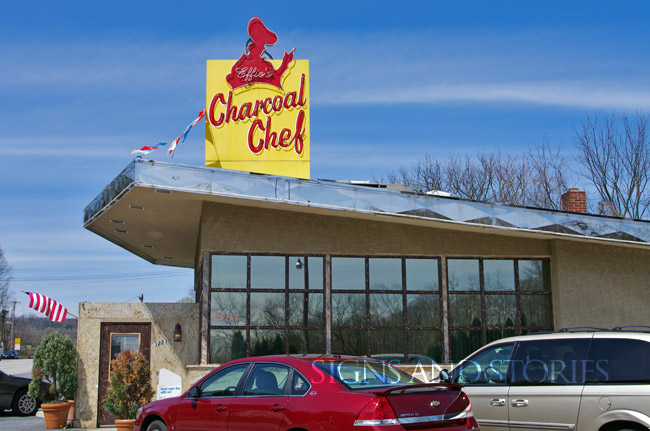 I got out and snapped off a bunch and got back in the car. When I do, Lynn says something to the effect that he's passed by here a ton of times and never thought about it one way or the other. It surprised me until I thought about it: Lynn's lived in the area his entire life. This place is a part of the scenery, someplace you pass by to get to somewhere else. The idea that I would want to take a picture of this sign didn't even cross his mind.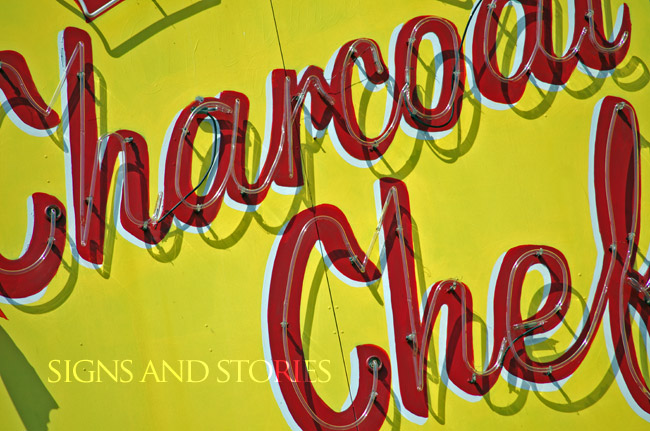 The fact is, we're all guilty of it. This last week, I missed out on a bowling sign that used to be on route 100 on the way out of Emmaus. I had always dismissed it because the top of the sign was all nasty and modern and plastic, but the rest of it was half-rusted with arrows and neon bowling pins and everything I could ask for in a classic sign. I passed by on Thursday and it was gone, another painful reminder of how quickly these lovely old relics are going by the wayside.
The moments pass quickly. Seize them.
---
Some more shots from Reading: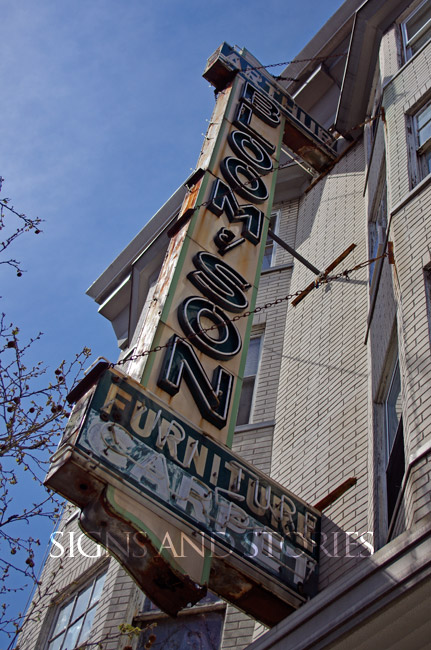 Arthur Bloom and Son Furniture on Penn Street in Reading. I spotted this in Seth Gaines' excellent Flickr feed; his shot was from 2008, and I didn't have high hopes that the sign would still be standing there after eight years, but there it was, even though the business was long gone. Couldn't have been more pleased, although the sun was against me, and a tree blocked the sunny side of the sign from the best shot possible. Still, I'm pretty happy with this one.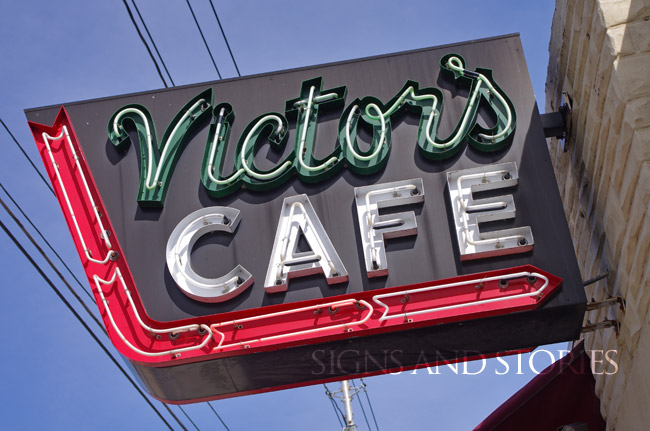 Victor's Cafe in West Lawn. I shared this one on Instagram and got a great response. This sign is pretty small, but the beauty of it is you can walk right up to it and get magnificent close-ups, as you can see below.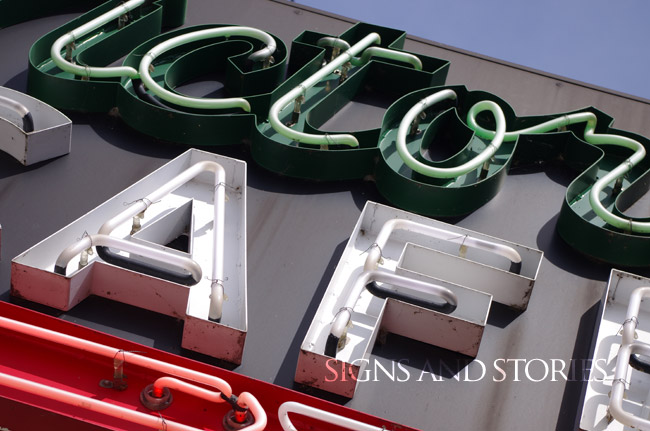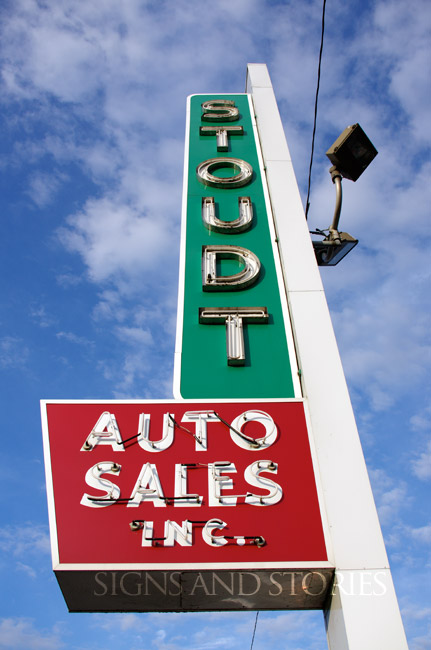 Stoudt's Auto Sales in Reading. It seems funny to mention this, but the reason I know about this sign is the local weather channel in Allentown. Periodically, in between giving faulty weather and traffic reports, they will show outdoor shots of various locations: on top of the PPL building, on top of the Eastonian condominiums, etc. The shot in Reading is along the Warren Street bypass, and in the shot is this sign. I think they've restored it recently.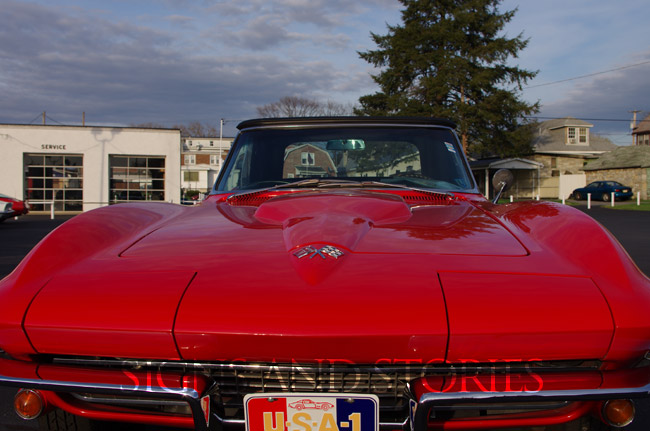 While I was there, I noticed a couple of 60s Corvettes on the lot, which I couldn't resist. And after I had snapped my fill and went back to the car, what did I see but a tricked-out old Chevy coming down the road.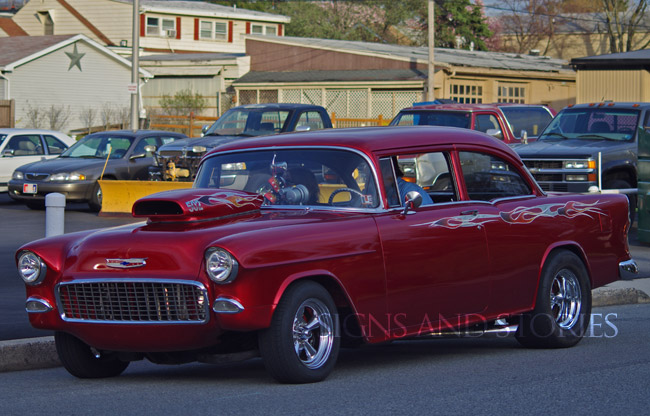 They came to look at the Corvettes. I can't say as I blame them, but at the same time, if I had this bad boy in my garage, I don't know if I would need anything else!