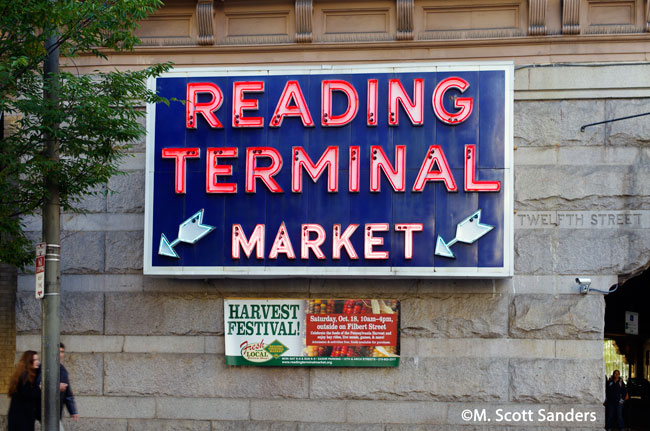 First off, in answer to someone's question when I had four posts entitled "The San Antonio Food and Sign Festival," this is not actually a thing. But it should be. All I'm sayin'.
Second, there's also no such thing as the Philadelphia Food and Sign Festival (but there should be), other than the one Laura and I created one morning last week when we had the idea to take full advantage of an extra day off during the Columbus Day weekend. There are two places that spring to mind where food and neon intermingle, the first being the Reading Terminal Market, a foodie paradise unparalleled. Truly, if you cannot find it in the Reading Terminal, it's probably not worth eating.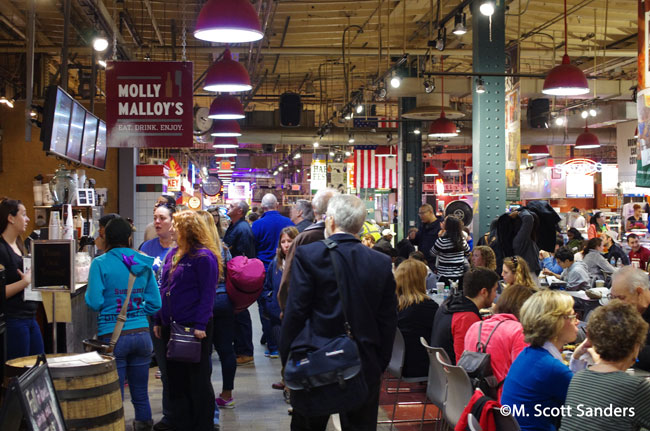 It took us a few minutes of wandering before we felt like we could actually settle in anywhere, but eventually we found a place that stopped us dead in our tracks. Being an admitted cheese snob, I gravitated over to a stand in the back owned by the Valley Shepherd Creamery. They had several cheeses on display, but the one that took center stage drew us in like nothing else could: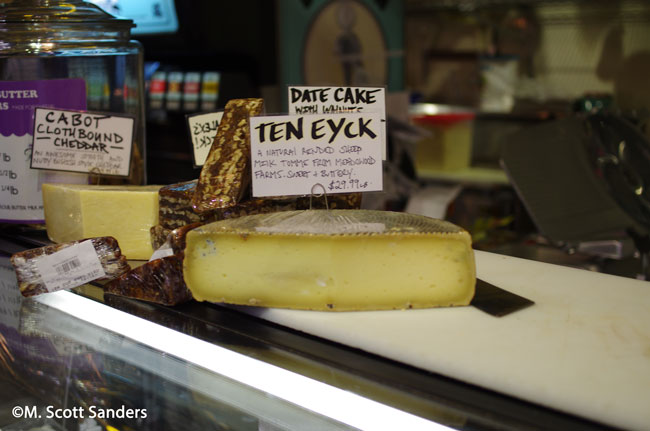 As it so happens, Laura's maiden name is Ten Eyck.
So, after the world's easiest sale and we had procured the cheesy comestibles, we came to find out that this was not one of Valley Shepherd's cheeses, but from one of their partners, Meadowood Farms in Cazenovia, New York. Unfortunately, they couldn't tell us why the cheese bears the name Ten Eyck. Nor is the internet a wealth of information on the subject. Needless to say, we're very curious why they named a sheep's milk cheese in the family of manchego with a somewhat obscure Dutch name. If anyone knows, please let us know!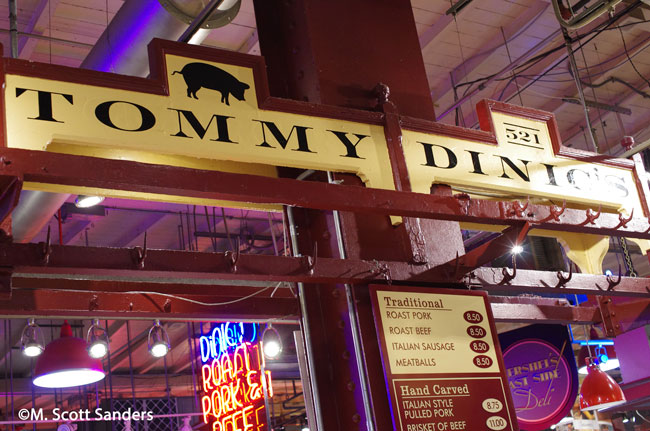 It was ten in the morning, we already had breakfast, and yet we still found ourselves in front of Tommy DiNic's. There was a cloud of people already there for lunch. Cheesesteaks, you say? Well, even though that is the most famous export of Philadelphia, the Roast Pork sandwich is gaining steam as the sandwich of choice, and DiNic's is one the best. Roast pork, provolone and broccoli rabe. We had to indulge, even though we weren't terrifically hungry.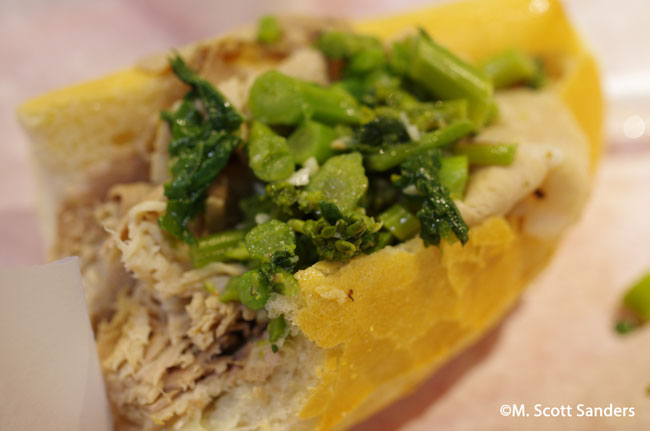 I regret nothing.
Termini Brothers has a location in the Reading Terminal, and if you remember this previous post, I had a debt to settle with my lovely wife. I went to the main location on 8th Street a few months ago, had a tea biscuit and got an unexpected tour, but unfortunately I was by myself. For that reason, I had held off on the specialty of the house, the cannoli. I wasn't about to leave Philadelphia without going by the main location for a pair of his-and-hers cannoli.
Now I Know Why He Left the Gun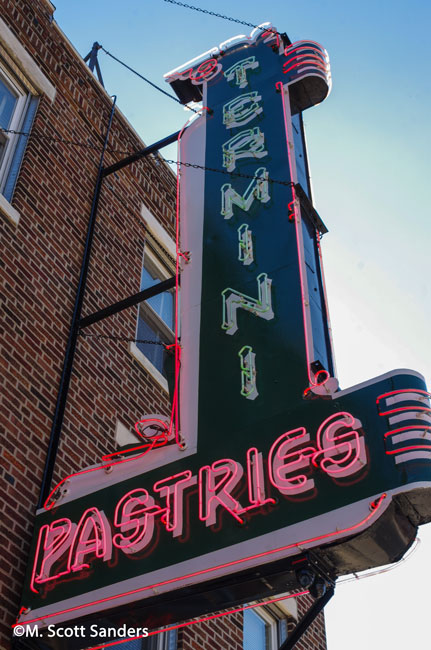 First off, the sign was lit this time around, God bless them, so I went to town with a whole series of new shots. Then we went inside, and quite possibly the most delicious smell that exists returned to my life with a vengeance. Now unconcerned with leaving anyone behind, I could graze with confidence. A cannoli each, certainly. Then a container of pizzelles which looked impossibly good.
And then the girl who was serving us said "While you're waiting for your cannoli," she said, "would you like a tour?" Well, I had already had a tour previously, but Laura hadn't, so we went through and looked in on where the magic happens.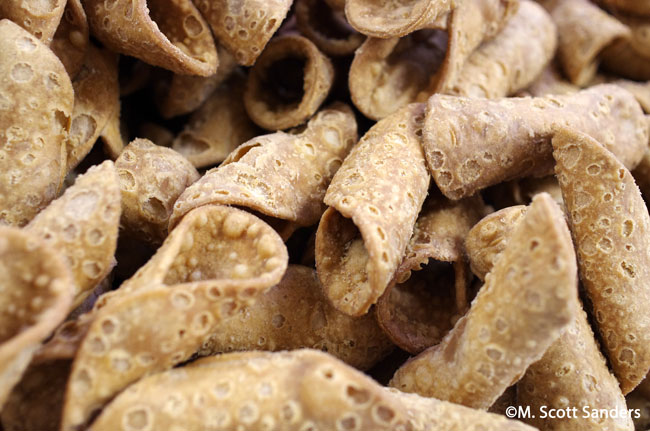 Laura is smarter than me. When she is new to a place, she does what I never think to do, which is ask the person serving you what their favorite thing is. So she directed us to her favorite: a biscotti topped by a banana and raspberry, then the whole darn shootin' match covered in chocolate. You'll see that off to the right.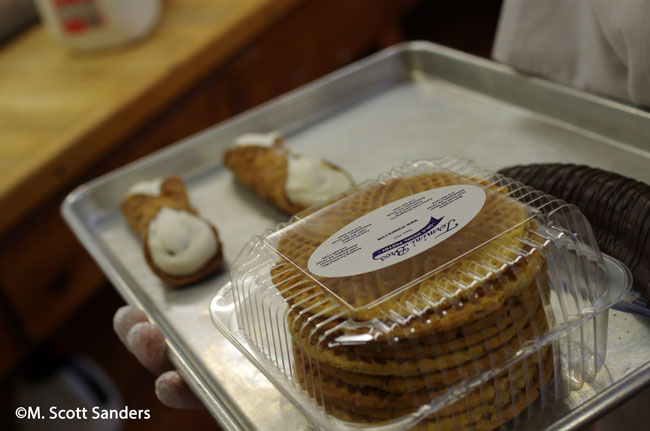 In order of deliciousness, and there aren't any losers on this list, mind you:
The chocolate-banana-raspberry thing, which I'm convinced is used as currency in certain developing countries.
The cannoli, which would win most normal contests. Had I not had the chocolate-banana loveliness, I may have considered this the most delicious thing I had ever thought to eat.
The pizzelles, which are outrageously wonderful in their own right.
We ate these later, of course, because there was plenty more to do and plenty more day ahead.
A pity we were full, because it was time to cross another place off my to-do list. I had missed out on the Melrose Diner on Snyder in my previous trip, but I couldn't pass up
A neon diner sign
with a clock in it
and the clock is shaped like a coffee cup
So off we went.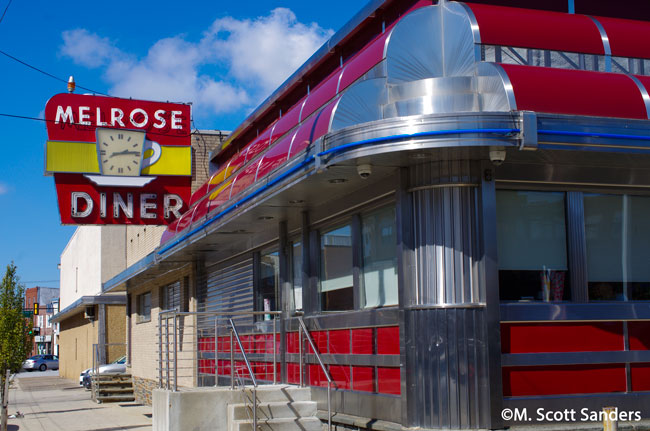 By the way, in case you're wondering, it was about 11:30. I think the Melrose has been stuck at 8:14 for a while…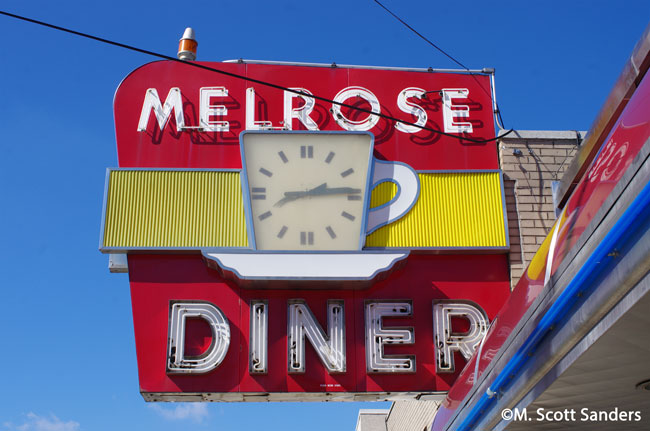 But this was not all for this day. My word, no. For that, there will come another day and another post. Or two.