"It was an education," Laura said, when the day was all over.
Like just about everyone we know, we have a list of things we'd like that we would probably like to do one day if the weather is not too bad and it's not too far away and my cousin isn't coming to town and Aquarius is in Saturn and I'm not too gassy after that burrito and… Well, in short, a maybe-do list. A list where hardly anything is ever crossed off. For us, one of the things on the maybe-do was a trip to the Jersey shore. We both had been when our ages were just out of single digits but we had never been back as adults. We were wondering if we were foolish for not going, since it's so close.
The day before Laura's birthday and I figured, what the heck. It's technically off-season, and when do you ever cross something off the maybe-do? Hardly ever. I thought it would be cool to go out to the Barnegat lighthouse, perhaps eat some french-fried lobster at at Howard's (a slight bit more about this place and a hint as to my father's obsession with this place here).
And you know me. I had some signs lined up.
It was slightly out of our way (but not five hours) to visit the Moon Motel in Howell, New Jersey. The Moon is right out of the Space Age, complete with a booster rocket that proudly announces "TV".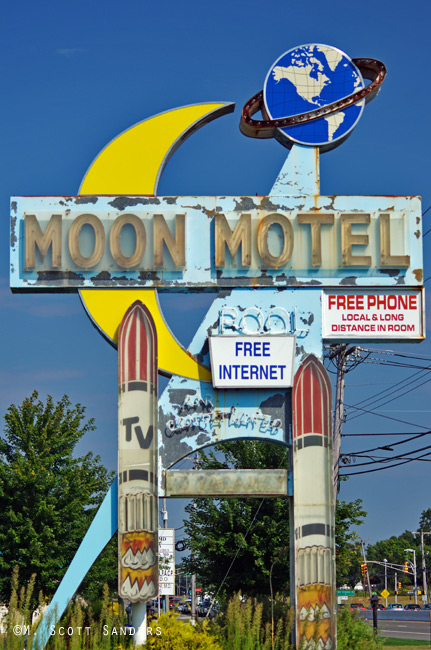 What we did not know was that the Moon Motel was closed, due to a fire that took place in March of this year. I'm not sure what this means for this old relic of a bygone era, but it could not bode well. It seemed to us that we had arrived just in the nick of time.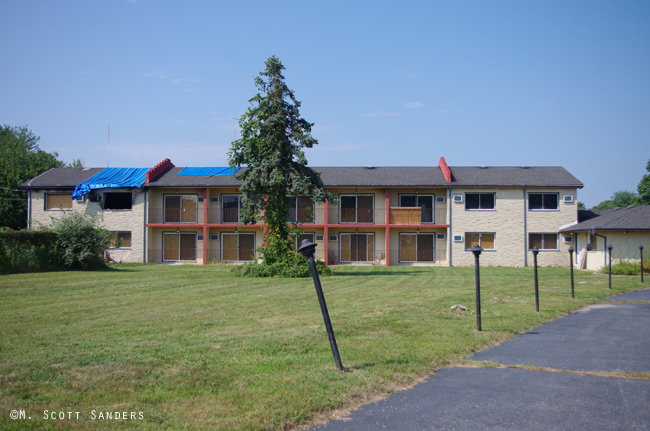 My theory is that the longer you travel down one of the old US roads, the more likely you are to find some great signs. We were on US 9 heading south toward Long Beach Island when we came across the remains of another motel in the town of Lakewood. By remains, I mean it was an old sign, and yards and yards of overgrown vacant lot. Sometimes it's a mystery why some signs stay despite the absence of a building, but I wasn't going to ponder that one too long.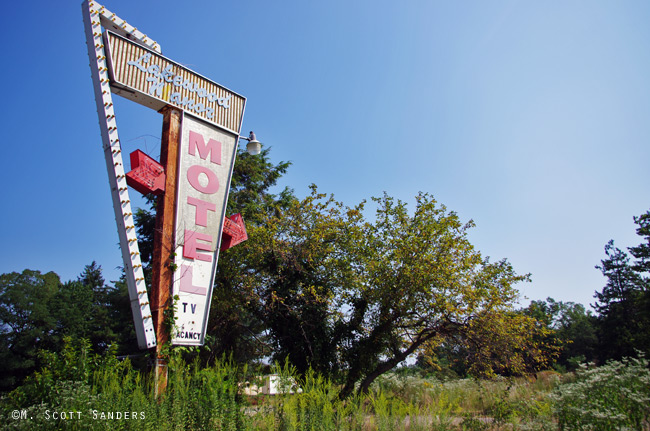 A slight sidebar here, but have you ever gone driving in New Jersey? I'm not so sure if I could whole-heartedly suggest it. Everything is all right as long as you don't stop anywhere, or have any particular place to go. Outside that, chaos reigns. It's a bit like playing one of those old text-based computer adventure games:
Make a U-turn.
You can't do that.
Turn left.
You can't do that. You can only go forward or right.
But I want to turn around.
You can turn right to turn left.
Explain.
You can turn off to the right, which meets at a T at the cross street. You'll have to stop and wait for three and a half hours until traffic clears in both directions, turn left there, and then turn left at the light.
And this is preferable to a U-turn?
You can't do that.
So I made a mistake and didn't get on the Garden State Parkway when I should have. Which meant I had to turn around. Then I found out that I couldn't get on the Garden State South from US 9 north. So I had to turn around again. Whereupon I had to play another text-based computer game, one which threw me into a Home Depot parking lot and eventually spit me out on the other side. Not the best twenty minutes I've ever spent.
Back on course, we ended up on Long Beach Island. Maybe I just didn't remember, but every inch of land on LBI is covered by some sort of structure. There is no room. You can't see the ocean from the main street. You have to have a beach pass to go on the beach. We were Jonesing for seafood and Howard's is only open for dinner, and every other restaurant was Italian. Bear in mind, we are spoiled. We go every year to Daytona, where you can see the beach for miles at a time, drive on the beach if you want to, and for free. And we know plenty of seafood places that are open for lunch. Maybe it's an unfair comparison.
Also, no good signs. Probably should have gone to Wildwood.
So we went to the Barnegat lighthouse, fully expecting to pay through the nose. Oddly enough, no one was at the little ranger station, so we drove right into the parking lot. This was worth the drive, and we managed to get to see the ocean without the aid of a pass:
When we left, still ravenous for some form of seafood, we passed by a place in Harvey Cedars (also closed) while Laura furiously checked Urbanspoon on her phone. We found practically nothing, so we kept driving until we found something promising. And open. Eventually we found the Blue Water Café in Beach Haven, who boasted of winning several clam chowder contests. Just the ticket. And let me tell you, they deserved to win any and all contests. At the risk of becoming all foodie blog upon all of your posteriors, do yourself a favor: if you're in the area, have yourself a bowl. Two words: Un. Real.
"So how was it an education?" I asked Laura.
"It made me think about what I want," she said. "I don't want that. It's all right for some, but for a beach spot, I much prefer Daytona. I don't feel like I've missed out on anything by not coming here."
Had to say I agreed. And I know it seems like I'm ripping on New Jersey…well, I am ripping on New Jersey, but not of its people, and not of its natural beauty, which it doesn't get enough credit for. Despite the fact that both Laura's parents and my paternal grandparents came from New Jersey, we've determined it's just not who we are. And there's nothing wrong with that. I think that we expend far too much energy on trying to fit into places where we don't belong. There's an awful lot to be said about finding your own place.
More Jersey adventures to come…
---
This clears one off my New Jersey To-Do List. I also made a day trip to Hot Dog Johnny's in Buttzville, so that's off the list as well…