Far too often in what I do, I am reminded of how quickly something can change. I know I've said it often, but it remains true, that photography is about this very moment , that even though I can go to the same place and take the same picture, the weather will be different, the angle of the sun, and I am convinced that the mood I am in, whether I have exercised that day, and even what I had for breakfast will make a difference. And sometimes the subject will have changed, or disappeared entirely the next time.
I was going through Phillipsburg, New Jersey last spring. I discovered the Key City Diner a few weeks earlier and had gotten some shots of it, only the sun was not cooperating and somebody had parked a van right next to the sign. I figured a morning shot would be better, so before my morning appointment in Easton, I charged across the border on 78 and turned back up on to old US 22. I love the old US Highway system: some of the best secrets are hidden there.
I got stopped at pretty much every light, which, if I was normal, would annoy me, but since I constantly have my head on a swivel looking for signs, the red lights are always welcome. It was cloudy, but there was a promise of sun. And off to the side, I see a Drive-In Restaurant.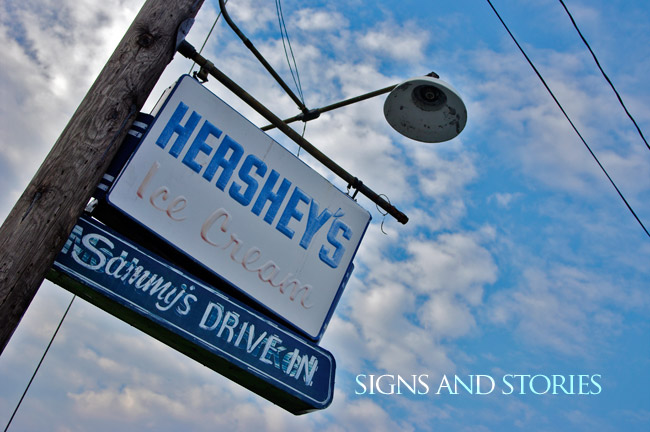 Originally called Tony's when it opened in 1956, it was bought in the early 80s and renamed Sammy's after the new owner, Sam Ayoub.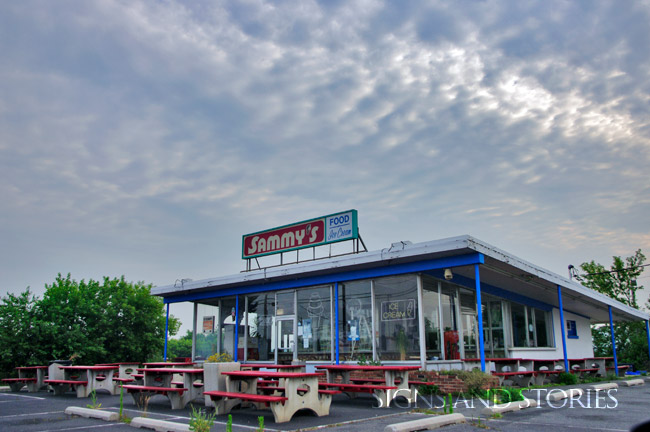 You can somehow tell when a place is enjoyed. I could see the kids in line in their little league uniforms and their parents sitting in these outdoor seats with their ice cream. I could also see the "For Sale" sign, and I was glad that I stopped to document the old place before it went away completely.
A few weeks ago I drove by and the Hershey's Sign and the Sammy's Drive-In sign were gone. I later read an article that Sammy's signs and most everything inside was auctioned off in February of this year. I'd like to think someone will take it over and make it a local treasure once again, but…
There's a grouping of signs that I've taken since 2009 that have already gone by the wayside. I've put them on a new page called Vanishing America.