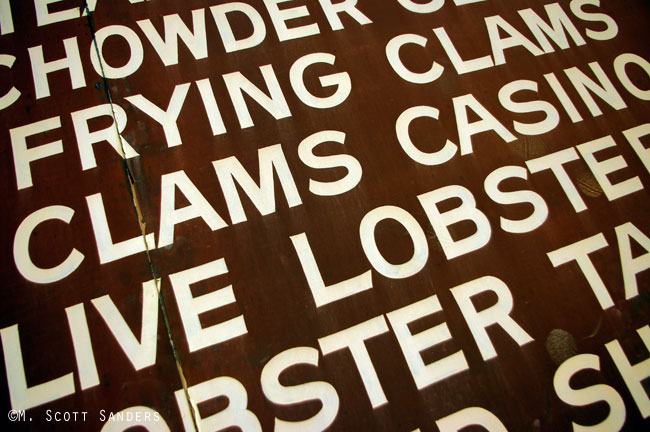 Hand lettered sign, Helmrich's Seafood, Williamsport, PA
One of the coolest things to happen to me in a while happened to me last week: it seems that the type designer Tobias Frere-Jones was writing an article for his blog on the subject of regional type. The main body of the article is a list he composed with others of photostreams, blogs, personal sites and such, showing off "type in the wild" in a variety of countries. As it so happens, Jean-Francois Porchez, the French type designer, is a follower of mine on Instagram (which is impossibly cool all in itself), and he suggested my feed to Tobias Frere-Jones. The article is here.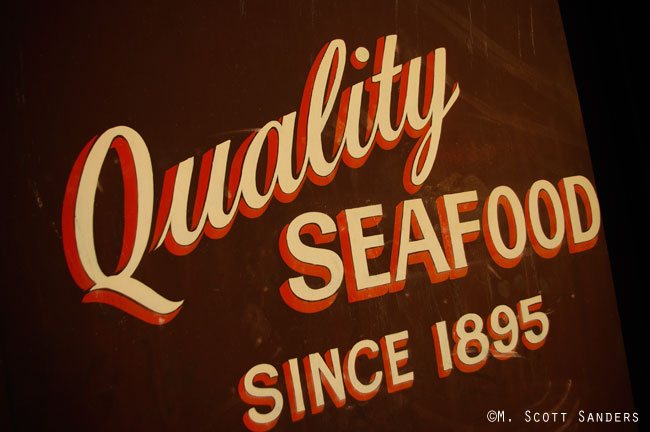 These shots, showing off some of the best hand-lettering I've seen, are the decorations on the side of Helmrich's Seafood in Williamsport, PA. I took these in May of 2012 and they remain some of my favorites.
Following Frere-Jones' lead, it occurred to me that I have a lot of people I'd like to acknowledge. Whereas I am a great believer in happenstance, I have discovered that this crazy thing I do is so much easier when I get some inspiration. Here are a few sites and streams that I always go back to when the well runs dry:
Retro Roadmap: Another impossibly cool thing that as happened since I started this site up a year ago…Beth Lennon (Mod Betty, to us mere mortals) of Retro Roadmap was one of my early supporters and shared an article or two on her Facebook page. Even before I started sharing all this stuff in this form, I was reading her blog and visiting some of the places she had visited. Thanks, Mod Betty, for always inspiring me.
AgilityNut/Roadside Architecture: Debra Jane Seltzer's site has always been a magnificent source on a variety of cool subjects. Signs, roadside architecture in general, movie theaters…you name it, she's taken a picture of it. She's also a dog lover, so she gets my vote right away.
Seth Gaines' Flickr Stream: It helps to know someone local. Although I've never met Seth, it seems our paths cross all the time. I'm not exactly sure where he lives, but I'm amazed at the alarming frequency of pictures we have of the same stuff.
Marc Shur: LA art director and sign enthusiast who has created more sign shots that I wish I had taken than anybody else I know.
Sunsetmeridian on Instagram: Also mentioned in Tobias Frere-Jones article, Sunset and I share an affinity for Old Florida. A terrific follow on Instagram.
Iveseenthesigns on Instagram: A fellow Pennsylvania sign geek, our paths cross all the time on the internet if not in real life.
Dewey Thomas: Awesome, awesome photographer who occasionally takes pictures of signs that seem to be meant specifically to inspire me.
Cinema Treasures: THE source of information on movie theaters, living or dead.