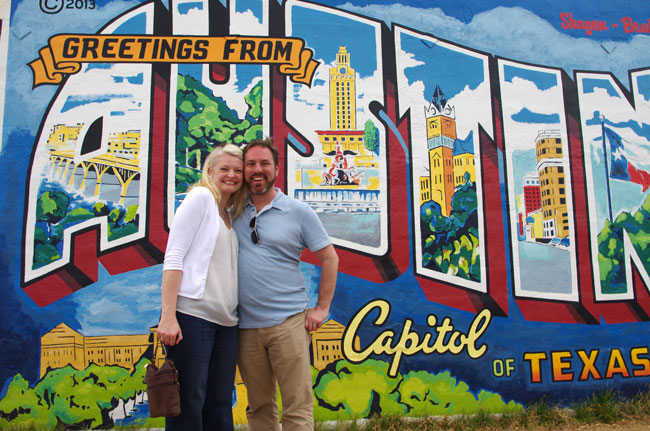 Here's what's great about my sister-in-law Hannah: on the day that we had planned to make the drive up to Austin, she couldn't sleep. So, instead of doing as the rest of us would do and lay around in bed waiting for something drowsy to happen, she got up and started surfing around the internet for places to eat in Austin. What she discovered was La Condesa, a Modern Mexican place nominated by the James Beard Foundation for Best New Restaurant. As we struggle down to breakfast she tells us this, describes the menu, and suddenly I'm counting the hours until lunch.
But first, Austin itself.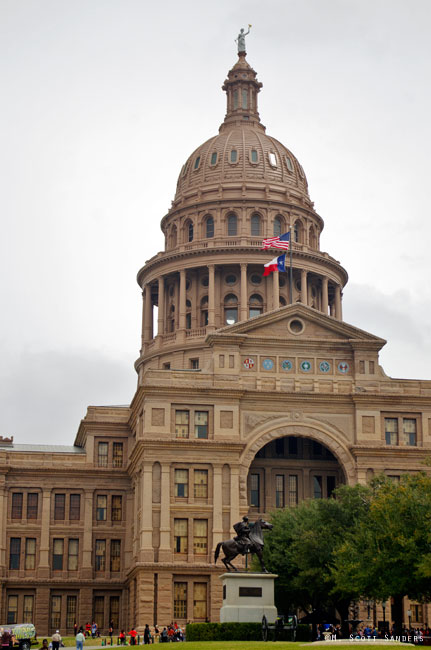 Let me say this: I don't like the heat. I grew up in a city that gets 80-plus inches of snow a year. I lived in Chattanooga and that was too hot for me. We met several people in Chattanooga who moved from Texas to escape the heat. I HATE heat. So bear this in mind when I say this: Austin is totally worth the heat.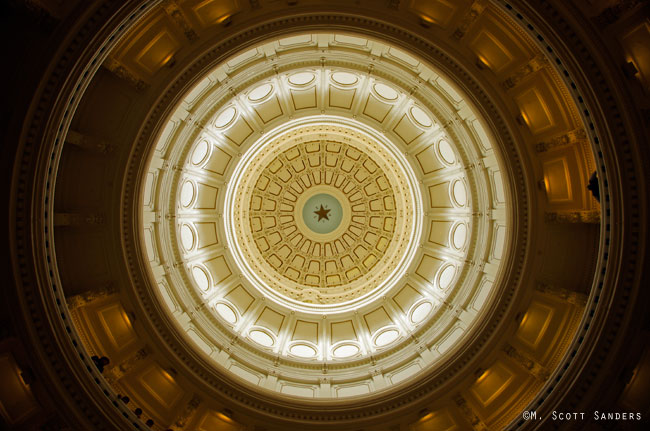 Obligatory Looking-Up-at-the-Top-of-the-Dome Shot
Now, of course, Austin has so many signs worth photographing that I couldn't count them all. In fact, I had to give some a pass just because there just wasn't time. The other unfortunate thing about this particular trip was the fact that it was pretty overcast much of the day. We walked the streets and I wandered off to gather all the best signs in.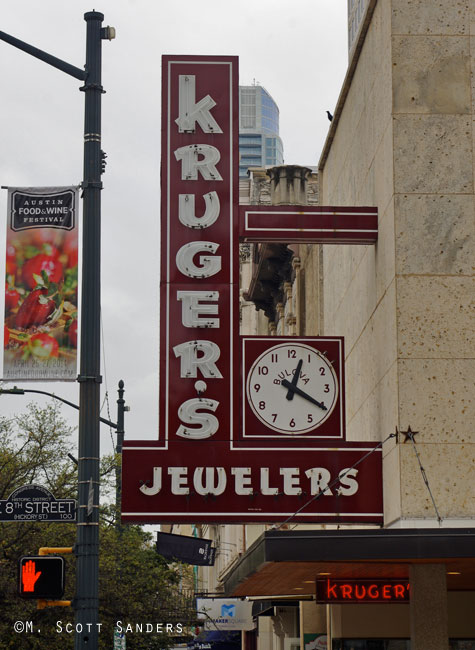 Two jewelers sit across from each other on Congress Avenue, Kruger's (above) and Joe Koen & Son (below) and both have been around forever, Kruger's since 1906 and Koen, as you can see, since 1884. Kruger's has obviously kept their signs up better, but they're both marvelous in their own right. And I love a sign that has a working clock in it. Now that I look at it, it took me about 15 minutes to walk from one to the other. (We stopped at the Starbuck's)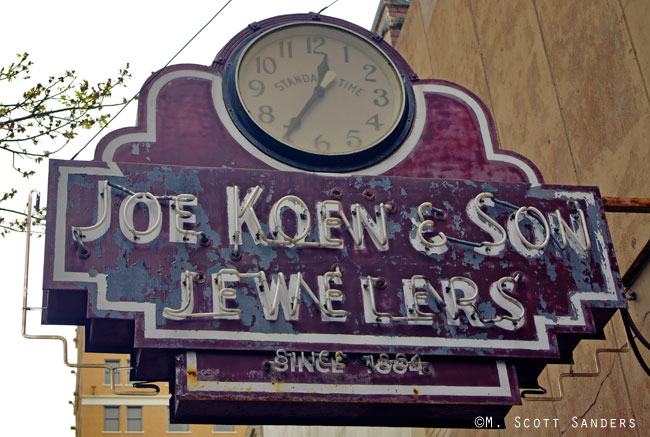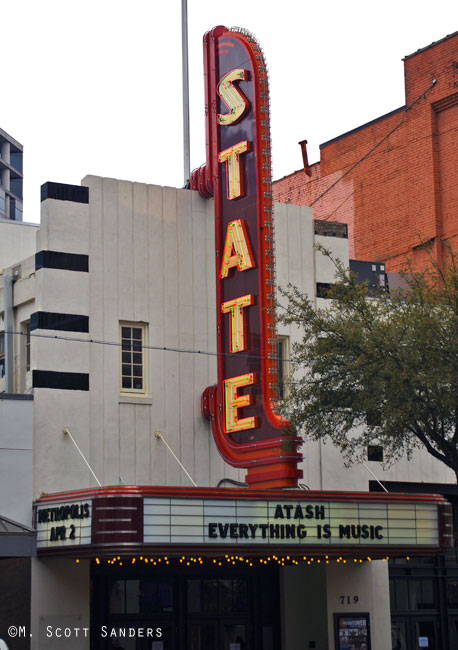 State Theater, Austin, TX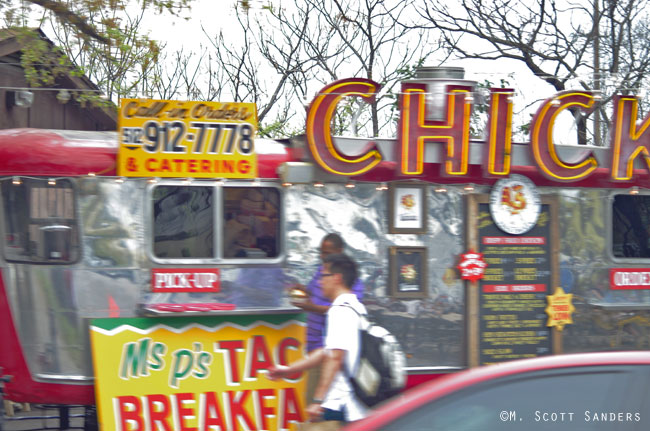 The Proverbial Taco Truck that I Didn't Fall Off of (Moving Car Shot)
And, of course, the infamous Austin Motel shot. I think they have a good sense of humor about the shape of their sign. I would think you would have to.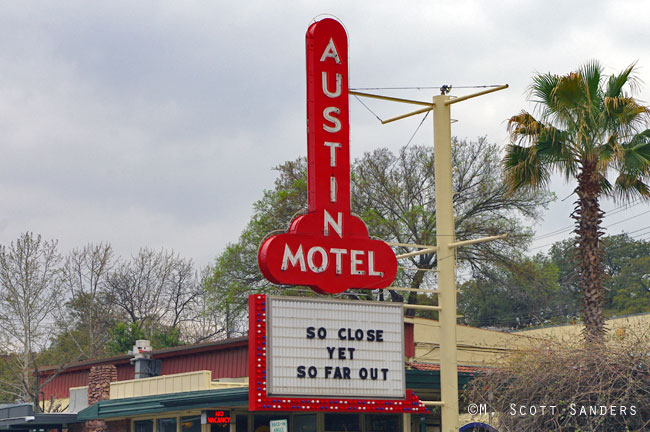 Far Out.
Finally the hour came to be at La Condesa, and it did not disappoint in the least. In fact, it exceeded my expectations. I had the Cubanita, which looks promising, but let me tell you, it tastes even better than it looks.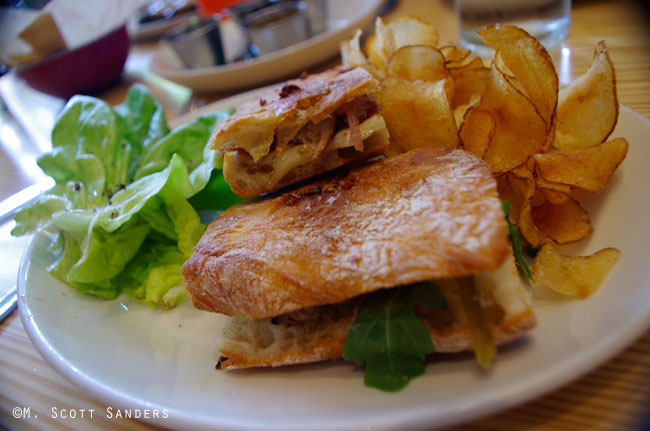 We felt the need for dessert afterward, and that was a good decision. This is the Boca Negra, a flourless chocolate cake with ancho, chile de arbol and carmelized bananas. I am becoming a fan of chocolate and chili together: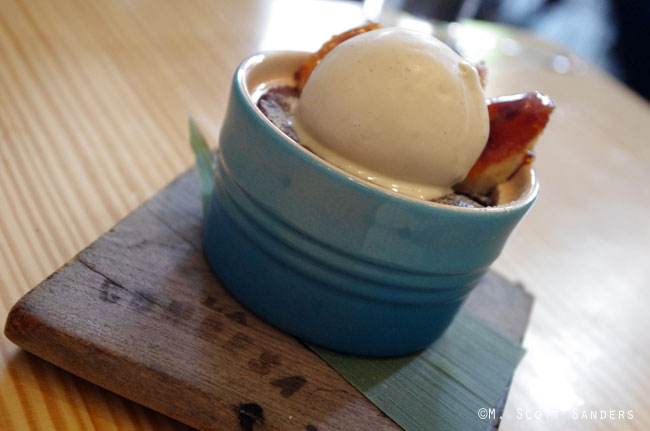 ---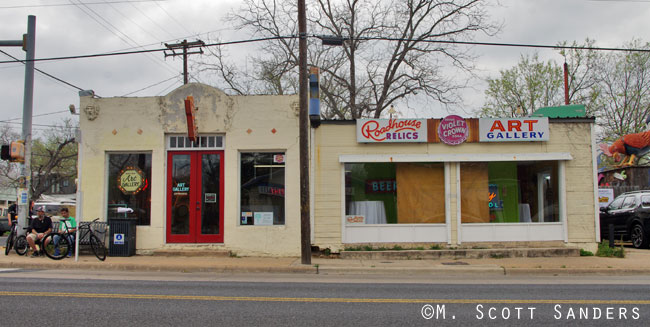 One of my goals in coming to Austin was to go to Roadhouse Relics, and unfortunately there were two things wrong. First, the proprietor, Todd Sanders (no relation) was in New York that weekend. Second, there was a wedding about to shoot pictures in their back yard. It was time to get creative. I stuck my K-5 in Live View, held it up as high as I could get it, and took a few shots over the fence.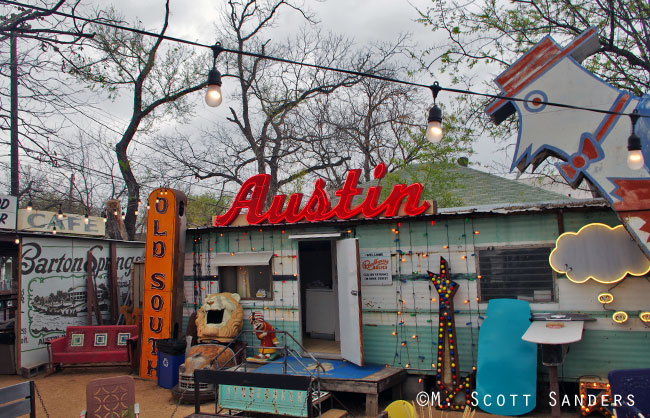 How many cool things do you count?
While I was at it, I went across the street, where a few more neon signs hung out. This Googie bit of fun for Freddie's Place is still active: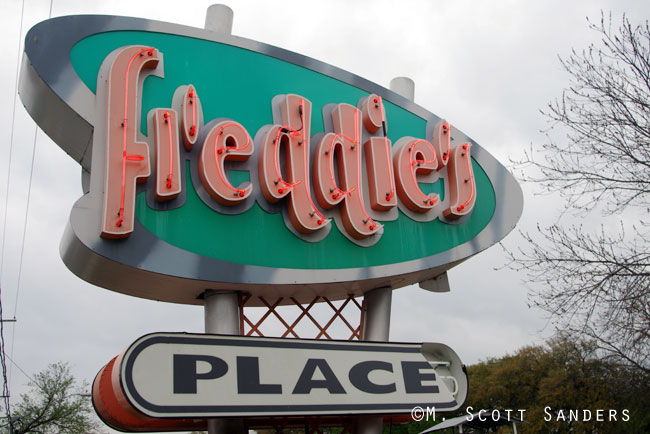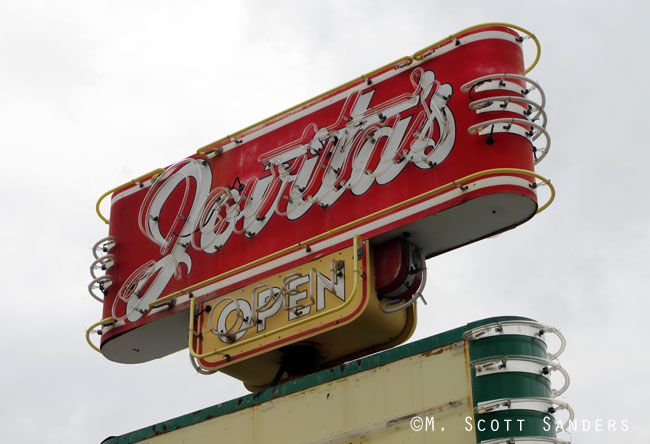 Whereas Jovita's, right next door, was out of commission. I recently found out that in 2012 the owner and several people were arrested for heroin trafficking among other charges. The location remains unoccupied.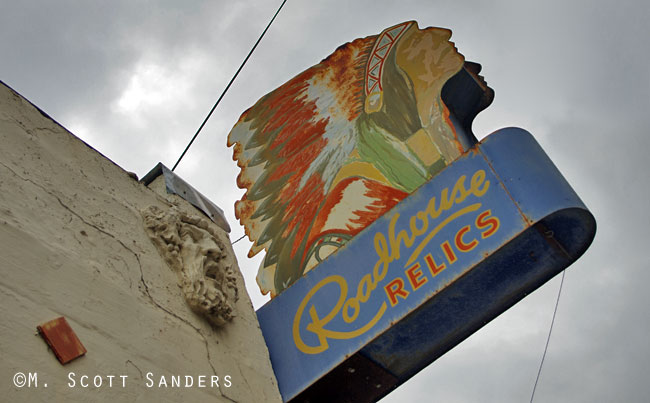 This, however, remains open, and is the center of all things I love.
We headed back to San Antonio. The sign portion of the Food and Sign Festival effectively ended due to poor weather the next few days, but the food continued to be good and plentiful. We don't know if we'll manage to get back before Dan is stationed somewhere else, but we were so thankful for the experience. Travel is so good for the soul in so many ways, and helps us appreciate not only the places we visit, but the places where we live.