Moments in time pass so quickly. If you're fond of grabbing those historical picture booklets you see in book stores, you realize how much a place can change in the course of years. I'm so grateful for those people who took the shots that fill those pages, because without them we would be missing great chunks of history. This is vanishing America.
This page, I'm afraid, is reserved for the epitaphs of the fallen. It seems incredible to think that all the pictures on this page have been taken since 2009, and this many of them are already no more.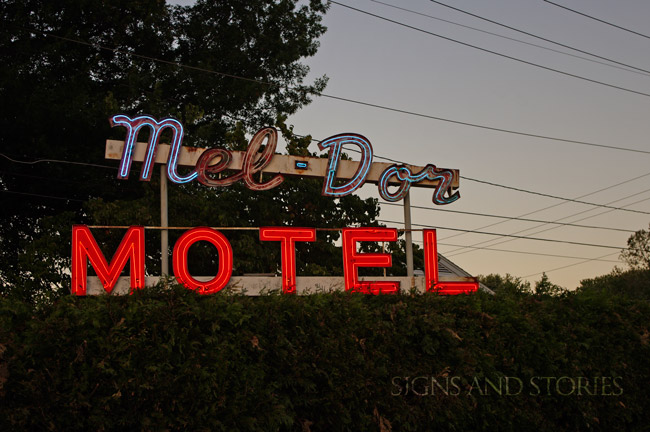 The Mel-Dor Motel, Bechtelsville, PA
My wife and I passed by here one night in 2010 at what I call "neon magic hour," the hour after the sun goes down and the neon signs come to life. I kind of wanted to go home, but I thought, "Now is the perfect time to get a shot of this," so off route 100 we went, I balanced my car precariously off the road, and snapped away. I got a decent bunch, of which I believe this is the best.
A few months later we passed by and the sign was gone. When I think I could have passed these shots up that night, I almost get mad at myself. I look at this one and think, don't ever pass on a shot because you're tired or this or that or the other. Life will pass by, and you don't want to spend your life looking back with regret.
This picture may not make you smile, but it does me.
The Port Motel, Port Trevorton, PA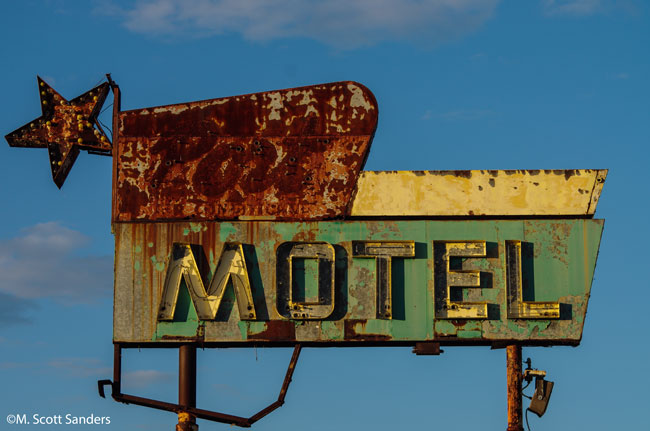 The Port closed down a number of years before the sign was finally removed, somewhere in the winter of 2013. Originally the framework at the lower left had a neon sign that read "TV", and the star was added later.
For more pictures and details, visit this article.
Lehigh Structural Steel, Allentown, PA
The company existed from 1919 to 1992, but most of the buildings were still standing as of the urban renewal that took place in this section of Allentown in 2014. The sign was still standing earlier this year but has since been taken down.
Hotel Parking, Orefield, PA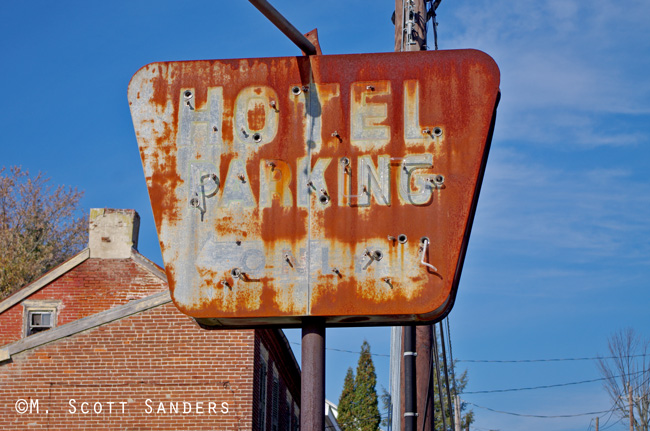 This piece of rusty gold recently disappeared (most likely April 2014). When I first visited this area, the old hotel was still standing, but just barely. For some reason, the sign remained for a good four or five years afterward, but I guess it was inevitable that it would go away.

The Nor-Pole, Orangeville, PA
My original story for this sign was pretty interesting. I pulled in one morning to get a shot of this sign and an older gentleman in an apron sauntered out of the back door. He grumpily asked me what I was doing. When I told him, he was skeptical to say the least, and as I took another shot, he slowly wandered out behind my car to get my license plate number. There was a police car parked outside. I didn't think it was best to stay.
A few months later I drove back to see if I could get a better shot, and to my surprise, found that not only was the sign gone, but the entire building. I didn't know it yet, but the building had burned to the ground.

Tenny Town Motel, Bloomsburg, PA (partial)
In the same breath as I discovered the Nor-Pole was no more, I found out the Tenny Town had been bought out by a regional chain. The Color TV by RCA sign, a rarity these days, and the stylized MOTEL portion, have been replaced. The only good news is the candle still exists.

Gas Station, Jonestown, PA
I just happened to go by later when they were in the process of demolishing this building. Here's the story.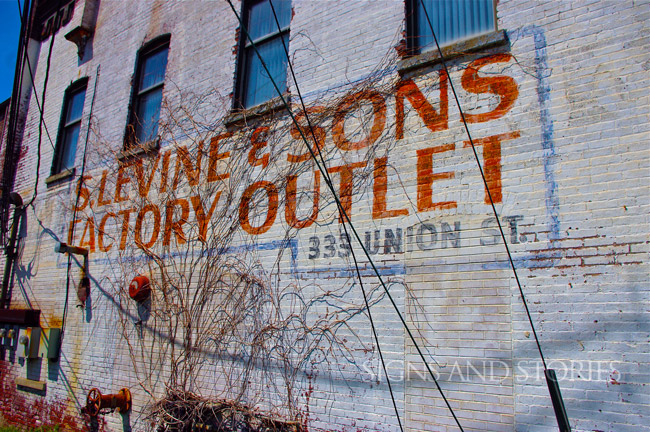 S. Levine and Sons, Allentown, PA
This is one of the first shots I took with my Pentax k20D, and it's a good thing I got it when I did, because this was painted over a few months later. The building still stands.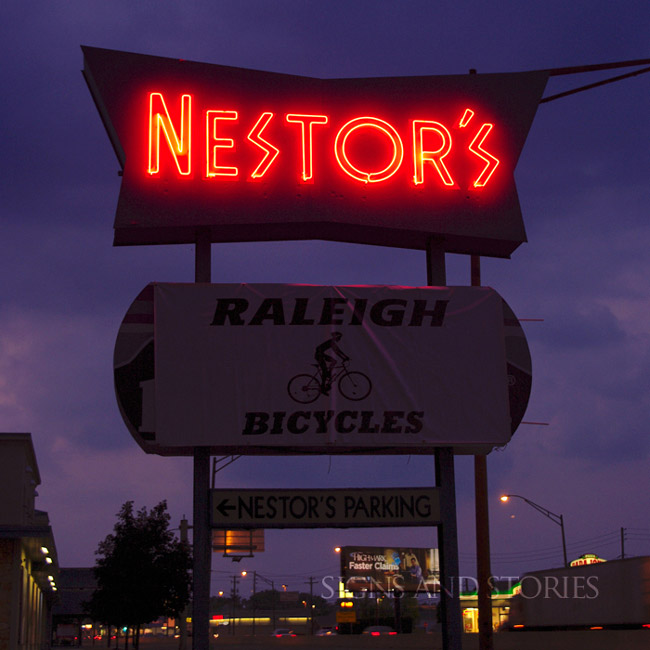 Nestor's, Allentown, PA
Nestor's was around forever in Allentown. My wife's uncle mentioned it as a stopping off place for hunting trips to Pennsylvania. It was bought out by Buckman's, which for the life of me keeps reminding of Mad About You.
Treichler's Cafe, Laurys Station, PA
The place was already closed when I got this shot, so when the sign was removed it wasn't a great shock. I love this style of Sprite sign, and surprisingly enough, I've found a pretty good amount of them, including the Glendon.