Laura and I both grew up in the country. I was in upstate New York and she was in central Pennsylvania. We both went to Tennessee for college and ended up in Chattanooga. We got married, and moved to Pennsylvania.
Short version.
In all of that time, we never lived "in the city." Outside the city, on a mountain overlooking the city, at arm's length of the city, we specialized in these places. When we first got to Chattanooga, the reputation of the city was less than stellar. Back in the day they used to test the air quality by putting a mason jar outside, and if a quarter-inch of soot had gathered in it by evening, it was considered a good day. By the time we left, Chattanooga was thriving, a tourist destination, and one of the best places to live in the country.
We arrived in Allentown in 2008. The city is of a similar size, both were built on rivers, both had pretty much ignored the potential of their riverfront areas. It all changed for Chattanooga when it built the Tennessee Aquarium on the river. We hoped the same would happen for Allentown.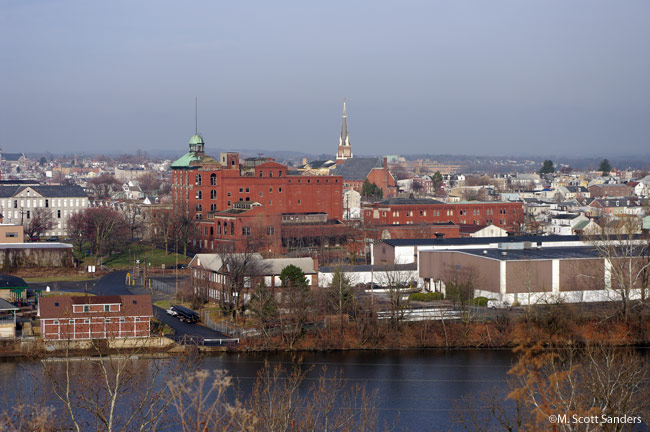 Allentown Riverfront, March 2009
In the meantime, going to downtown Allentown was not exactly the nicest of experiences. There wasn't much to see, old buildings were decaying, landmarks like Hess's department store had faded from memory, and about all that was left was the statue in the center of 7th and Hamilton in the middle of the square.
Around the corner from us, the J.P. O'Malley Pub, a local landmark that had fallen on bad times, closed. Pretty soon after, there was speculation that it would open again. It didn't.
I was working for a television station at the time, and I went downtown to get some stock footage of the city. I set up my camera to get a shot of the statue and almost as soon as I started the tape (we used tape in 2008), a guy got out of his car just to the right of me. He saw the camera, put on his best gangsta pose, and howled into the camera "Whassup, New Yoooooork?"
He cracked himself up. I smiled politely. I couldn't help thinking, New York? How about 'Whassup, Allentown?'
Are we just a suburb, albeit a distant one, of New York? It wasn't the first time I had heard that estimation of Allentown. A couple of native New Yorkers had once, in a conversation with me, referred to Allentown as "the country." No, you'd be wrong about that, I wanted to say, but instead, smiled politely. Trenton, Georgia, is the country. Center Lisle, New York is the country. Not Allentown. Never Allentown.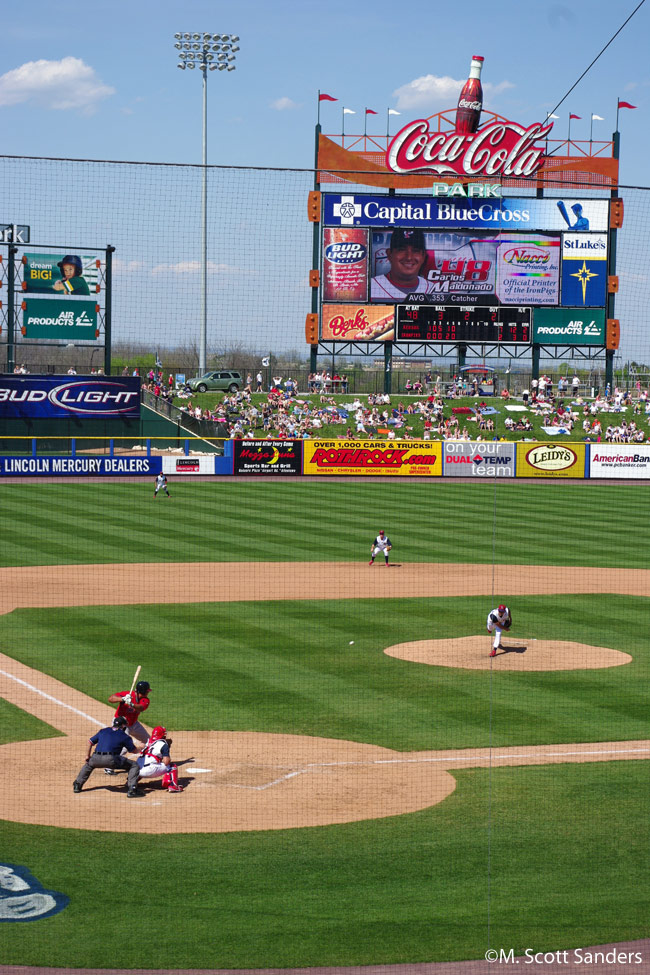 Coca-Cola Park, April 2009
Hope was alive in Allentown when the Iron Pigs AAA baseball hit town. Coca-Cola Park opened up on a hill overlooking the city, shouting distance away, but even though the new location was inside the city limits, the team was called the Lehigh Valley Iron Pigs. Access to the park was much easier from the east side of town, or Bethlehem, or even Easton for that matter. No real easy connection to downtown Allentown.
And so it continued over time. The hopes we had of a Chattanooga-like resurgence looked like just that: hopes.
Around the corner, the J.P. O'Malley Pub remained boarded up.
It wasn't until the PPL Arena, the new venue for AHL hockey, was announced. The proposed spot would be along Hamilton Street, in between 7th and 8th, and there would be restaurants and shops and plenty of speculation that just one big thing couldn't possibly change things for an entire downtown, could it? We remembered the Tennessee Aquarium's arrival in Chattanooga, and we thought oh, yes it could.

---
We brought friends of ours to Roar Social House, a restaurant across from the PPL Arena. It was our third visit to Roar, but for them, it was their first, and their first trip to downtown Allentown in quite a while. Across the street, a crowd was piling in to see the Phantoms game. Our friends' eyes were wide. This couldn't be the same place, could it? There were shops and restaurants and you could walk the streets without a care in the world. We know, we said, we know. We could hardly believe it ourselves.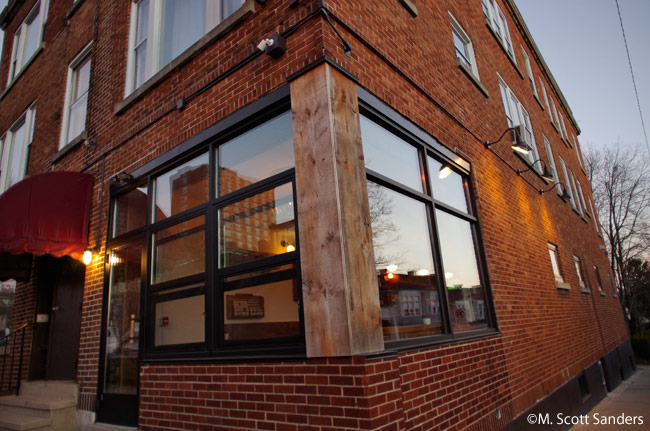 After much planning and work, the old J.P. O'Malley's Pub was reborn as Union and Finch. It's not right along the main strip where all the revival has taken place in Allentown, but it is a revival unto itself. If you haven't been there, you should, and shame on you, because the food and atmosphere is excellent.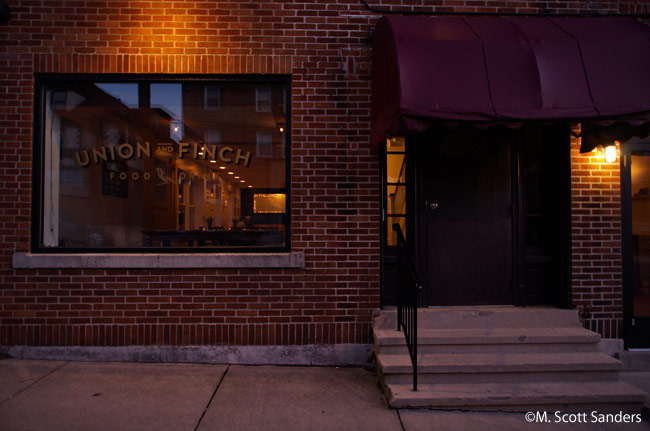 The final piece to this puzzle took place this last weekend. We were looking for things to do on a Saturday, and have you read this blog before? Because when we look for things to do on a Saturday, we don't stick around the local area too often. This time, we did, and it happened to be the day for the Blues, Brews, and Barbecue Festival in downtown Allentown.
Shame on us, but this was the 10th Annual Blues, Brews and Barbecue Festival, and we had never gone. Let's do it, we said. Sounds fun. Think anybody will be there?
Yeah, a few.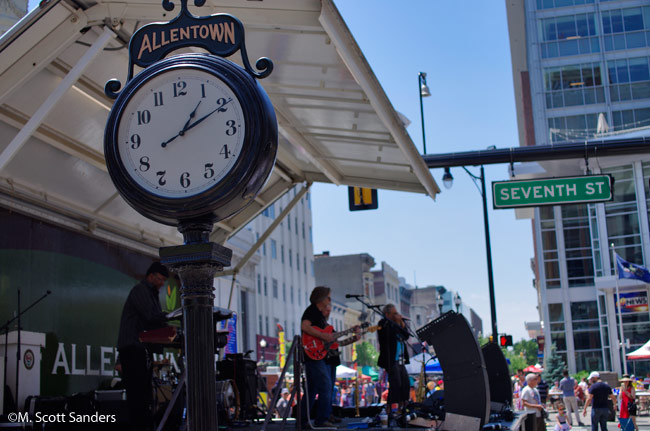 Free to get in, three bucks to park, blues in the air, and the scent of grilled meat wherever you go? Sign me up. And again, that moment, as Laura and I walked hand in hand up the alley, through the Artswalk, and on to the surface of a closed off Hamilton Street, the recurring thought, this is Allentown? Why, yes. Yes, it is.
Of course, I took pictures all along the way. Barbecued meat tempted me at every turn. We walked in the shade along the south side of the street, back behind the vendors, when I saw a great stack of wood about to go into a smoker. I snapped off a couple shots.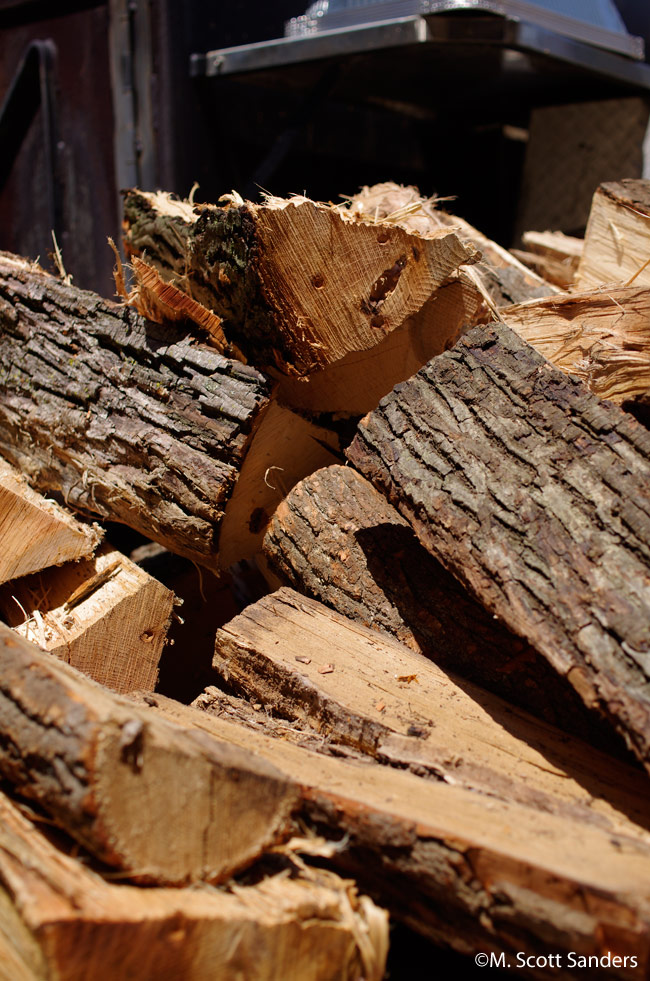 Then I heard a voice, "Hey, come and see this."
A guy wearing a bandana adorned with flames motioned me over to the smoker. He was just opening up to have a look. "Get a load of that," he said, as he pulled up the door with a smile.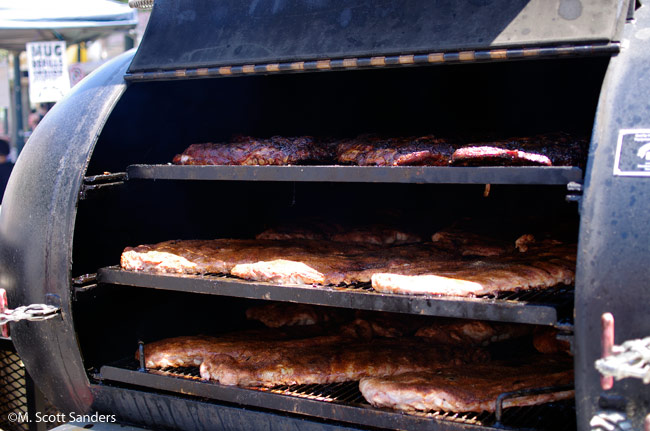 Well, I'll have some of that, then. I also took a picture of this guy, just to give credit where credit was due.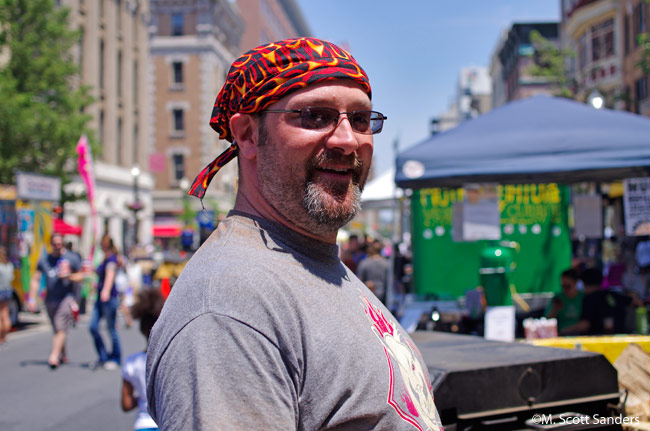 Since I had walked around the back, I didn't know that this was Grumpy's BBQ. They have a place out north of town, and the ribs are terrific. Dry rub, falling off the bone, just like God intended when he designed the pig. We had a half-rack, and if there was one regret we have, it is this: once we ate our fill, there were all these other wonderful vendors out there. I wanted to sample them all, but in order to do that, the term "meat sweats" would have to be used at some point, and no one needs that.
So next year, then.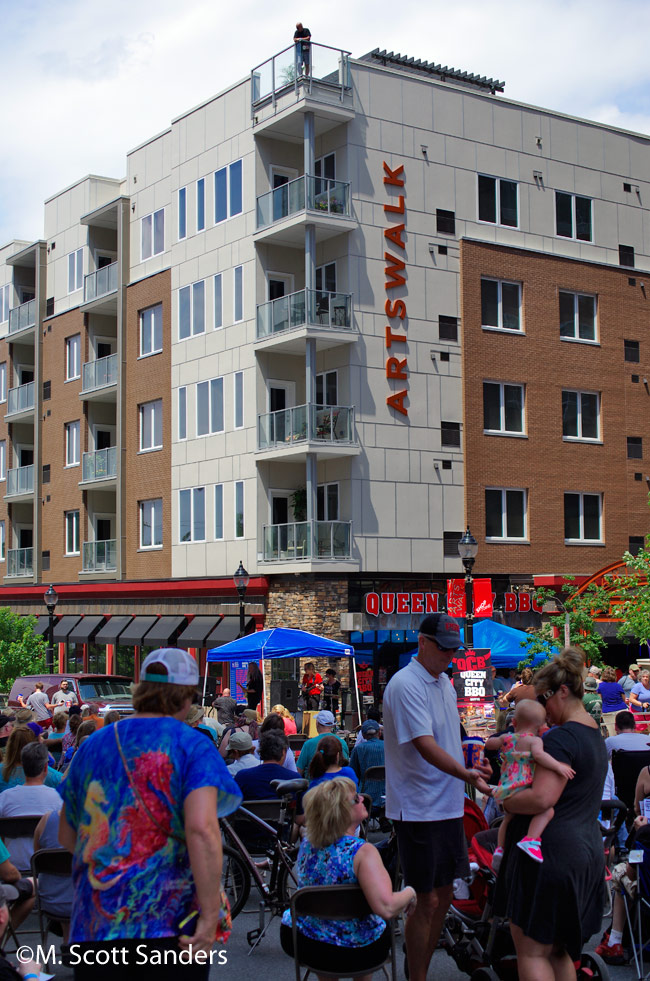 And as we listened, and digested, and watched all the people walk by, we thought, this is Allentown.
There's a billboard on the way out of town, and I pass by it every day on my way to work. It says, "No Good Story Starts in the Suburbs. #downtownallentown" We couldn't agree more.
As of this writing, Roar Social House is temporarily closed as the owner has retired, but Josh Palmer, the owner of Sette Luna and the excellent Maxim's 22, has reportedly taken over.
Union and Finch is located at 1528 Union Street in Allentown.
Grumpy's is located at 3000 Mauch Chunk Road in Allentown.