Laura and I went our first wine tasting eight years ago, when we went down to Crossing Winery in Newtown, Pennsylvania. We really didn't know what to expect, honestly, having managed to go through nearly 40 years of life without such experiences. They put us in a room with large barrels lining the walls, poured the essential stuff in our glasses, and spoke wistfully of oak and berries and citrus and other things that you're supposed to taste, but didn't. But no matter. It was good wine, and even though we didn't know why it was good, it still was.
That summer, my parents offered to take us up to the Finger Lakes to do a proper wine tour, complete with chauffeur. That would be my Dad, who doesn't indulge and is perfectly content to drive around and look at the scenery. We had had a good experience at Crossing, so why not?
And we've been going at least once a year ever since.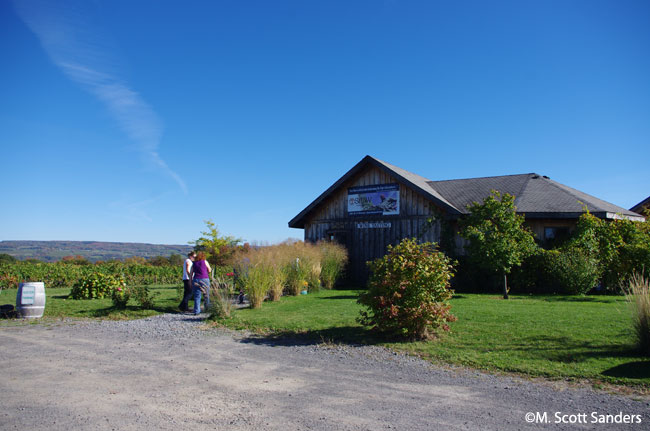 So, as seasoned travelers along this well-worn path, the least we can do is impart some wisdom. There are a few supplies that every Finger Lakes Wine Tourist should have, and they are:
A designated driver. Dad, in our case.
A basket of snacks. Generally we go with crackers, cheese, and slices of salami. Food is not necessarily guaranteed along the trail, although that has changed in recent years. I'll cover that in another article.
A game plan. Because not all wineries are created equal.
Water. Lots and lots of water.
The game plan is perhaps the most essential, for many reasons. First and foremost, you really don't want to stop at every winery that comes along, or maybe you do, in which case you probably need some sort of help. You're best served visiting about six or seven wineries at the most, and it's good policy to take your time between tastings. Maybe you want to confine yourself to one lake at a time.
This year, we decided to stick (mostly) to Seneca Lake. We were going to start out with Bloomer Creek, which we had never tried before. Bloomer Creek wasn't open when we got there, but we ended up doubling back later, and it was so impressive that I feel like I should cover them on their own in a future post. But for the moment, we couldn't step inside, so we ended up at Hazlitt 1852.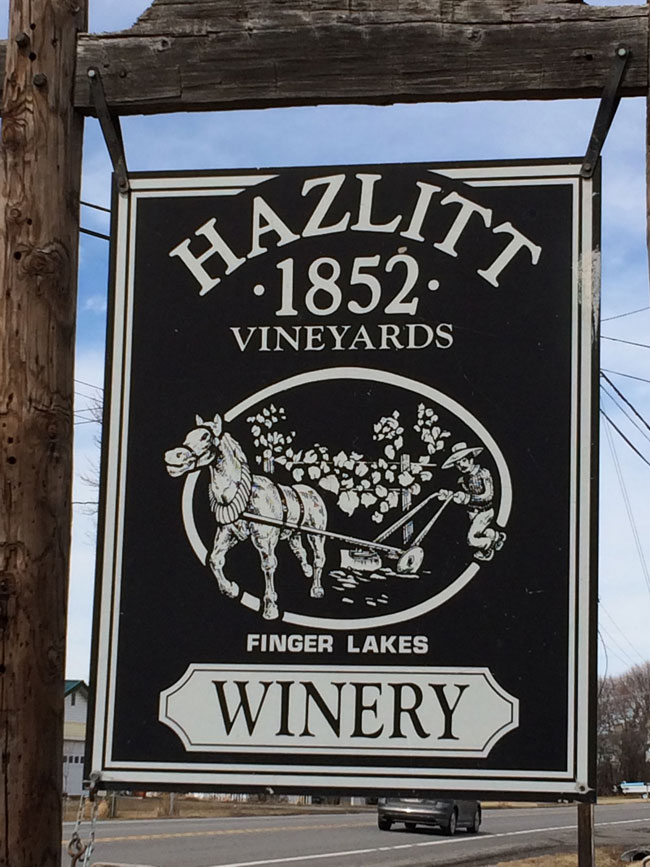 There was a bachelorette party in the tasting room at the back, but otherwise, we had the place to ourselves. Although Hazlitt is known for its ubiquitous Red Cat, a sweet wine readily available anywhere in the Northeast, they have a full spectrum of varietals, including the Pinot Gris we took home.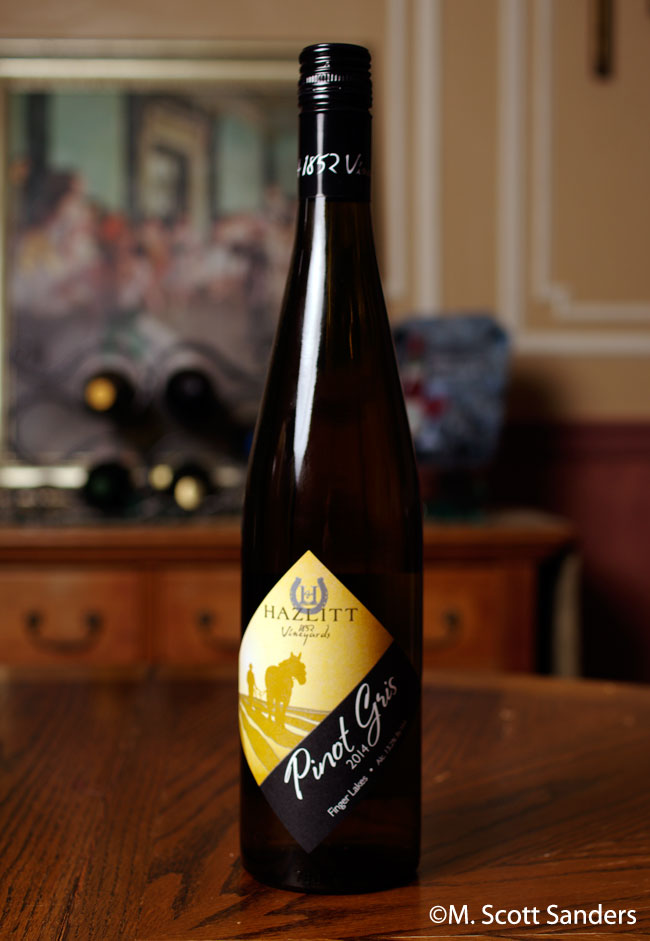 The winery is informal without going overboard about it, and as far as I can tell, is the best winery to go to if you've never been to a wine tasting. There is no judgment here.
Another bachelorette party showed up in the middle of our tasting. Then, when we were on our way out, a bus pulled up in the back and a crew of girls with tell-tale matching-bling t-shirts folded out. We figured we needed to make ourselves scarce before a gang war broke out among the bride-to-be factions.
It should be noted that if you are planning a bachelorette party, the best recommendation I can make is Three Brothers in the northeast corner of Seneca. It's more destination than winery, a wine theme park if you will. There are three wineries on the estate, with one of them, Passion Feet, devoted to everything girly. Note: reservations are required here for buses or limos.
If you would like to avoid the t-shirt and tiara crowd, I have some suggestions as well. First, it's her day, get over it. Second there are plenty of places for the Non-Bachelorette Party People to go: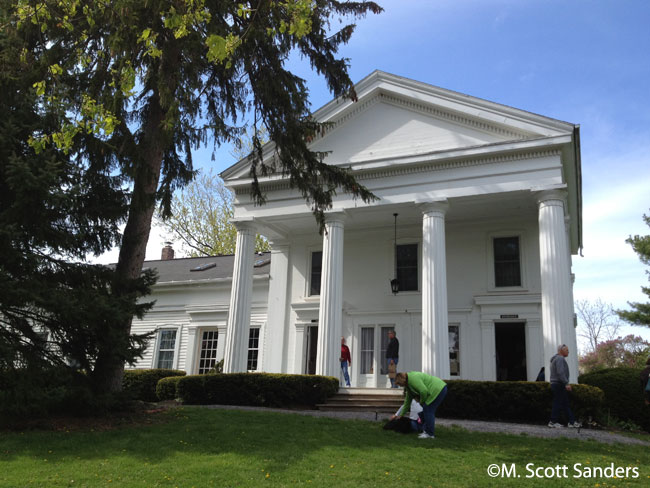 Miles Wine Cellars, for instance. Most of the wineries in the Finger Lakes, and especially Seneca, have very good views of the lake, but are not lakefront. Miles is the exception. Located in an early 1800s farmhouse, this winery has perhaps the greatest atmosphere of any winery in the area. The wine is very good, and we usually refer to their "Call Me a Cab" as our House Red. It is said that the old place is haunted by the original owners, which is the inspiration for their Chardonnay/Cayuga blend, "Ghost".
Space is limited in the tasting rooms, so tour buses are not often found here.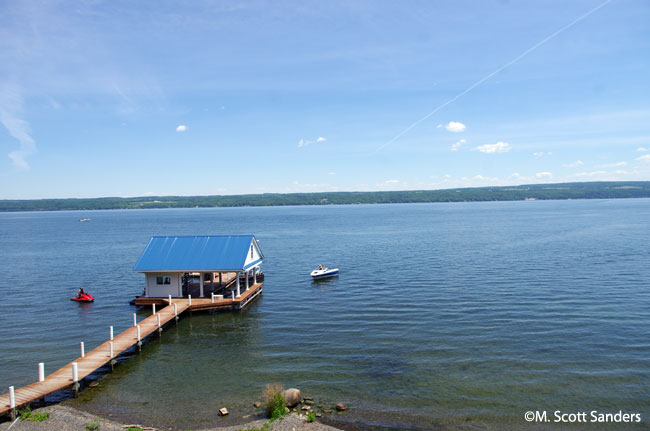 We are old hands at Miles, so we didn't do the tasting this time, we just stocked up on our old favorites, put them in the car, and walked down to the lake.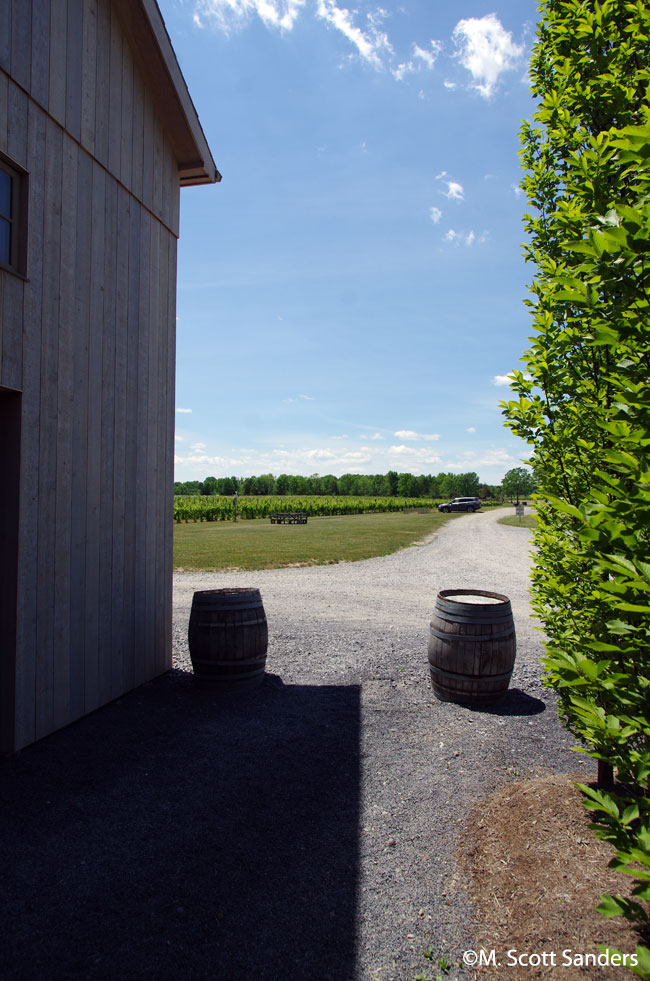 Hermann J. Weimer is rapidly and justifiably becoming one of the best-known wineries in the area. The Riesling grape grows very well in New York state, so you really can't go wrong with any Riesling from the area, but if you want the best, it is here waiting for you. We stocked up with Dry and Semi-Dry 2016. Had we brought any first-timers, we might have done a tasting, because not only does Weimer have exceptional wines of all varietals, but they have a gorgeous array of tasting rooms. We first came here in 2013, and we have worked it in to every wine tour we have done ever since. It is a can't miss.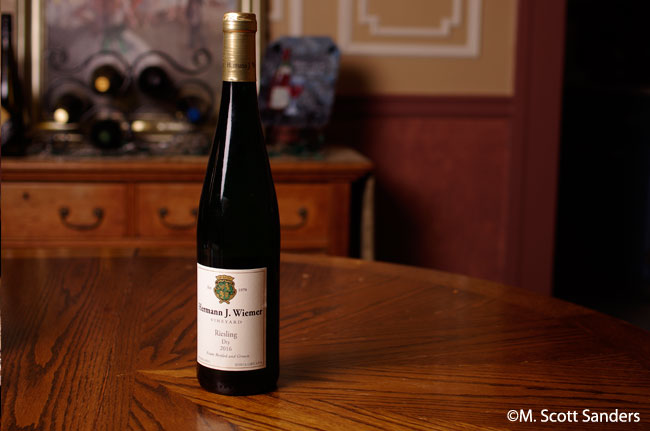 Standing Stone, on the east side of Seneca, is one of the longest-running wineries in the area. Everything we had there was good, and we were especially pleased with the Gewürtztraminer and the Saperavi. As it so happens, we discovered a week later that Tom and Marti Macinski, the long-time owners of Standing Stone, were stepping aside, and that operations will be taken over by Hermann J. Weimer. We wish the Macinskis nothing but good fortune in their retirement, and believe me, we have no argument when it comes to their replacement. This could get interesting. We can't wait to see what the future holds.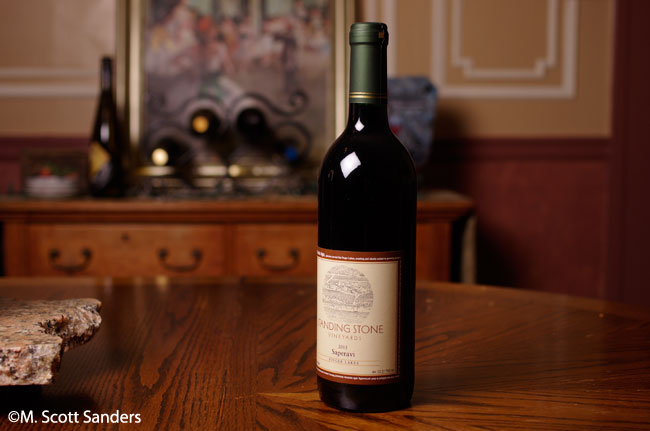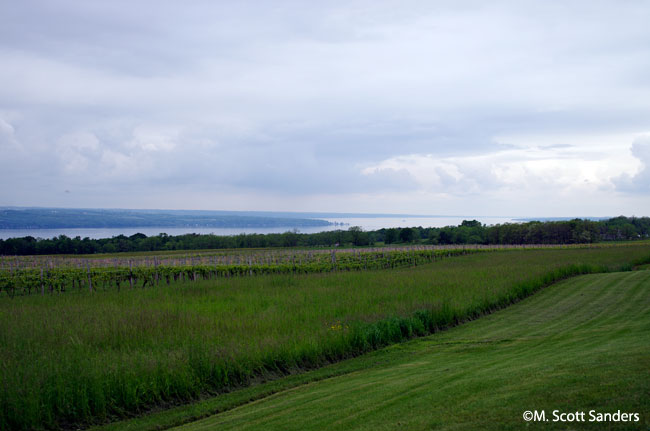 Lamoreaux Landing is located in one of the best spots on Seneca Lake and they take full advantage with a tasting room blessed with panoramic views. The Chardonnay was particularly good, and we were very happy with their latest release, 42 North. We will most certainly be back.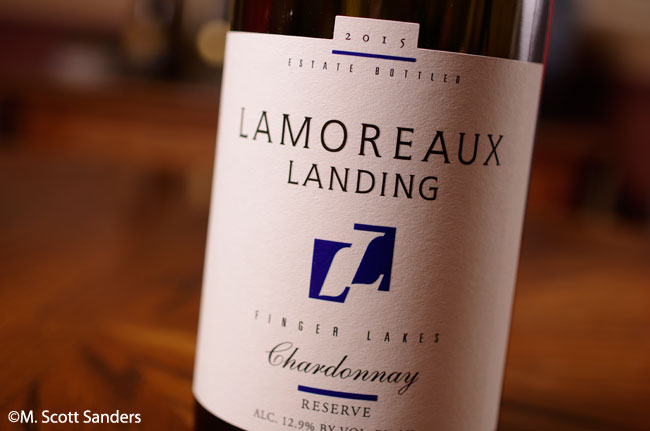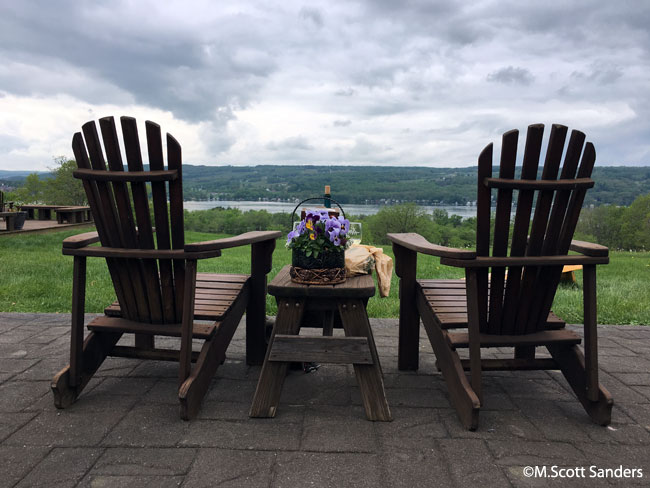 We skipped across to the east side of Keuka, which is a pretty easy trip over from Seneca, and visited Keuka Spring. Keuka has some of the oldest wineries in the state, yet it seems quieter than the others. We first went to Keuka Spring one lazy Friday morning a few years ago when we were the only ones in the place, had a tasting, and sat out on the hill overlooking the lake. Even though it was a dreary day then, as it was this day, it is such a peaceful spot that we barely noticed the clouds. This time, the place was packed, and well it should have been, because the wine is very good here.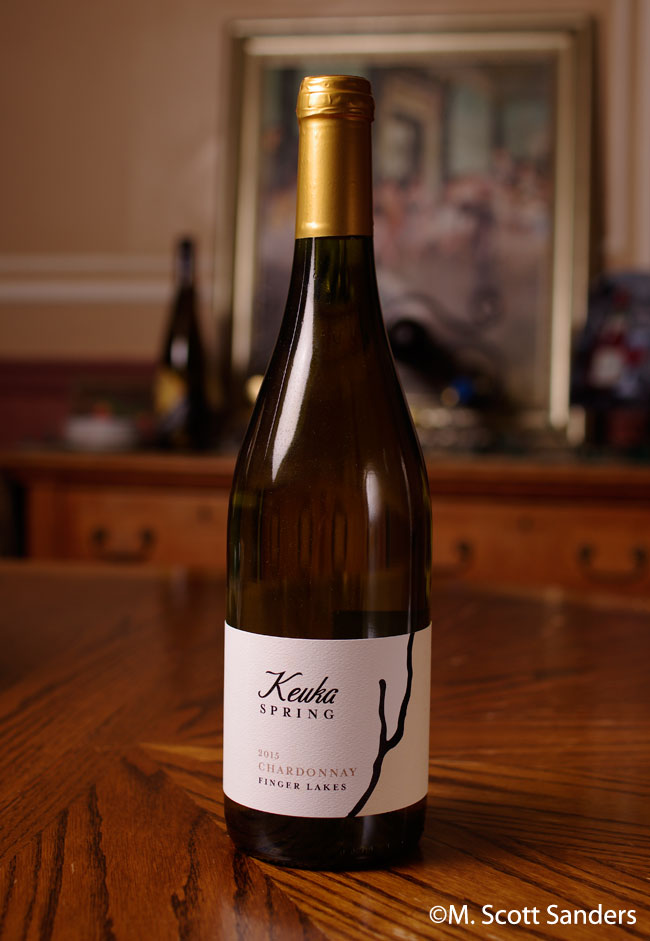 There are so many wineries in the Finger Lakes that you can't possibly visit them all during one tour. We visited seven this time around, but there were a lot more that we can heartily recommend:
Konstantin Frank, Hammondsport, NY (Keuka)
Heron Hill, Hammondsport, NY (Keuka)
Red Tail Ridge, Penn Yan, NY (Seneca)
Americana Vineyards, Interlaken, NY (Cayuga)
Ravines, Geneva, NY (Seneca)
Shaw Vineyard, Himrod, NY (Seneca)
Anyela's, Skaneateles, NY (Skaneateles)
Not to mention, in the non-wine category:
Finger Lakes Distilling, Burdett, NY (Seneca)