For the last four years, I've had cause to go in to Easton, PA once a week. It's the hometown of former heavyweight champ Larry Holmes, who was apparently nicknamed "The Easton Assassin," although I had never heard such a nickname until I moved to the area. It has a certain reputation, deserved or not. It's quite hilly, and the serpentine drive along US 22 is much like a trip on the Wild Mouse at the State Fair.
Lafayette Bar and Coffee House, June 2012
Over a year ago, I posted a photograph on Instagram that I took of the Lafayette Hotel/Bar/Coffee Shop in downtown Easton. So I related the story of the picture's origins: I drove up and parked in front, got out of the car with my Pentax k20d in one hand and my iPhone in the other and snapped off a few shots. A couple of guys were moving a ratty-looking couch out of the building. Another guy asked me what I was doing in that kind of city-dweller way where you're not sure if the person is looking for a) a friend, b) a couple bucks, c) a good conversation, or d) a way to rip my camera from my cold, dead hand. I presumed it was somewhere in between a and b and left after about ten minutes because I was doing more talking than snapping.
A few days later, I tell this story to my friend Oscar. And he tells me a hair-raising story of an experience he once had down there. So, fair or not,  I half-hint at this in my Instagram post.
Nearly a year later, and I find out that I'm in the midst of a slight disagreement. The Easton Main Street account on Instagram took issue with my opinion—or at least with my half-hint—and defended the Lafayette with honor. I made my apologies and we moved on. A few days later, Easton Main Street posted a fascinating shot of a sign just around the corner and tagged me on it. A couple bought this old brick place on the far side of the block, which had this old sign that read "Horns," stripped of its neon, but a lovely, rusty relic.
You didn't have to ask me twice.
So on my weekly trip to Easton, I skirted back into the heart of the city. There was another sign I was after that I had spotted out of the corner of my eye one day. The State Café Grill, just around the corner from Easton's famous State Theater. I didn't know if it was old and well-kept or new and of the tradition, but it was just my speed. I hit this one up first:
One of the true high points of the drive along Northampton Street in Easton is the Northampton National Bank sign on the side of the grand old building. I tried to get some information on this online, but somehow that proved fruitless. Please let me know if you have any information regarding this restored sign:
On to the Lafayette. My memory is a little fuzzy from my first visit, but it seems to me several things have changed.
The street is one way there, and one way in the opposite direction. I think that may have changed. I had to go around the block to park.
The area around the Lafayette seems to have cleaned up considerably since the last time I was there. For certain, they've added some cool jazz-themed murals along the side. Again, maybe I'm mistaken, but it sure seemed that way.
There's a record store across the street. I'm definitely sure that wasn't there before. Old vinyl and old signs, these are a few of my favorite things.
Fortunately, where I came to park put me in the perfect position to catch the "Horns" sign. Now that, I've seen it up close, I want to give it a great big hug:
I stopped in at the record store. Some decent stuff. I always gravitate toward the jazz section and I always seem to judge a record store by such things. Double Decker (mentioned earlier, across from Zandy's) is still my favorite in the area, but this is a good one.  I find it fascinating that both record store locations are just across from classic signage.
Even though I had the previous shots from the Lafayette in practically the same weather conditions, I took some more just to see if I could improve on my previous ones. I got one from across the street and focused in on the jazz paintings on the wall: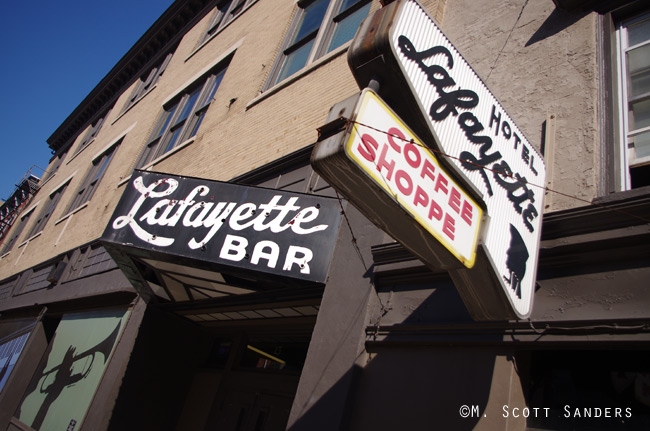 So, does Easton deserve a bad reputation? Probably not. It's definitely improving, and rapidly so. I lived in Chattanooga and saw the changes that were made to it. When I first saw it in 1990, it was a shabby, soot-covered wreck with very little to recommend it. Look at Chattanooga today. It gets on all sorts of lists as a tourist attraction and as a great place to live. Will Easton get to that point? Here's hoping. The seeds are there. I think they should be given every chance to grow.