Adamstown, PA is known as the Antique Capital of Pennsylvania, boasting such massive outlets as Shupp's Grove, Renninger's, Green Dragon, The Mad Hatter, and a number of others to warm the heart of any seeker of vintage stuff out there. It had been a while since I had been down there, and my memory was fuzzy as to the selection of vintage signs I might troll through. My guess was none at all.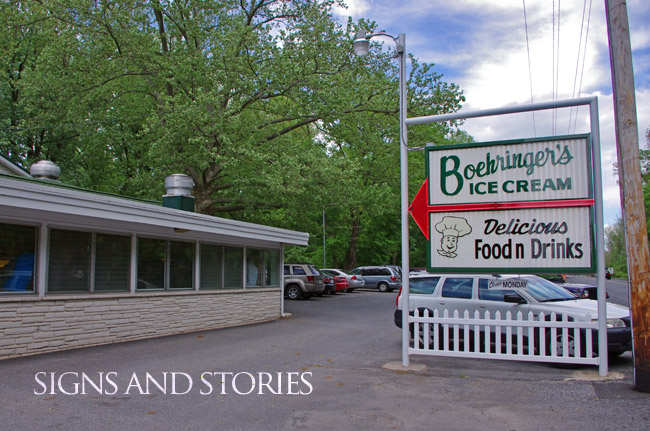 I was wrong…
It may seem strange to you, but I am not a fan of Lancaster County. There are a number of reasons why, but let's just start with the elephant in the room, shall we? Lancaster County has been relatively disappointing in the sign department. Lancaster proper has squat. I've literally found nothing within the contents of that great city to make me want to slow my car down, much less stop and snap off a few shots.
Perhaps what soured me to Lancaster was this: I once drove out to the far reaches of Gap, PA to a place called the Bullfrog Inn. I did my research and saw several instances of their sign, which had a freaking neon bullfrog on it. I was salivating. Little did I know that before I could get there, the owners pulled it and replaced it with a red box sign with plain white lettering, and no hint of a bullfrog on it at all. I said words of languages strange and foreign, shook the dust off my feet, and continued on.
I will also talk of a beautiful neon sign along PA 272 that I missed out on a few years ago because I didn't have my camera with me. The Pennsylvania Dutch Motel in Denver. It had a PA Dutch motif, which is rare in neon, and it was gorgeous. Removed. Thanks, guys. To see this sign, check out Ron Saari's shot of this.
So with that in mind, I have my camera stored in the back and my wife and I are driving down 272, having sampled Shupp's Grove. It's a bit early in the season and it was relatively quiet, so we had moved on. We went to Renninger's next, which is a fascinating building that makes you feel like you're tunneling through catacombs of collectibles. I bought a Dizzy Gillespie record for a decent price. On our way out of there, we see the Penn Amish Motel off to our right. Not a bad sign, but generally plain. I glanced back and I thought I saw something, up above the motel, but at this point we've already gone past. I make a mental note.
"Oh, look," my wife says. This is nearly always a good thing. She's been my faithful spotter for a few years now, and among others, she found The Blue Comet Diner in Hazleton for me, which makes me love her all the more.
I see what she means. We're passing the Pennsylvania Dutch Motel. The sign out front, the one that replaced the beautiful neon PA Dutch classic, is plastic, black and white, small, easy to miss, and most likely attracts approximately zero customers per year, but above, where the motel is, there's a set of poles and what looks like the back of a sign. My eyes get wide, and a voice in my head whispers They didn't get rid of all the neon. It doesn't seem to be pointing at anything in particular: it's just facing a collection of trees.
It's like we're whale-watching and we just saw a fin flop out of the water. My heart pounds. First chance to turn left and I take it. It was the turn-off for the Pepperidge Farm factory store, and it was quiet that afternoon. I roll along slowly, watching the tree line for some glimpse of something, anything, and then it appears, magically. Penna Dutch Motel, it reads, rusty and disused.
I mention something about clambering through the weeds and brush and she mentions poison ivy and the discussion dies down. Only one option: go up to the motel itself. Probably good policy, I think. I feel like I've been borderline trespassing at some of these locations, so it's best to let people know who I am and what I'm doing. I drive up to the office and walk in. The proprietor steps out of the shadows. He's an Indian gentleman, fifty-plus I'm guessing, and he looks a little puzzled that someone might be coming to check in at 2 in the afternoon on a Sunday.
"I'm a photographer, and I take pictures of old signs," I say to him, and I'd be lying if I said that I hadn't rehearsed it in my mind before I walked in. "I noticed the one out back and I was wondering if you'd mind me taking a few shots."
He squints. He certainly knows what I said, but the concept of it is hazy. I can tell he's wondering why anyone would want to take a picture of a nasty, rusty old sign. But he agrees, and off I go into the abyss. And here's why I would want to take a picture of it: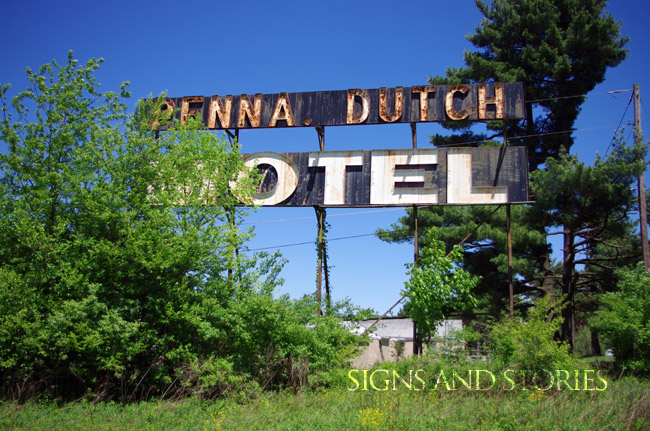 Whereas honor is not completely satisfied, this will have to do.
So I'm feeling lucky. We get back in the car and head back to the Penn Amish. As I head up the driveway, I can see that my glimpse had paid off. Again I go into the office and again the proprietor comes out, this one female, and I'm not trying to make a point by saying this, but it was a fact: she happens to be Indian as well. I lay the cards on the table and she seems considerably more delighted by the prospect. Their neon sign, painted red, sits behind and to the side of the motel proper, and I snap off these:
All in all, this would be a good day, but we topped it off by going to a place that I've never been to because I always seem to show up in the off-season. Boehringer's Ice Cream sits along 272 and has since 1938, and at 3 in the afternoon they were positively packed. I'm reasonably certain they've had their sign restored, too. Ice cream, vintage sign, been around since 1938, packed with people. If I didn't stop, you would have had to check my pulse.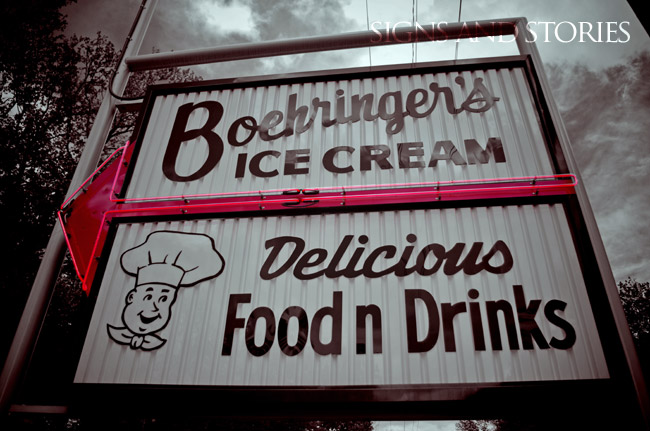 I felt lucky and started messing with the in-camera effects in my Pentax K-5…
We have a thick shake each. I chose Amaretto Almond and she chose her usual Coffee, and as we drove back home, we made yummy sounds for a full fifteen minutes, frightened by the prospect of how large we would make ourselves if we lived closer.
A good day. A good day.