This last Labor Day weekend, after all manner of family visits, we headed back from Binghamton. It wasn't intentional, but we had left right at neon magic hour (the hour, or minutes, following sundown). Immediately I cast my mind back to earlier this year, when I noticed the Red Oak Diner sign on Front Street, the one pointed directly at NY 17, had suddenly sprung to life with new, red neon. It was too late to catch it then, but it wasn't now, so I high-tailed it up US 11.
Previous visits had yielded the picture above, but since then I had figured out the way to sneak back into the adjoining park and get the front side of the sign. The "R" was out, but I think it adds to it…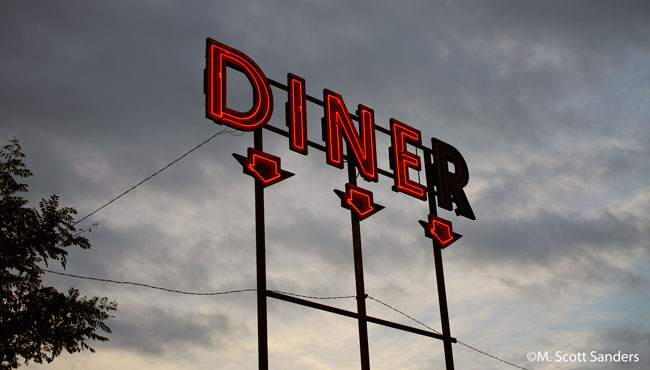 While I was at it, I decided to hit up some other signs I had never gotten at night. The Greyhound Bus station was my next target, but I had a surprise in store. When I went to park along Chenango Street I noticed glowing neon that I had never seen before, or at least, for a very long time. It seems that the good folks at Little Venice Restaurant restored their neon sign recently (near as I can tell, in April of this year). My jaw fell open. There are modern touches to it, of course, but it's very true to what the original sign looked like.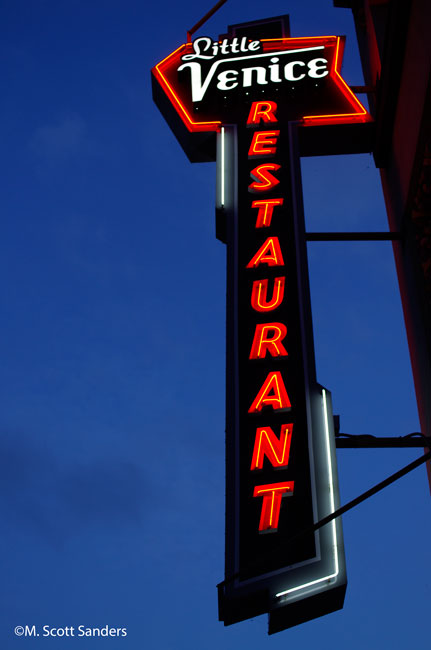 The Greyhound Bus Station is just down the street, and it was built in 1938, with all the art deco trimmings the law would allow. In 2006, the sign and the building were restored to its former glory, and it was a pleasure to see it lit up.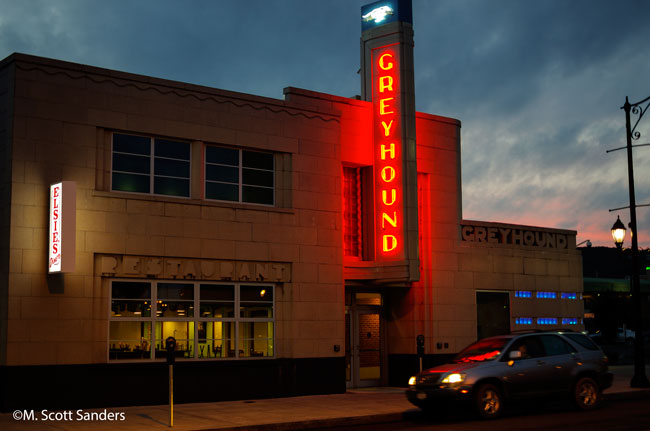 At this moment, the car at the below right photobombed me. I was not particularly happy, especially because I knew that by the time this guy left, the darkness would take over. Plus, the restaurant's lights at the lower left were snuffed not ten seconds after I got this picture. Oh, well. I like this one well enough. Besides, it always gives me an excuse to go back!
My day shot of the bus station is in this article.