We had just finished watching Lincoln. Being the out-of-touch slobs that we are, we were unaware if the movie had won any Oscars, or if, in fact, the Oscars had been cancelled in favor of a very special episode of The Bachelor. So I popped the iPhone in my hand and searched imdb for such information. It was while I was searching for a good reason why Tommy Lee Jones had not won a Best Supporting Actor for his portrayal of Thaddeus Stevens that I suddenly realized that Laura had asked me to open the window. Ten minutes earlier.
We've all seen it and some of us have lived it: a couple in line waiting for a table, both of them on their smartphones in silence. We recently witnessed this phenomenon in a restaurant where the couple in question had a three-year-old daughter. The daughter was climbing and squirming on her Dad's lap, touching the screen, blocking the screen, doing anything to get his attention, and I suddenly thought: it's not going to be too long before we're playing out the scenario in Wall-E where we're all 400 pounds staring at screens every waking hour.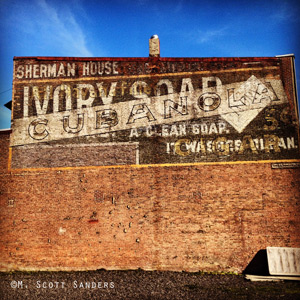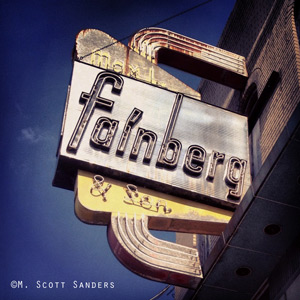 I love Instagram. It's allowed me a creative outlet to post the pictures you see above. It's motivated me to travel more, seek out new and more interesting things to photograph. I've met many interesting people and I've seen a great many interesting things from other people's travels. But at the same time, it is a para-reality: whereas I know a certain amount about the people I've met in this community, I don't really know them. I could, and perhaps have, walked directly past a person I'm following or who is following me.
Eventually, we have to come to the same conclusion: social media is no substitute for real people and real relationships. There is no sense in making social media, any social media, any more than it actually is. It has as much to do with our deepest selves as a billboard with our own face plastered on it. How else can you explain the hordes of tweens with nothing on their Instagram feeds but 950 pictures of themselves?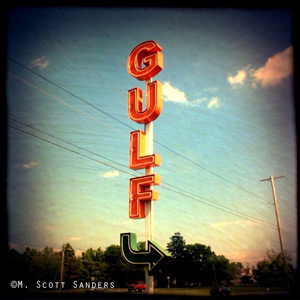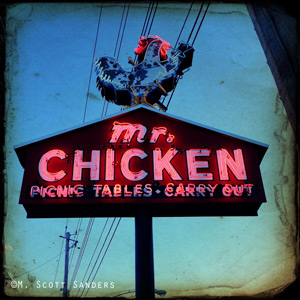 Who you callin' Mr. Chicken?
Two things I take out of all this: one, I will continue to write this blog, post to Instagram, and bring you shots of my travels. We are fellow travelers on this journey, but those closest to me, my wife and family, are the most important and take precedence. In light of that, on weekends, I've decided to not post anything on Instagram and do my best to ignore the fact that I own an iPhone.
The second, no social media can beat actual human interaction. I would love to do an Instameet, having blown my chances previously. The previous two in my area have taken place in Bethlehem, at the Bethlehem Steel. What I propose in an Instameet is a mini-sign tour (and whatever else) in the historic section of Bethlehem. There are three good ones downtown within easy walking distance. In a perfect world, I would like to see if the Bethlehem Hotel is open to a neon magic hour shot on the roof. Who's with me?