"Where are you?" Laura said on the phone, through the car's speakers.
Busted. So, so busted.
Well, there was no denying it. In these days of Find My iPhone, she really didn't even need to ask. "Philadelphia," I said. I was just about to get off on the Broad Street exit of 95. The sun was rapidly declining, and neon magic hour was already in full swing. I was after the Boot and Saddle Bar, which I had photographed previously three years ago: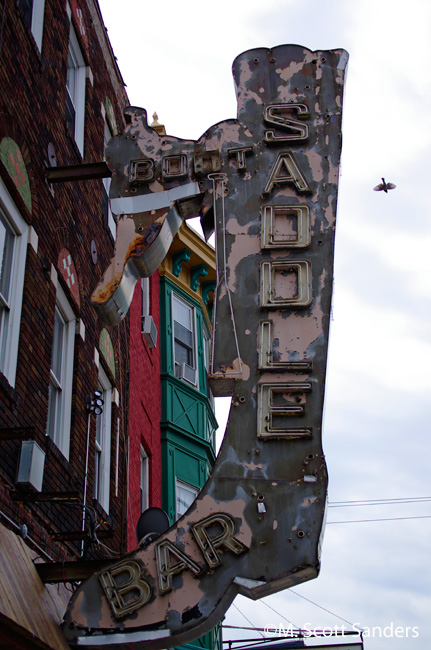 The sign had been restored to its former glory.
Laura laughed. She had spent the day shopping with her sisters all the way up in Williamsport, so she had already guessed what I was up to. "I told everybody, 'I'll lay odds he's driving somewhere to take a picture of a sign, and then he'll come home and watch Mystery Science Theater.'"
"Wow, that's spooky. You left out the part about me going to John's in South Philly for a cheesesteak, but the rest is dead on."
I got off at the Broad Street exit. It was a gloomy night and it was getting darker. I've learned from experience that neon in complete darkness somehow loses its power, so I had to get there before nightfall.
I don't know if you've ever driven up Broad Street in Philadelphia when you're in a hurry from 95 practically to the middle of the city. I don't recommend it. Words fly out of your mouth that you don't even know. I was speaking conversational Bulgarian for a time, and not the nice kind of conversation.
But the night held off, and I was there. Amazingly, I found parking, which was something I found most difficult three years earlier. And there it was: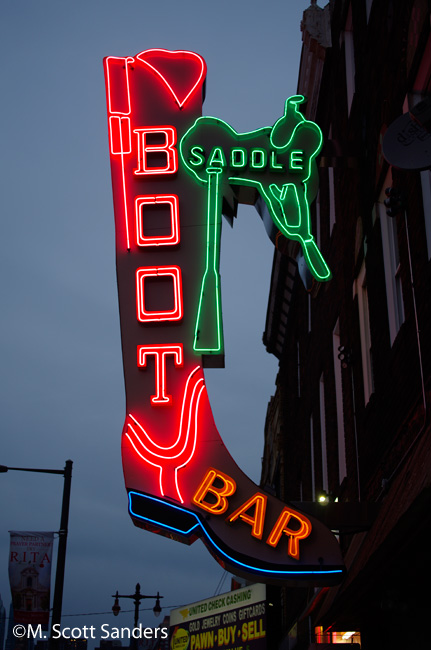 Quite the restoration job by Len Davidson, who also restored the Reading Terminal Market sign in 2006. Here's a before and after from my shots in 2014 and 2017:
Fortunately for me, the night, or rather the daylight, wasn't quite over. On my way through on Broad Street, I caught a glimpse of the Melrose Diner. I had caught this during the day, but I couldn't resist a neon diner at night. I worked my way back to Snyder Avenue, just in time.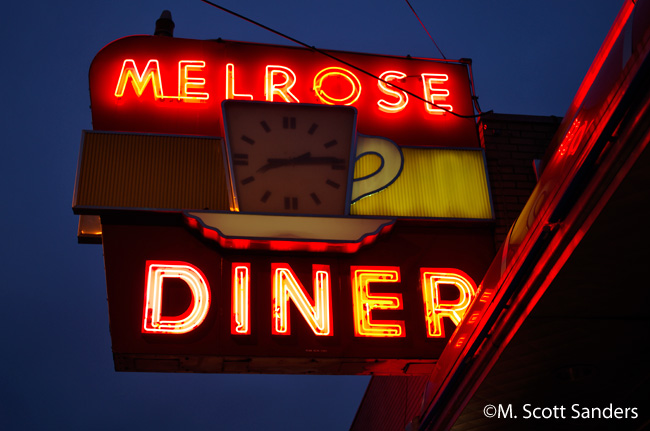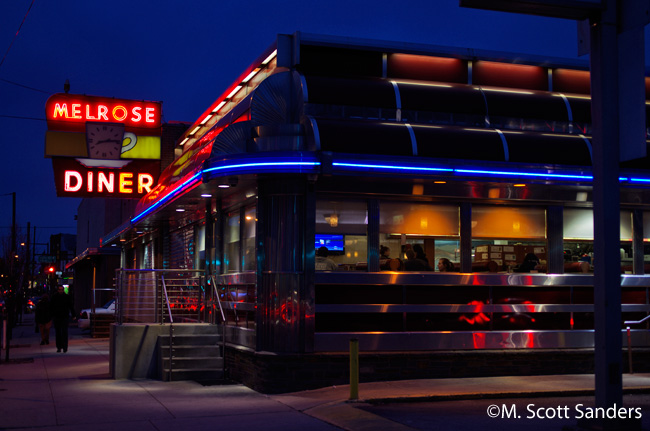 As it so happens, John's Roast Pork is also on Snyder Avenue, so all I had to do was turn around. This turned out to be one of the more difficult feats of the evening, as the entire city of Philadelphia seemed to choose that moment to drive their respective cars on Snyder Avenue going west. But eventually, the masses went on their way, and I was headed in the direction of cheesesteak goodness.
Mind you, even though I live pretty close to the city, my only experience with a real-live honest-to-goodness Philly cheesesteak was when my father took me to Pat's…or maybe Geno's…when I was barely old enough to know what the fuss was all about. John's came highly recommended, and the day I got my initial shots of the Boot and Saddle, I planned a stop off there, but unlucky me, they just happened to be closed that day.
John's is a tiny little building wedged into a corner close enough to the docks you can see the SS United States if you look hard enough. It's a truly no-nonsense place. Order, get out of the way. You'll be rewarded with tin-foil wrapped loveliness eventually. They called my name, handed me my parcel, I handed them my money. I unwrapped it in the car.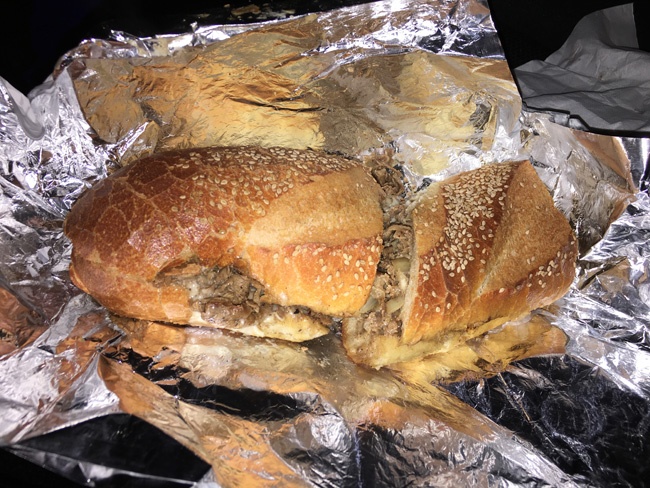 I only had time to take a quick cell phone picture of it before it magically got devoured by the person driving his car back home. It didn't make it past Spring Garden Street.
I went home and put on the Rifftrax version of Plan 9 from Outer Space. You can't beat the classics, I say.