So, I'll throw this question open to the class: is it pronounces Wilkes-Barry, or Wilkes-Bear? Ask anyone within a 75-mile radius of the place, and you get a 50-50 split. I was told by a girl I went to high school with, who was from the city in question, that it was Wilkes-Barry. But I've heard commercials on the radio and TV on the local stations who utilize Wilkes-Bear. Personally, I don't like Wilkes-Bear. But then, I also say creek instead of crick.
Anyway.
Every once in a while, I run into a sign that I had researched previously, but wasn't looking for at the time. While driving down Main Street in Wilkes-Barre (as part of the excursion that brought us to the Sterling), we spot something in the trees. Laura sees it a second before I do, and I don't get a real good look, but neon was close, I could smell it. We pull off and take a look: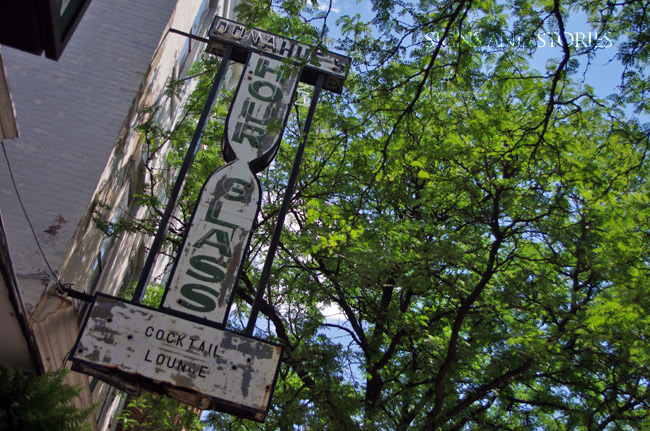 One of the things that I focus in on when taking pictures of signs is the amount of interference. Are the surroundings distracting? When I parked myself underneath the trees and started shooting, I was very concerned that I wouldn't get the results I had hoped for. In the shot above, taken with the whole sign, I find it too busy. But then, I hauled out the long lens and got some close-ups, and here, I think the shadows and greenery enhance: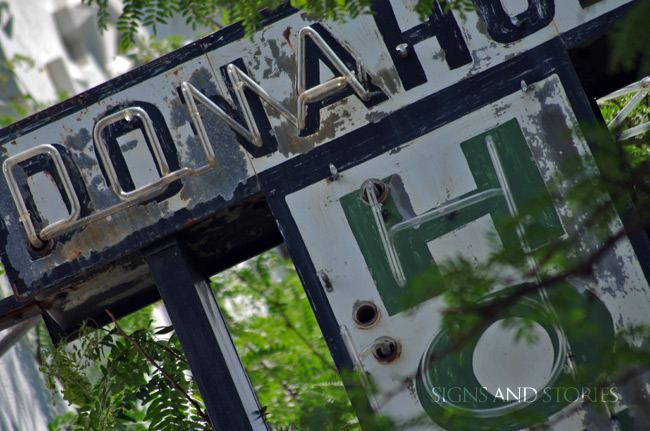 Later, when I started reviewing the pictures on the big screen, one of my favorite things happened. Very often, I catch something in a picture I've taken that I didn't notice when I was standing there. Look at the shot below: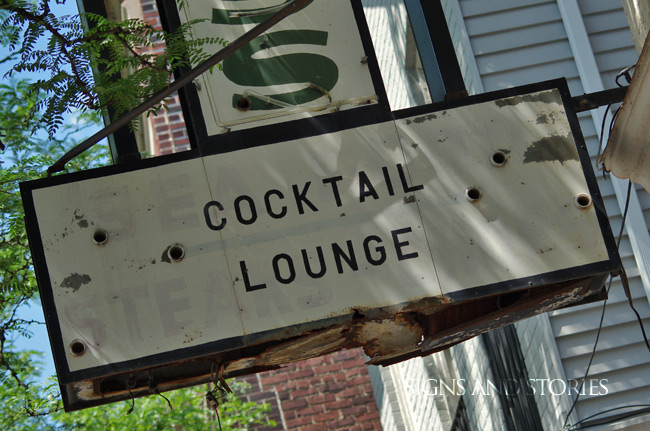 At the time, I noticed that the bottom part of the sign had been redone, in an impossibly sloppy manner. But then I noticed the dear old neon bullet holes, and I started to think, they don't match. This sign didn't say Cocktail Lounge originally. And then I saw the faint outlines of what would have been behind the neon, and then it made sense. The top line reads SEA FOOD, and the second line reads STEAKS – CHOPS.
So Donahue's had been a restaurant, prior to its conversion to a "Cocktail Lounge." I love finding out stuff like that.
More from Main Street in the next post.